Hope Floats: Winder, complete BYU cast downs Gonzaga
Updated: February 21, 2014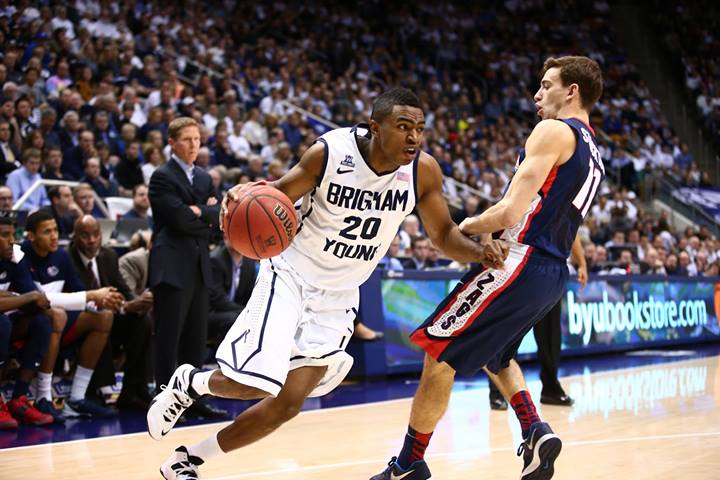 Contributions from top to bottom, including a lineup shakeup from Dave Rose, led the Cougars to a big win to keep that tournament bubble afloat.
Anson Winder unexpectedly started for BYU on Thursday night, and led BYU to a critical victory over a ranked Gonzaga team in the Marriott Center, 73-65. It was BYU's first win over a ranked team since beating Gonzaga at home in 2012.
"That win was unreal. You couldn't ask for a better ending than that," Winder said after the game.
Head coach Dave Rose shuffled his starting line up again, adding Josh Sharp and Anson Winder in place of Erik Mika and Skyler Halford. Rose explained, "The reason for (Winder's) start was kind of to chase (Kevin) Pangos around." Pangos shot 3-of-9 from the field and scored only 13 points despite playing 39 minutes.
Rose added that while defense may have gotten Winder on the court, he delivered on the offensive side as well. Winder's effort ended up leading all players with 17 points, including a critical 10-of-10 from the free throw line. Describing the season overall, Winder said, "my goal for the team is to be the spark—to come in off the bench and contribute wherever I can."
Sharp started and picked up a couple early fouls, which may have been design. By starting on the bench, Erik Mika could come into the game after Sharp picked up two quick fouls rather than the other way around.
When Mika did come in, he made big contributions on both ends of the floor. Mika was aggressive, scoring 13 and picking up 8 rebounds. He was also able to draw several fouls driving to the basket.
The win was secured with solid efforts from several players. In addition to Mika and Winder, Matt Carlino's 15 points steadied the Cougars, particularly in closing the game with a smooth shot-clock-beating runner and a driving layup to put BYU up 68-60. Tyler Haws also added 12 points after playing through foul trouble. It was Haws' 42nd-straight game scoring in double figures.
Luke Worthington and Kyle Collinsworth both battled through injuries sustained at St. Mary's last Saturday. Collinsworth scored 12 points, grabbed five rebounds, and dished five assists in 31 minutes. Worthington battled for 10 minutes, nabbing two rebounds and scoring two points on a sweet pick-and-roll feed from Carlino.
As a team, BYU hit its first four shots of the game and eventually opening shooting 10-of-14, but closed the first half shooting 5-of-15. The Cougars were also able to draw a pair of early fouls on Gonzga big man Przemek Karnowski, but freshman Ryan Edwards replaced him and played well late in the first half as the Cougars cooled off.
A combination of the Cougars colder shooting, the unexpected from help from Edwards, and the expected contributions from Pangos and Same Dower led to a 15-2 run for Gonzaga to close out the first half. It was eventually countered by a ridiculous running, one-footed three point shot by Tyler Haws to tie the game at halftime.
BYU started the second half with Luke Worthington instead of Sharp, but after a few scoreless minutes, Mika and Carlino came back in and sparked a 6-0 run. Gonzaga was able to cut the lead down to two a few times, but was unable to get a lead in the second half.
"I'm really proud of our guys. You look at the last 80 minutes our guys have played and you see a lot of fight," Rose said after the game, also referencing the Cougars' comeback against Saint Mary's. BYU's defense has been the difference in those games, holding St Mary's to 22 second half points and holding Gonzaga to 26 tonight.
Since a tough loss at Pacific last week, the Cougars' wins at St Mary's and home to Gonzaga seemed to have pushed BYU back onto the NCAA bubble. The team will need to avoid any more road struggles at San Diego next Saturday and play well in the WCC tournament to keep its at-large hopes alive.
Despite its solid 23-5 record, Gonzaga's own tournament resume is no longer rock solid. The Zags played a fairly soft non-conference schedule. Their best wins are over Arkansas, West Virginia and BYU.
Gonzaga could have clinched the regular season West Coast Conference title with a win. As it stands, BYU will need to win their last two and Gonzaga will need to lose their remaining three games, all on the road, just to end up tied with BYU. The Cougars' win went a long way in the quest to lock up the two-seed, however, especially as San Francisco beat Saint Mary's.
BYU's final home game of the season is Saturday against Portland; the Cougars then finish on the road at San Diego before prepping for the WCC tournament.