Return of Matty Ice: Carlino threes, dunk keep BYU rolling
Updated: February 22, 2014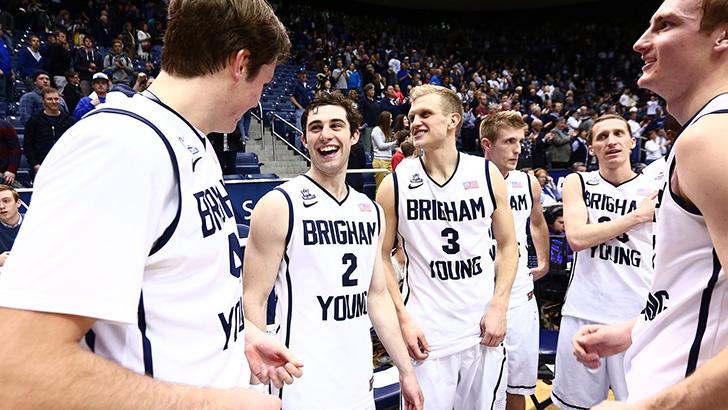 Super shooters Matt Carlino and Anson Winder kept BYU's NCAA Tournament hopes alive with a thrilling performance and a win over Portland.
Tyler Haws had two points in the second half Saturday night.
Nobody wearing blue in Provo wants to read those words at the end of a BYU men's basketball game. But that's what happened, and it's not such a bad thing.
Matt Carlino scored 18 of his game-high 30 points after halftime on Saturday, a night that included a career-high eight 3-pointers, as BYU (20-10, 12-5 WCC) avenged an epic loss to roll Portland, 89-73.
Anson Winder continued his week-long run of form, boosting BYU with 19 points of his own on 7-of-8 shooting. The junior from Las Vegas added to his three game-long streak of made free throws with a 4-for-4 performance from the charity stripe as well. Dating back to the second half against Saint Mary's, Winder has made 16 consecutive free throws.
On what would be a Senior Night but for a team with no seniors, BYU capped its regular season at home with a 14-1 record, its only loss a two-point defeat to then-No. 21 Iowa State. It was the sixth season with one or fewer losses at home under BYU head coach Dave Rose.
For the second straight game, Rose shuffled his starting lineup, putting Luke Worthington into the 5-spot alongside Winder, Haws, Kyle Collinsworth and Nate Austin. The freshman from Mequon, Wisc., played less than two minutes, but the start allowed Eric Mika to enter the game quickly and finish with only three fouls for an eight-point, three-rebound performance.
Collinsworth struggled from the field en route to seven points, but continued to stuff the stat sheet with 11 rebounds and seven assists. Haws totaled 15 points, five assists and two rebounds on the night.
Bobby Sharp — who went off for 27 points on eight 3-pointers in the Pilots' previous 114-110 triple-overtime win in Portland — was held to 16 points on 6-of-13 shooting, including 4-of-9 from long range. Winder reclaimed his status as a lockdown defender in sticking to Sharp, even after holding Gonzaga super shooter Kevin Pangos to a stifling 13 points in a win over No. 25 Gonzaga on Thursday.
Portland's Ryan Nicholas led the Pilots (15-13, 7-9) with 17 points, five rebounds and two assists. Thomas Van der Mars added 11 points and six rebounds, but was held scoreless for the final 10:14 of the second half.
BYU sits one-half game ahead of San Francisco for second place in the WCC standings with a 12-5 record, but also holds the tiebreaker over the Dons for the No. 2-seed in the WCC tournament. The Cougars finish up the regular season next Saturday at San Diego, while the Dons will play at Pepperdine and at Loyola Marymount before the conference tournament.
A lot can happen in three weeks, but BYU's at-large hopes for an NCAA Tournament berth appear to remain on life support. ESPN's Joe Lunardi currently has BYU playing Georgetown in a First Four game in Dayton, Ohio, and two wins should keep them squarely on the bubble ahead of the final regular season game of the year.
Complete box score of Saturday's win.