Hoops Résumé Check: Could BYU actually be … in?
Updated: February 24, 2014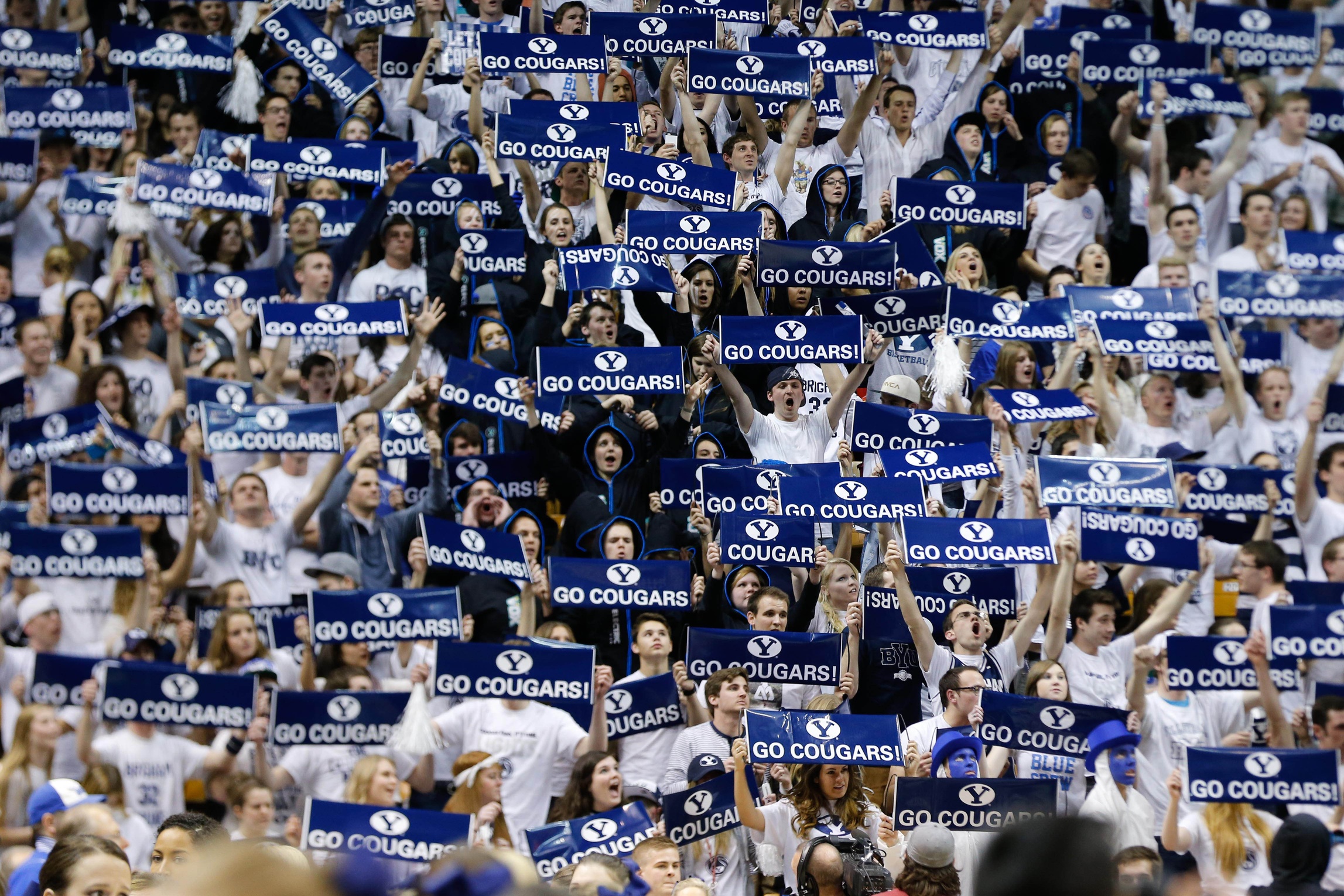 Bracketologists are coming back around to the Cougars after a few solid wins. Is BYU back on track for a bid?
BYU has been "on the bubble" for three entire seasons, and the finale of the 2013-14 campaign is giving us the best roller coaster ride of them all. It seems few teams have had their tournament hopes wrecked then resurrected more that BYU seems to have done.
After the Cougars were shot out of Stockton by Pacific, many (including yours truly) wrote BYU out of the NCAA Tournament for good. It was just one too many road losses against marginal-to-bad teams. Then BYU went and beat Saint Mary's in Moraga, and Gonzaga got Winder'd in Provo.
All of a sudden, with the help of other bubble teams like Georgetown floundering, the Cougars may be back on track.
BYU'S PROFILE
Record: 20-10
Home: 14-1
Road: 4-7 | Neutral: 2-2 | Combined: 6-9
RATINGS
RPI: 34 (+11)
KenPom: 46 (+4)
Sagarin: 42 (+1)
STRENGTH OF SCHEDULE
RPI: 21
KenPom: 53
Sagarin: 49
BRACKETOLOGY
BYU is making strides with some bracket experts but still has too many road stinkers for others. Here's a sampling of a few prominent bracketologists.
Joe Lunardi, ESPN
STATUS: IN
11-seed, vs. (6) Ohio State in Orlando
Very last team to escape the First Four in Dayton
Jerry Palm, CBS
STATUS: OUT
Not "First Four Out"
David Ommen, NBC Sports
STATUS: IN
12-seed, vs. (5) North Carolina in Spokane
Chris Dobbertean, SB Nation
STATUS: IN
11-seed, First Four in Dayton vs. (11) St. Joseph's
(One of Last Four In)
And the entire bracketology index:
BRACKET MATRIX
12-seed, appears in 51 of 82 brackets
Last Four In (Destined for Dayton)
John Templon, NIT Bracketology
Not seeded for NIT projection, listed as one of Last 5 in NCAA tournament
"I've moved BYU into the NCAA tournament after the Cougars' victory over Gonzaga. There are some ugly losses on the resume, but BYU also appears to be peaking at the right time. They probably need to reach the WCC semifinals (maybe even finals) to really feel safe."
With the nice weekend at home, BYU is now 20-10. A win in San Diego ends the regular season at 21-10. I think I have to agree with John here: it still feels to me BYU needs to reach the WCC tournament final to feel okay about at-large hopes. Reaching that point and losing would land the Cougars' record at 23-11.
Of course, after what we saw against Gonzaga in Provo, and the emergence of Anson Winder (and is Matt Carlino back?), beating Gonzaga in the WCC final in Las Vegas doesn't seem so daunting. Bracketologists are now listing the Zags as a 9- or 10-seed and sitting on (the right side of) the bubble. I'd still expect Gonzaga to be favored, but not by nearly as much as we would have thought two weeks ago.
Page 2: Full team-by-team and top-50/100 breakdowns.
Pages: 1 2