Quotes and notes from BYU's 2014 football schedule announcement
Updated: February 24, 2014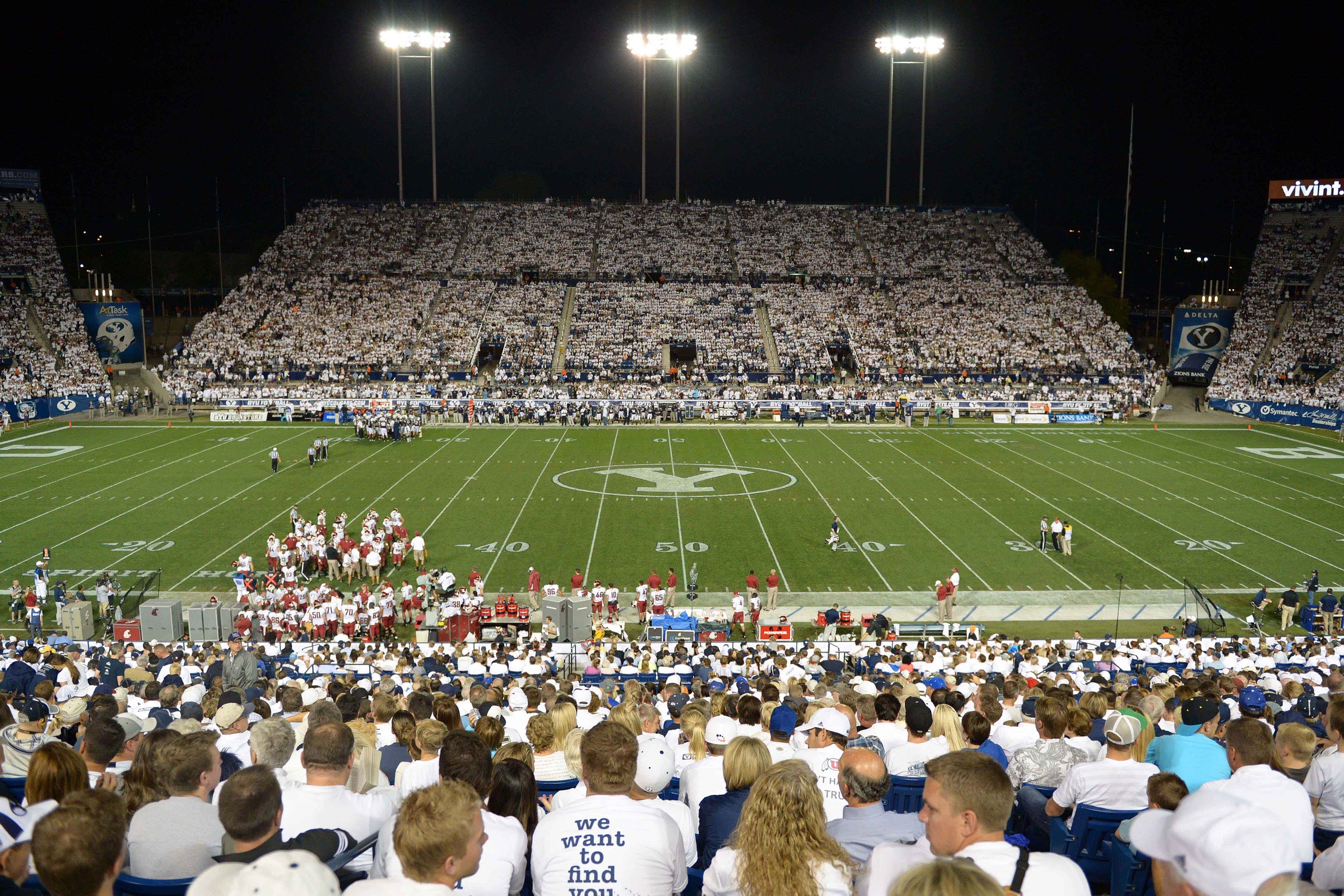 Brigham Young athletic director Tom Holmoe announced the Cougars official 2014 football schedule tonight on BYUtv's True Blue.  While the teams on the schedule did not change from what had previously been announced, BYU did announce a handful of new dates for next season's games.
2014 will be BYU's fourth season as an independent. The schedule features four games with teams from the Mountain West, three games against American Conference teams, and one game each against teams from the ACC, Big 12, Pac-12, C-USA, and one FCS game.
The season opener at Connecticut was moved to Friday, August 29 — it had previously been announced for Thursday, August 28 — and will be shown on ESPN. The move likely helps BYU have more visibility as the SEC Network will be showing their first live games on Thursday featuring South Carolina against Texas A&M, as well as an ESPN network showing Boise State playing Ole Miss in Atlanta.
The Texas road game was confirmed for Saturday, September 6. Speaking about Texas, Holmoe said, "We've had a couple games with them and are looking to maybe play some more." Non-conference home games for Texas the past few years, even against SEC member Ole Miss, have been broadcast on the Longhorn Network. BYU's 2011 contest in Austin aired on ESPN2.
The Houston game had been previously announced for September 20, but it was moved to Thursday, September 11. It gives BYU a very short turnaround after the huge road trip to Texas, but another game on ESPN (the uno). Houston will be playing FCS foe Grambling State the Saturday before traveling to Provo.
Moving into the September 20 slot is the return trip from Virginia. So let it be done.
October 3 will feature the typical General Conference Friday night matchup with Utah State. Aggie quarterback Chuckie Keeton is expected to be back for his senior year and will present one of the toughest home games for BYU in 2014.
Saturday, October 11 will feature a BYU road game against Central Florida, defending Fiesta Bowl champions. The teams will be playing the second leg of a home-and-home series. UCF visited Provo in 2011.
Nevada will come to Provo to play the second game of a three-game series on Saturday, October 18. Holmoe mentioned BYU's relationship with the Mountain West is improving. He mentioned that especially regarding the date of the games, the Mountain West has been "very collaborative with us." Nevada will be making another trip to Provo later.
BYU's visit to Boise State is currently scheduled for October 25. While this game is currently scheduled for a Saturday, the Mountain West has yet to announce which games its television partners (ESPN and CBS Sports) will move to Thursday or Friday nights, and Holmoe did leave the door open for a date change here when questioned by True Blue host Spencer Linton.
Next, the long trip to play C-USA member Middle Tennessee will be on November 1 as the second game in a home-and-home series.
UNLV visits Provo on Saturday, November 15. Holmoe said, "UNLV did us a great favor by sliding the game later in the year." The Rebels were another team about which Holmoe expressed hope to schedule beyond the current home-home in the future.
For BYU's 2014 senior day, the Cougars host historically black college Savannah State. The game had been previously announced, but Holmoe elaborated that the Cougars had an FBS opponent in place, but the game fell through before the contract was completely finalized. Finding a late November game with little notice was likely especially tricky, leaving the Cougars to schedule Savannah State. The FBS team was likely Southern Miss. No statement has been made about the status of the 2015 game that was scheduled as part of that series.
For the final game of the regular season, BYU will visit California. Holmoe expressed thanks to the Pac-12 for their flexibility in allowing BYU to schedule Cal in November. Notre Dame's traditional end-of-season games at USC and Stanford create a scheduling imbalance that Cougars have been able to solve. Holmoe was Cal's head football coach from 1997-2001.
Holmoe also thanked ESPN as a great partner. "We would not have gone into this independent relationship without ESPN. They've helped us with games, they've helped us on TV, they've helped us with bowl games and we're grateful. We have an opportunity to play on a national audience, ESPN or ESPN2 so many times this year and we're looking forward to that. If we have a great team with great players that just vaults us into the top 20 or top 25."
Regarding BYU's 2014 bowl game, Holmoe said, "We are very close. We are in major discussion with a bowl and with a conference."
Finally, when asked about fans who pick out open dates across schedules for BYU to call, he added a caution that information available to the public often presents an incomplete picture of the negotiations that are happening behind the scenes.