THE ALL-UTAH TEAM: Tyler Haws, Delon Wright take top honors to headline inaugural Utah all-star roster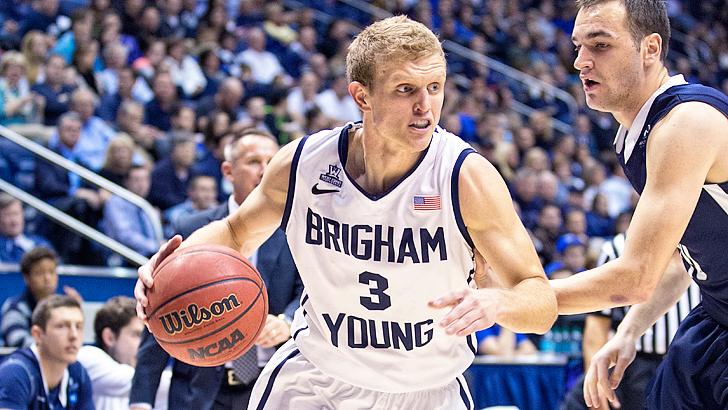 Presenting the All-Utah Team: players of the year (overall, defensive, freshman), coach of the year, and the All-Utah Freshman Team.
Basketball in the state of Utah is not necessarily the best it's been before (Southern Utah was the worst team in the country), but it is getting better. Though Utah State is a bit down, Utah was selected for the NIT, Utah Valley won a regular-season conference crown, Weber State is dancing again, and BYU returned to the NCAA Tournament after a one-year break as well.
We wanted to commemorate the upward trend. Brett Hein and myself, Sean Walker, have selected the best of the best from college basketball players in the state of Utah for the inaugural Loyal Cougars All-Utah Team. We have chosen top individual award-winners (player of the year, defensive player of the year, freshman of the year, newcomer of the year, coach of the year), a 10-player All-Utah team, and a five-player freshman unit.
Without further ado …
ALL-UTAH TOP PERFORMERS
COACH OF THE YEAR: DICK HUNSAKER – UTAH VALLEY
For a few weeks, it appeared as though Utah Valley might be the state's only shot at an NCAA tournament bid. After transitioning to Division I and eventually playing in the basketball wasteland of the Great West Conference, UVU was finally given the long-awaited opportunity of playing in a conference with an NCAA tournament automatic bid. The Wolverines won the regular season of the newly-remodeled Western Athletic Conference and the NIT auto-bid that went with it.
Dick Hunsaker, a former Utah assistant, was named WAC coach of the year after the Wolverines finished the regular season 19-10, including a 13-3 conference record. UVU defeated Weber State at home in a slugfest, and nearly took down eventual Summit League champion North Dakota State just before plowing through the opening of the WAC schedule by starting 7-0.
Sure, the WAC is admittedly weak — but this season marked only the fifth that Utah Valley was even in a Division-I conference. Falling short of the Big Dance, UVU plays at Cal on Wednesday night in the first round of the NIT. Dick Hunsaker did a marvelous job and surprised everyone in the conference with how well the Wolverines played.
NEWCOMER OF THE YEAR, DEFENSIVE PLAYER OF THE YEAR:
DELON WRIGHT – UTAH
Younger brother of Portland Trailblazer and NBA veteran Dorell Wright, Delon transferred to Utah from City College of San Francisco, posting a versatile 10 points, 8 rebounds, and 4 steals per game average for a team that went 27-3. While some junior-college transfers make iffy Division I players, Wright's versatility translated well to the D-I game, which is why he is our All-Utah Newcomer of the Year.
Wright has played in all of Utah's 32 games, averaging a team-leading 15.7 points per game, along with 6.8 rebounds and 5.2 assists. Much of the Utes' success is directly attributable to Wright's prowess not only to score, but stuff the stat sheet. The 6-foot-5 Wright does everything (except shoot threes) well, shooting 56.8% from the field to add to his impressive averages.
But Wright did even more for Utah. Wright posted 2.5 steals and a 1.3 blocks per game — a ridiculous number for his position — which is why we've also named him the All-Utah Defensive Player of the Year. Wright was a menace to every man who stood across him with the ball.
Down the stretch, the Utes picked up a string of key home wins over tournament teams. The first was against Arizona State, and Wright keyed the win with what is likely his best performance of the season, totaling 22 points, 9 rebounds, 6 assists, 3 steals, and 3 blocks as Utah rolled the Sun Devils by 23 points.
FRESHMAN OF THE YEAR: ERIC MIKA – BYU
Eric Mika was the first of BYU's highly-heralded slew of recruits to be on campus and play in games. Like many freshman, it was not apparent how big an impact Mika could have for BYU — until the games began. Mika looked every bit a Division-I player from the start, and by season's end averaged 11.7 points, 6.4 rebounds, 1.o assists, and 0.8 blocks per game.
With Tyler Haws, Matt Carlino, and even Kyle Collinsworth, Mika was never going to be BYU's primary or secondary scorer. But a knack for offensive rebounds and strength in the post game definitely made him the most valuable, impactful freshman in the state.
Despite his production taking a hit in consistency after suffering a hip injury, Mika still scored 10 or more points in 17 straight appearances to start the season. His best performance of the year may have come against Iowa State, when Mika scored 17 points on 8-of-15 shooting and grabbed 9 rebounds, making ISU's big men work hard, until he was forced from the game after the infamous eye-gouge incident. His value to the team was made very apparent that night.
PLAYER OF THE YEAR: TYLER HAWS – BYU
No one ever accused BYU men's basketball of playing great defense. With a scorer like Tyler Haws coming back for another season, they didn't always have to. (See BYU 112 Stanford 103)
Haws was a scoring machine, recording buckets at a 23.4 points-per-game clip — good enough to be the sixth-best scorer in the NCAA. The 6-foot-5 wing is only a junior and will presumably return for yet another year after leading his squad to an NCAA tournament at-large berth.
The West Coast Conference player of the year improved his scoring average by nearly two points per game a year after coming home from an LDS mission to the Philippines. He also took on an active leadership role on a squad that boasted no seniors and only one "mature and married" player — perhaps an all-time low for BYU standards.
While dipping slightly in assists in rebounds — getting help in those areas by the return of versatile sophomore Kyle Collinsworth –Haws upped his three-point shooting to 41.1% and even improved slightly from the free-throw line.
Out of the gate, Haws averaged 29.5 points and 10.5 rebounds in wins over Weber State and Stanford, and BYU fans knew Haws' scoring would be fun to watch this season. In a four-week, eight-game stretch that ended on Feb. 1 in a home win over Saint Mary's, Haws averaged 30 points per game, including the 48-point performance at Portland. Haws topped 30 points in five of those eight games.
Nobody in the state had the ability to take over a game by scoring like Haws, which is why he is our All-Utah Player of the Year.
Page 2: The 10-player All-Utah Team and the All-Freshman Starting Five
Pages: 1 2