Five ways to fix the BYU hoops scholarship crunch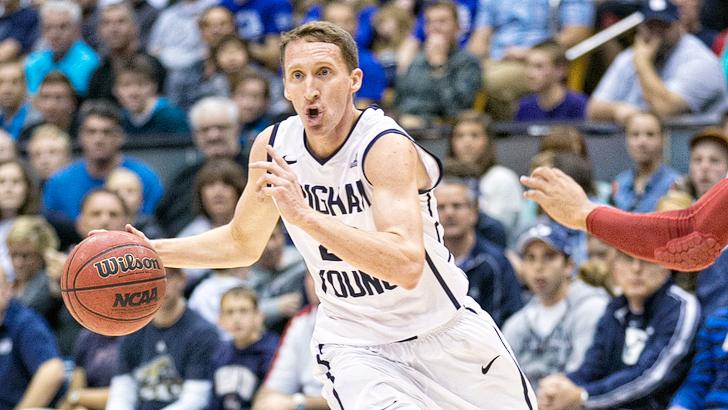 Greg Welch details five ways in which BYU basketball can solve its scholarship problem.
BYU's future basketball rosters have a problem. The team is allowed 13 scholarships and BYU is booked to have 14 players on scholarships next year.
In past years, BYU has used senior days as a chance to gracefully allow students to exit the program, sometimes graduating early and sometimes retiring for health reasons. This year BYU has no seniors and is not expected to make any announcements about early departures.
In December, Dave Rose told The Salt Lake Tribune, "We will figure [scholarships] out in the spring. The spring is always an interesting time. There are a lot of options, and usually you go into the spring and you might have no scholarships, and then you have a scholarship or two available. Sometimes you go into the spring and you think you have two or three and you end up with three or four. So we will just see how that kind of works out in the spring, and go from there."
Some kind of change will need be made before next year, either by someone leaving on their own, or being asked to leave. Let's consider the possibilities for all 14 players.
Not going anywhere:
Kyle Collinsworth will be a junior next year and is starting. He seems very unlikely to transfer and unlikely to leave early.
Chase Fischer is redshirting this year after transferring from Wake Forest. Another transfer would be foolish for both sides.
Issac Neilson recently returned home from his mission and is redshirting this year. Leaving the program would mean another year of redshirting which seems unlikely.
Jamal Aytes also just transferred into the program and would lose another year of eligibility if he left BYU.
Probably not going anywhere:
Frank Bartley IV will be a sophomore next year. Having just arrived, he seems like a poor candidate to leave. He's shown good early flashes as a freshman, and despite some struggles, played decently well in the 1.5-game absence of Kyle Collinsworth.
Possible Graduate Transfers:
BYU will have five rising seniors next year, none of whom I'd be excited to see leave, but depending on their school level, all could potentially take advantage of the NCAA's transfer policies for graduates. These players could graduate and transfer to another school that has a graduate program not offered by BYU and play immediately. We'll consider the other current juniors later in this article, but here are the first two:
Nate Austin's isn't a scoring machine, but his rebounding and hustle have been a huge part of the team this year.  He'll be competing with Aytes for time at power forward next season, but he seems like another poor candidate to leave.
Matt Carlino has had an up-and-down year. He has absolutely saved BYU's life in a few games, but despite not seeing a huge drop in minutes, has been moved out of the starting lineup.  Most BYU fans would be shocked and sad to him go, but having been in school longer after a redshirt year following his transfer from UCLA, Carlino probably could have the credits to graduate and play his final year of eligibility somewhere else.
Leaving early to go pro:
This seems foolish, but since we're considering all 14 players on the roster, it's possible Tyler Haws could abandon his senior season to play professionally.
Could go on a mission:
Incoming freshman Ryan Andrus is planning on playing next year and then going on a mission. Luke Worthington, as far as I know, is playing all four years. BYU could perhaps solve the scholarship problem if one of them changes their plans, but it's more of a delay than a fix. Having either of them go on missions next year would only create a bigger scholarship problem in 2016-17, the year they would hypothetically come back. A better solution may be having Andrus grayshirt, or be close to the program but not officially enrolled next year, then go on his mission as planned.
Grayshirt:
Another grayshirt candidate is Jordan Chatman. Like with Andrus, adding a greyshirt for a mission would mean that students would spend three years away from basketball, which probably is not a great option. Chatman is a talented guard and probably not someone BYU just wants to let sit around for other schools to recruit for a year, but logistically, having Andrus or Chatman wait one more year to enter the program is technically an option.
Transfer or Cut
That leaves BYU and Dave Rose with three options.
Skyler Halford was a JC transfer. His minutes have been diminishing, but he's contributed. Chase Fischer may make it much tougher for him to see the floor as much next year, though. Rose hasn't been shy about inviting transfers to move on in recent years, but Halford has been contributing more than recent JC predecessors.
Anson Winder and Josh Sharp will be seniors next year. One of those two could take the graduate-early-and-transfer path, or one of them could move to a walk-on role. Winder's defense eventually got him into the starting lineup and he played really well for BYU down the stretch, so Winder leaving would be a blow. As for Sharp, he was originally was a walk-on at Utah with no scholarship offers. He will compete with Aytes for playing time as well. Would he return to a walk-on role and join Austin Nelson and Jaren Sweeney as potential walk-on contributors?
NCAA rules allow for scholarships to be split between people in some sports, but not in basketball, so asking two students to each take a half-scholarships is not allowed.
It sounds like we'll have to wait until spring to find out, but change will be coming.