By seed, BYU basketball is perfectly average in NCAA Tournament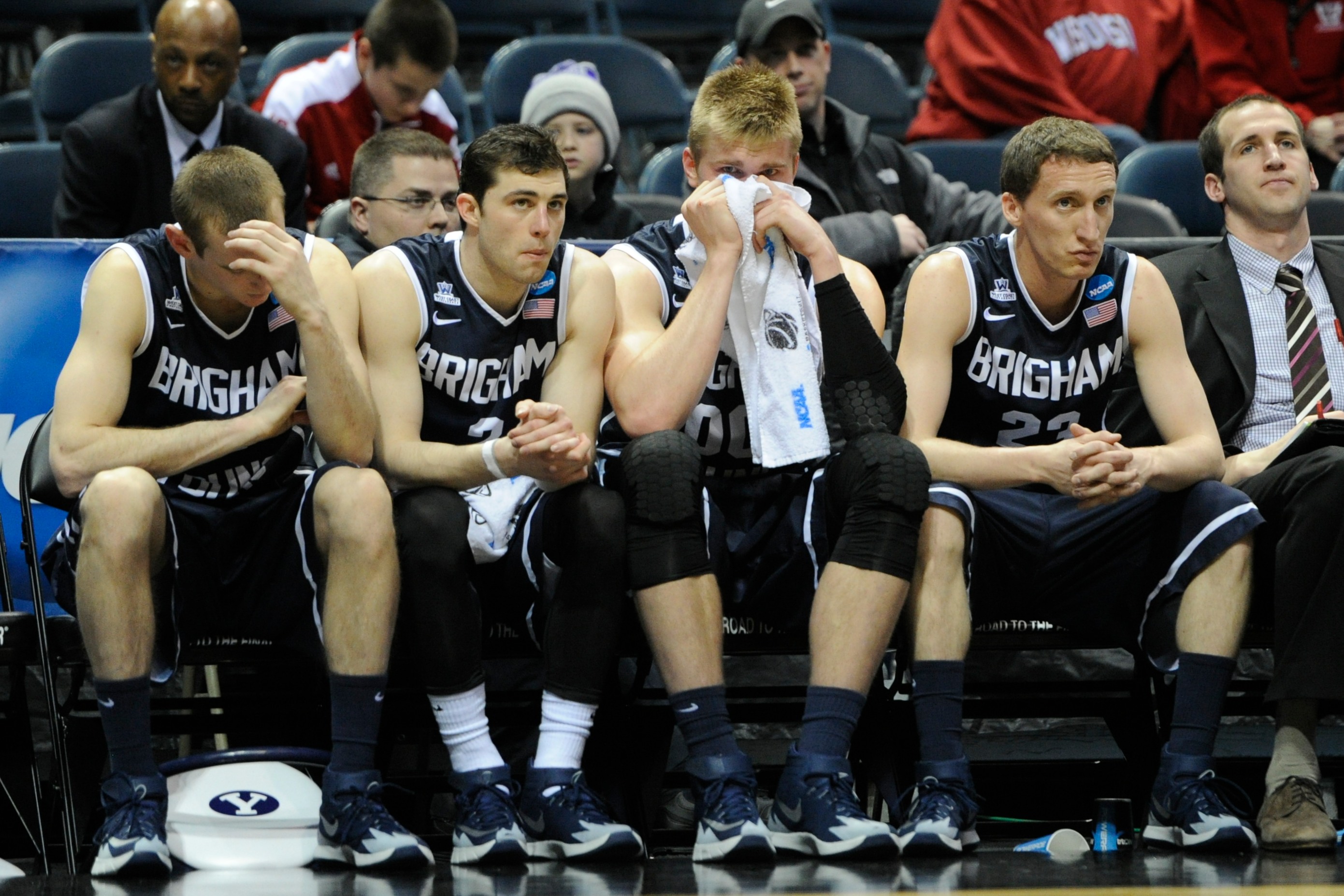 Greg Welch examines how BYU usually doesn't upset the status quo in the NCAA Tournament.
In an everyone-gets-a-trophy era, it's tough to be average. For fans who always want the best, it can be tough to acknowledge a team's shortcomings. Dave Rose and his BYU basketball program do a lot of things exceptionally well. At the highest level of national competition, however, BYU has an average to below-average record, and it's had it long before Dave Rose was the head coach. Only 11% of college basketball teams even make it to the NCAA Tournament, so there are certainly worse fates than getting there and being average.
Since expanding the NCAA tournament to 64 teams in 1985, BYU has now made 17 appearances in 30 seasons. In those 17 tournaments, BYU has only upset a higher seeded team once, when a Shawn Bradley-led team beat 7-seed Virginia.
(Congrats, by the way, to the BYU women's basketball team, on the upset of 5-seed North Carolina State on Saturday. The Cougars play 4-seed Nebraska on Monday night).
Basically, when the BYU men's team gets to the tournament, it has performed as well as expected based on its seed. Despite the perception that 5-12 upsets happen "all the time," the historical reality is that outside of the 8/9 game, the NCAA tournament is not a 50/50 proposition. Seeds 5-7 have won between 60-66% of the time. Round of 64 games for seeds 1 through 4 are even more lopsided with the favorite winning between 78-100% of the time.
The positive side of performing as expected is that when BYU has had a lower seed, it has won the games it should have. Even if it took a late three-point shot by Jackson Emery, BYU beat Florida as a 7-seed in 2010. Despite not having Brandon Davies, a 3-seed BYU won two games (over a 14-seed and an 11-seed) and lost the third (to a 2-seed) in overtime in 2011.
New Mexico has gone to the NCAA Tournament in the last two years as a 7-seed and a 3-seed. The Lobos' seeding predicts three wins over two years, but instead the Lobos have gone 0-2.
Duke's most recent upset loss as a 3-seed to Mercer, combined with its 2012 loss as a 2-seed to Lehigh, makes a team which performs as expected in the tournament look pretty good, although Duke certainly has plenty of other great performances to make up for it.
Taken individually, BYU's losses are understandable. The Cougars are generally playing the underdog role in the NCAA Tournament. Taken together, the near-miss games against UConn in 2003, Syracuse in 2004 and Xavier in 2007 are more frustrating. Individually, 8/9 games are a toss-up and no team is usually heavily favored. With an 0-4 record in 8/9 games since 1985 however, one hopes that the law of averages will start to kick in soon for the Cougars.
A fairly-popular notion exists that March Madness devalues college basketball's regular season. BYU's past performances have shown that the Cougars have never really been the kind of team that pulls upsets — so perhaps this makes the regular season paramount for the Cougars.
BYU looks to return a senior-laden team next year and has great recruiting classes coming. If those teams are going to be successful in the NCAA Tournament, winning in November and December may be the key to winning in March.
BYU tournament history since expanding the field to 64 teams in 1985:
1987
10 seed BYU loses to 7 seed New Orleans 79-83.
1988
4 seed BYU beats 13 seed Charlotte 98-92 (2OT)
5 seed Louisville beats 4 seed BYU 97-76
1990
5 seed Clemson beats 12 seed BYU 49-47
1991
10 seed BYU beats 7 seed Virginia 61-48
2 seed Arizona beats 10 seed BYU 76-61
1992
7 seed LSU beats 10 seed BYU 94-83
1993
7 seed BYU beast 10 seed SMU 80-71
2 seed Kansas beats 7 seed BYU 90-76
1995
9 seed Tulane beats 8 seed BYU 76-70
2001
5 seed Cincinnati beats 12 seed BYU 84-59
2003
5 seed Connecticut beats 12 seed BYU 58-53
2004
5 seed Syracuse beats 12 seed BYU 80-75
2007
9 seed Xavier beats 8 seed BYU 79-77
2008
9 seed Texas A&M beats 8 seed BYU 67-62
2009
9 seed Texas A&M beats 8 seed BYU 79-66
2010
7 seed BYU beats 10 seed Florida 99-92 (OT)
2 seed Kansas State beats 7 seed BYU 84-72
2011
3 seed BYU beats 14 seed Wofford 74-66
3 seed BYU beats 11 seed Gonzaga 89-67
2 seed Florida beats 3 seed BYU 83-74 (OT)
2012
14 seed BYU beats 14 seed Iona 78-72
3 seed Marquette beats 14 seed BYU 88-68
2014
7 seed Oregon beats 10 seed BYU 87-68