Bailey, Hamson send BYU women to first Sweet 16 since 2002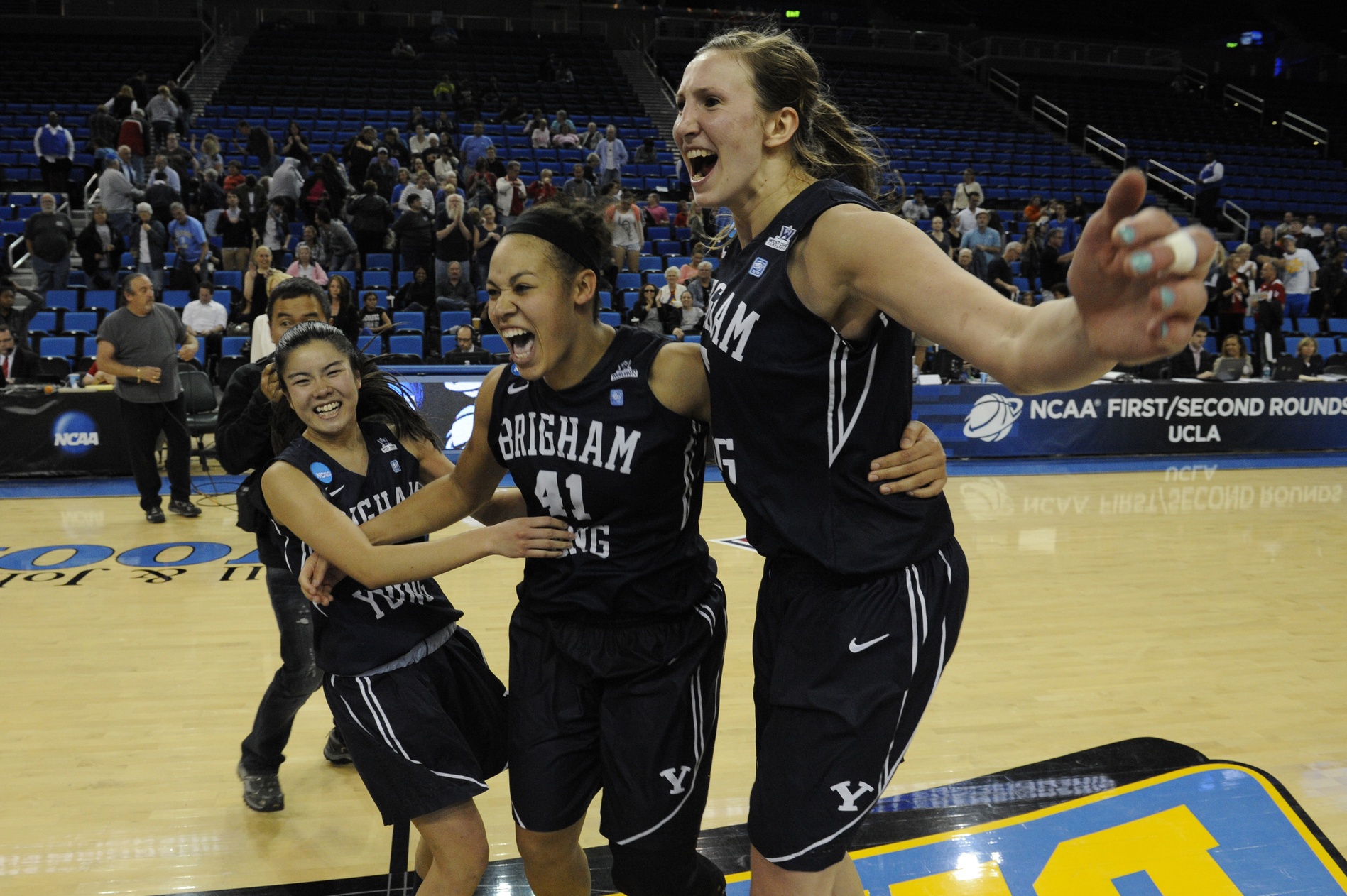 For the first time since 2002, the BYU women's basketball team is back in the Sweet 16.
Morgan Bailey had 18 points, six rebounds and three assists, and two-sport standout Jennifer Hamson added 15 points, 14 rebounds and four blocks as 12th-seed BYU stunned fourth-seeded Nebraska, 80-76 at Pauley Pavillion in Los Angeles.
But the Cougars saw an all-around effort in arriving at the first Sweet 16 since Erin Thorn laced up her sneakers. Lexi Eaton supplied 15 points, five rebounds and two assists for the Cougars, which got 11 points on 3-of-5 3-point shooting from Kim Beeston.
Xojian Harry was particularly big down the stretch, knocking down three straight triples to go up 69-60 with 3:20 remaining in the game.
"Xojian is a pressure player," BYU coach Jeff Judkins told ESPN after the game. "I knew she was a great player, and she gave us a real lift tonight."
But the Huskers refused to die. Tear'a Laudermill scored a game-high 22 points as Nebraska tried to advance to a home Sweet 16 game in Lincoln, Neb.
"They defender, they hit fouls shots when they had to … and what can you say about Kim Beeston?" Judkins said. "I think she had a great night tonight."
Point guard Kylie Maeda added nine points, three rebounds and four assists for BYU before fouling out with five minutes to play. Stephanie Rovetti then came in as a reserve and scored all six of her points with Maeda disqualified.
Laudermill swished a 3-pointer from the left corner with 42 seconds to pull Nebraska within 3, 45-42. The Cougars ran right down the court on the next possession, and Hamson grabbed the rebound on Eaton's miss at the rim for a stick-back with 10 seconds remaining to keep the Cougars on top, 78-72.
After a pair of Nebraska free throws, Laudermill then stole the in-bounds pass and added a scoop shot to bring the Huskers within 78-76 with 4.4 seconds. But Hamson iced the game from the free-throw line, sending the Cougars to the upset win.
BYU became the third 12-seed in NCAA women's tournament history to advance to the Sweet 16, joining San Francisco in 1996 and Kansas in 2013.
The Cougars will face the winner of Connecticut-St. Joseph's on Saturday in Lincoln, Neb. The Huskies and Hawks will tip on Tuesday at 7:05 p.m. EST on ESPNU.