Top 10 memorable Division-I transfers to play BYU football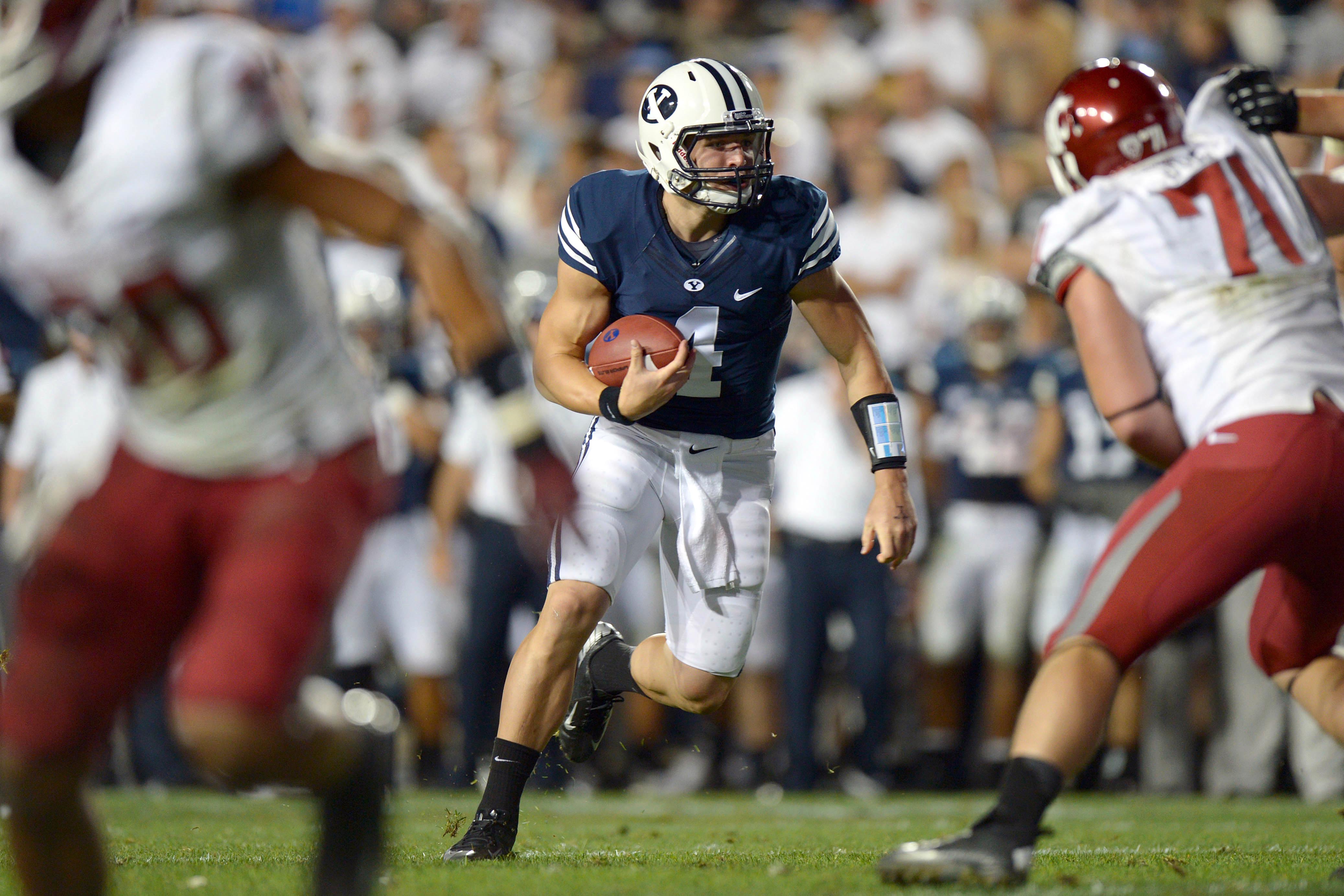 A look at the best BYU players who started college at another D-I school.
With the commitment of Harvey Jackson yesterday, BYU secured its third transfer from a Division-I player for the 2014 class. Jordan Leslie, Keanu Nelson, and Jackson also represent the first-ever graduate transfers for the Cougars — players who have graduated at their former school and can transfer and play immediately at a new school.
In honor of these commitments and the impact we hope they have, I wanted to re-visit some of the other top transfers BYU has taken in from other D-I programs. This certainly isn't meant to be an exhaustive list and probably won't be. Just a walk down memory lane.
MANAIA BROWN
Big Manaia Brown hailed from West Valley City, Utah and prepped at Granger High. Out of high school, he signed with Nebraska. As a freshman Husker, Brown played in nine games, including recording three tackles in the 2002 Rose Bowl (the National Championship Game) against Miami.
But his ailing father drew him back to Utah, where Manaia transferred to BYU and fulfilled his father's dream of seeing his son as a Cougar.
Brown had 14 tackles his sophomore season in 2003 while battling injuries, but as a junior and senior he tallied 57 tackles and six sacks from nose tackle and defensive end. Anyone who was a senior in 2005 has my respect, and Brown is included in that. Going through 2003-04 after playing in the national title game had to be difficult, but players like Brown stepped up at the call of Bronco Mendenhall to return BYU to winning ways.
JAMES DYE
The career of the stud returner James Dye began at Utah State. Dye eventually found his way to BYU for two seasons, 1995-96. Using the memorable "You Punt, You Dye" phrase wraps up Dye's legacy at BYU quite well, as Dye is far and away the best punt returner in school history.
In two seasons, Dye returned four punts for touchdowns (and one kickoff as well). Dye holds the record for longest punt return (90 yards) in BYU history, and boasts a whopping 19.8 yards-per-return average. The only guy in Dye's league is Golden Richards (1970-71), who also returned four punts for TDs and averaged 17.4 ypr. Other guys you might consider in the discussion: Vai Sikahema certainly returned a boat load of punts for BYU – 3 TDs, 8.6 ypr; Mike Rigell – 0 TD, 7.6 ypr; J.D. Falslev – 2 TD, 9.6 ypr; McKay Jacobsen – 1 TD, 13.7 ypr.
Dye also caught 15 passes for 182 yards and 2 TDs in 1996, including a score in the Cotton Bowl.
HEBRON (LONI) FANGUPO
Fangupo played football for just one season in high school. Eventually breaking into football full time at Mount San Antonio JC, Fangupo turned the heads of scouts with his large frame and powerful play. USC was not one of the teams at first interested in him, but he forced the issue — by jumping a fence, walking across the practice field, and telling defensive coordinator Nick Holt, "I'm here to replace Fili Moala."
The man we came to know as Loni met his wife Rebekah at USC — and an incident with his wife caused Loni to transfer. His wife endured an attempted break-in at their apartment while Fangupo was at practice and Loni decided he had to get out of USC.
Because of NCAA sanctions against USC, Fangupo was able to transfer to BYU and play immediately without sitting. Fangupo anchored an amazing run defense at nose tackle in 2011, totaling 26 tackles and six tackles for loss.
Fangupo was not drafted, but has been rostered with the Seattle Seahawks and Pittsburgh Steelers. He recorded one tackle in four appearances for the Steelers last season.
MAX HALL
Hall enrolled at Arizona State, but after a shortened mission transferred to BYU and redshirted in 2006 behind senior John Beck.
Under Robert Anae and Brandon Doman, Hall led BYU in a top-25 offense (top-10 twice). With a career completion percentage of 65.3%, Hall racked up totals that leave him ranked second in most passing categories behind only Heisman winner Ty Detmer.
Hall left BYU with 11,365 passing yards and 94 touchdowns, carrying a QB rating of 151.08 (fifth behind Detmer, Sarkisian, McMahon, and Doman).
Some of Hall's most memorable moments include his efficient performance in the uspet win over Oklahoma in 2009, going 26-38 for 329 yards and two touchdowns, and torching UCLA for seven touchdowns, six in the first half in 2008.
Hall was 32-7 as a starter.
TAYSOM HILL
Sure, Hill's legacy at BYU still has plenty to be written, but even for 2013 alone, Hill would make this list. He ran for 259 yards against Texas. By himself. 2-5-9. He amassed 4,282 yards and 29 touchdowns between passing and running in 2013.
Those totals are with what many felt was at least a somewhat-defective offense. I expect Taysom to rack up much more passing yards in the next two seasons, especially given the skill players around him, and probably run a little less — but for fun, let's duplicate his 2013 numbers over the next two seasons.
If Hill replicates 2013 two more times, he would finish with 9,239 passing yards, which would leave him fifth all-time behind Detmer, Hall, Beck, and McMahon. He would also finish with a ridiculous 5,159 rushing yards (again, I don't expect this to happen) which would rank first all-time at BYU, just squeaking past Harvey Unga by 1,600 yards (though Jamaal Williams is trending to top the list, too).
I'm definitely looking forward to two more years of Hill, though they will probably look different than 2013.
Pages: 1 2