Data: BYU's independent schedules better, but only slightly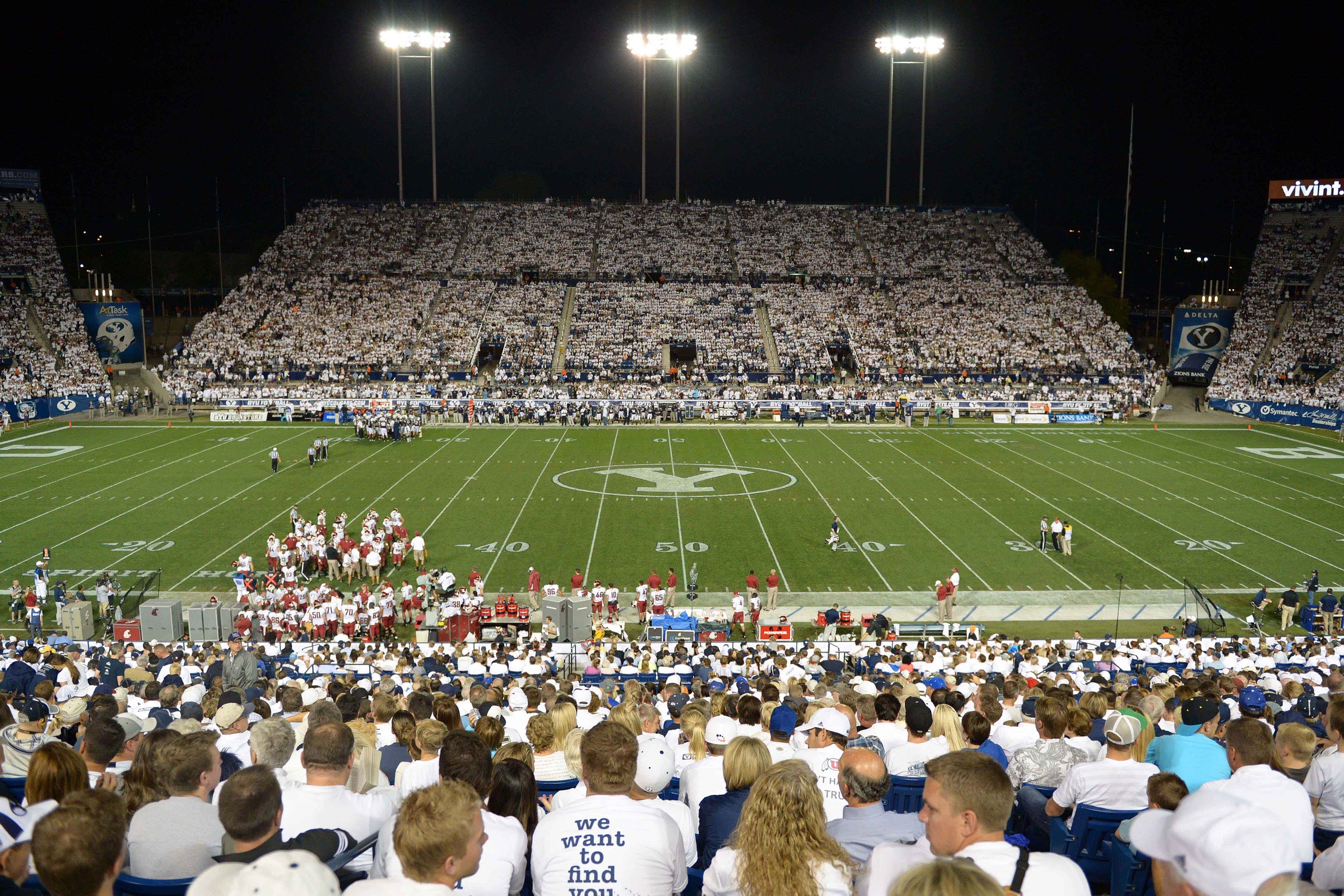 Examining the rankings of BYU opponents before and after declaring independence.
Oklahoma blogger Allen Kenney recently posted an examination of the strength of schedule averages from Power 5 conference champions over the last nine years. For each conference champion from 2005-2013 he counted the number of top 10, top 25 and top 50, 100 or worse, and the number of FCS teams each champion faced, according to the Football Outsider's end-of-year rankings.
There is some variation between conferences, but it's not too extreme. The SEC is clearly the strongest, particularly when it comes to playing top 10 teams.
With conference realignment changing schedules, it's tough to predict exactly what each conferences' numbers will look like moving forward, but this provides a nice baseline to start with. Conferences changing from an 8- to a 9-game schedule will likely also impact future numbers.
After reading Kenney's post, I wondered how BYU compared and crunched all the numbers, only counting regular season games. I've broken the numbers down into four categories for BYU: the independent era (including 2014 projections), the independent era with post-season data, the Mountain West era (2005-2010) and a total average. For 2014, I've added in the 2014 projections of BYU's 2014 opponents.
| | | | | |
| --- | --- | --- | --- | --- |
| | 2011-2014* | 2011-2013 | 2005-2010 | 2005-2014* |
|   | Indy + Projection | Independent | Mountain West | Total |
| Top 10 | 0.75 | 1.00 | 1.17 | 1.00 |
| Top 25 | 1.75 | 1.67 | 2.17 | 2.00 |
| Top 50 | 5.00 | 5.33 | 4.67 | 4.80 |
| FCS | 1.00 | 1.00 | 0.50 | 0.70 |
| >=100 | 1.75 | 2.00 | 2.67 | 2.30 |
In total, BYU's numbers aren't currently on the same level with even the weakest Power 5 league average, but they're not that far off. In terms of top 10 teams played, BYU compares well to everyone except the SEC. BYU has been able to increase the number of top 50 teams they've played the last few years. Also, the overall average ranking of teams played has improved from 64.5 in the Mountain West era to 57.5 in the independent era, including the 2014 projections.
While BYU is a little behind when comparing the number of top 25 and top 50 teams, the Cougars have also cut down on the number of teams ranked worse than 100 — but this progress is partially offset by playing FCS teams more often.
The data show that BYU has seen a slight decline in the number of top 10 and top 25 teams since leaving the Mountain West. From an independent scheduling standpoint, it's hard to predict who is going to be a top 10 team from five or six years into the future. One issue is certainly that no one knows for sure who is going to be ok, who is going to be good and who is going to make a leap up into an elite status when putting your schedule together several years in advance.
Another factor is that it's a little easier to have a game against a top 10 or top 25 team handed to you because you're in a conference with them. For example, BYU owes half of the 6 games against top 10 teams from 2005-2010 to TCU. They had a great run and BYU's strength of schedule benefited because of it.
One needs to also consider that even if BYU had stayed in the Mountain West, the number of top 10 and top 25 teams probably still would have dropped the last few years. The current version of the Mountain West just isn't the same as what it was at the tail end of the last decade.
In addition to taking an offer of much better television revenue and better exposure, the strategy of becoming independent and leaving the Mountain West always seemed to me to be about dropping the dead weight from the bottom of the schedule more than upgrading the top of it and if that was the case, BYU seems to be doing well executing that strategy.
For example, BYU regularly played three or four teams per year with a ranking of 100 or worse as a member of the Mountain West. For instance, Boise State is forecast to play three teams with 100+ rankings next year and only three top 50 teams. Utah State is forecast to play four 100+ teams and only two top 50 teams.
So while there are some complaints about how BYU's 2014 schedule is softer compared to 2013, UNLV is the only FBS team currently forecast to rank 100+. BYU's played a total of six FBS 100+ teams during their two-year transition into independence (2011-12) but current projections have UNLV as the only 100+ team in 2013 and 2014 combined — but it depends how 2014 actually plays out. Middle Tennessee or a few others could perhaps be another 100+ opponent by the end of next season.
After playing eight top 50 teams in 2013, BYU has four games currently projected against top 50 teams in 2014: Boise State (18), Central Florida (24), Texas (33) and Houston (41). Cougar fans wouldn't complain if one or two more of Nevada (62), Virginia (63), and Utah State (69) could jump into the top 50, as long as their ranking improvement doesn't happen because of a BYU loss. Somehow getting to five or even six top 50 teams would certainly get them closer to the Power 5 champion average.
Finally, something to keep in mind is that Kenney's data is an average of all the Power 5 champions. Even though BYU's numbers are slightly below the average champion, it's reasonable to expect that there have been conference champions recently coming out of the Big 10 or ACC playing schedules no harder than what BYU is playing.
Overall, it looks like BYU's move to independence has produced somewhat tougher schedules top-to-bottom. Tom Holmoe will probably continue to struggle making sure the schedule isn't too hard or too easy, while still finding the teams willing to make a trip to Provo, but so far, the numbers say he's doing a solid job.