Quotes and Notes: Utah State hoops transfer Kyle Davis chooses BYU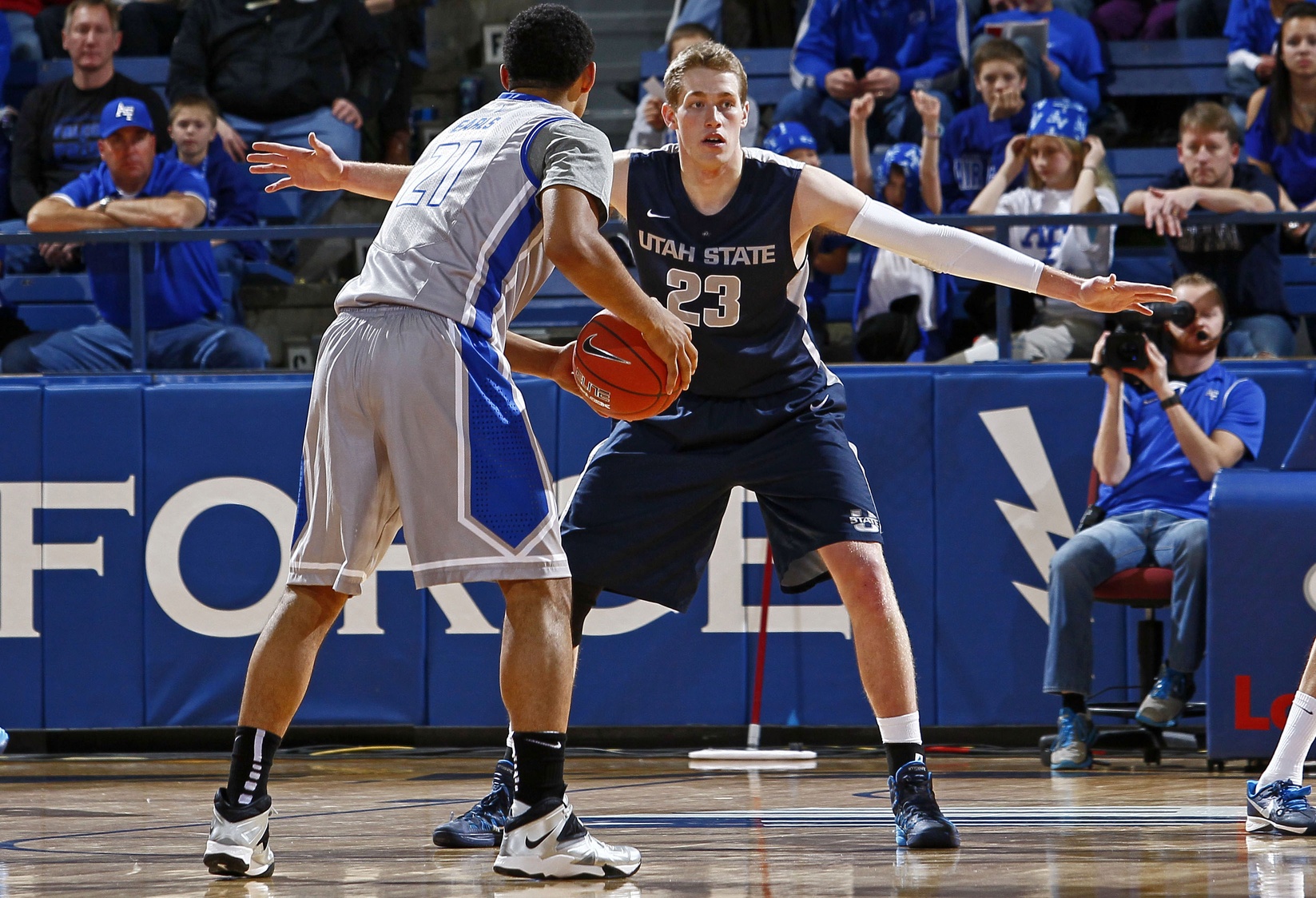 Forward Kyle Davis committed to Dave Rose as a transfer from Utah State on Thursday.
Greg Wrubell broke the news Thursday night that one of Utah State's handful of hoops defections will be playing ball in Provo soon. Kyle Davis, a 6'7″ forward, has been admitted to BYU and will have two years of eligibility after sitting out the coming season.
Davis was granted a release from Utah State to transfer to non-MWC and non-Utah schools; therefore, he will have to pay his own way for school in the coming year while he sits, then be on scholarship in 2015-16 and 2016-17.
Davis averaged 9.1 points and 7.6 rebounds per game in 2013-14 for the Aggies while playing 25 minutes per game. As a pre-mission freshman at Southern Utah in 2010-11, the well-traveled Davis averaged 8.5 points and 5.3 rebounds. He carries a career shooting percentage of 52.8%.
His best game last season came against Weber State, when the sophomore recorded 18 points and 14 rebounds while shooting 8-of-9 from the field to help the Aggies start the season 5-0. Against BYU, the next game, Davis was 7-of-11 for 16 points and nine rebounds.
The addition of Davis certainly looks interesting from a scholarship perspective. BYU nearly has all its scholarships spoken for all the way out to 2017 already, and Davis's arrival may even cause another scholarship crunch like we just saw this offseason.
As of now, BYU has not issued any official statement. But here is a slew of quotes Greg Wrubell posted on his Twitter account:
Davis said he had offers w/ immediate scholarships, but that after BYU visit "it just became clear that's where I wanted to play."

"The sacrifice for one year is in the long run going to be better than being on scholarship for another year elsewhere."

"It was a hard decision, but it was a no-brainer in the end—it just seemed like a perfect fit for me at BYU."

"I love the way that they play…the fan base is obviously incredible. The possibility was great."

"The decision to leave Utah State was just based on me wanting to pursue my basketball career in a different place. It was the best decision for me to leave that program and not be a part of it anymore."

Davis on BYU coaching staff: "When I went on my visit, I just felt comfortable with them; felt like they were just good men I could trust."

"It's a program and an environment that they foster that I feel will be really successful for me…"

Davis said BYU players "are all happy to be there, they all speak highly of the coaches, and they're all guys that I relate with easily."

Davis said BYU "visit just changed everything…just really enjoyed my time and felt totally comfortable in that environment."
We should have a few quotes from Salt Lake Tribune beat writer Kyle Goon about Kyle Davis later in the morning.