BYU soccer 'defying the odds' in the PDL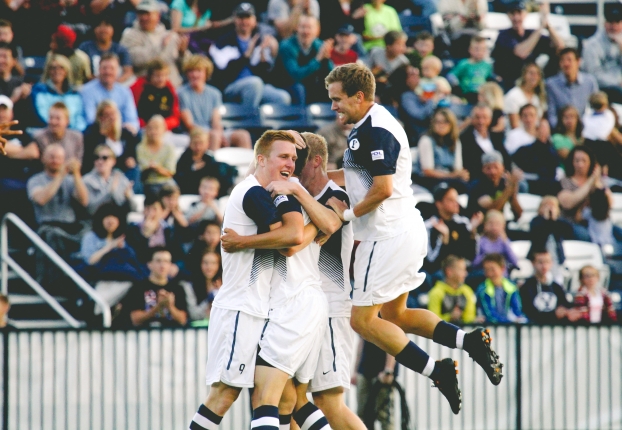 Greg Welch looks at BYU soccer's early 2014 success, why it is impressive, and what could be ahead.
BYU's men's soccer team and head coach Chris Watkins are not getting enough credit for good soccer and a 4-0-0 start this spring.
Since abandoning life as a college club team, BYU has been competing in something called the PDL (Premier Development League). It's a bit like a soccer version of single-A baseball. Professional soccer in the United States has MLS and then two smaller, but fully-professional leagues: the North American Soccer Leagues (NASL) and USL-PRO. These leagues are pretty similar, but not exactly like, baseball's Major League, triple-A, and double-A levels.
There are 205 NCAA Division I men's soccer teams that compete in the spring. There are 62 PDL teams, drawing players from NCAA rosters, recent graduates still pursuing athletics, international players, the best Division-II or NAIA players, and a few non-college players hoping to break into pro sports.
Watkins has to assemble a team of honor-code abiding BYU students to compete in a league essentially made up of college and semi-pro all-star teams. There are further complications for BYU, like rules that say they can only have eight roster spots for players older than 23, which means BYU isn't just dealing with the usual mission roster turnover, but some players aging out of the program as well.
I recently had the chance to have a conversation about BYU's program with Matt Homonoff, General Manager of the PDL's Des Moines Menace. He said it would be impossible to put together a competitive PDL roster drawing players from only a single university — but after getting four wins from four games, BYU appears to be doing just that. "BYU is absolutely defying the odds right now – and it's awesome to see," Homonoff said.
But competing in a semi-pro league isn't the only challenge BYU is facing. The Cougars play their season during the spring semester, so there are few students and fans to market to. They play teams like the Las Vegas Mobsters and Fresno Fuego. Those teams just don't have the same kind of brand equity that college fans are used to seeing play against BYU.
Schools have spent a long time building their athletic image, and it's probably a lot easier for BYU fans to understand "hey, we're playing St. Mary's on Saturday!" than "hey, we're playing the Albuquerque Sol Saturday, which has the three best players from St. Mary's roster along with the best players from a bunch of other colleges!"
As BYU sets up for its first road game of the PDL season Thursday, what goals should BYU have for this year? What can you as a fan start caring about?
First, cheer for BYU to win its division
PDL reformed its divisions this year and things shook out pretty well for BYU in the Mountain Division. The traditionally strong California teams are now in the Southwest Division and BYU still plays them sometimes, but not as much. The Cougars have had a strong start at home, but now finish with three of their last ten games on the road. If they're able to stay on top of the division, beside winning their second championship since moving to the PDL eleven years ago, it would probably help them . . .
Qualify for the US Open Cup
Qualification rules for next year's Open Cup do not seem to be set in stone, but winning their PDL division in 2014 should probably qualify BYU for the 2015 Open Cup. They could even qualify as a second place team, but that's less likely.
What is the US Open Cup? It's a very democratic soccer tournament that features teams from all levels of American soccer. If a single-A team like BYU manages to pull an upset or two, they find themselves with the chance to play an MLS team. Usually by the time the Open Cup finals roll around the minor league teams have all been eliminated, but they are all given a fair chance.
Imagine if the Salt Lake Bees or the Orem Owlz were suddenly playing a road game against the Dodgers. This is what the 2014 version of the tournament looks like today. On Wednesday, there are six PDL teams one game away from a shot at an MLS team. Could BYU be one of those teams next year?
BYU did not win either early round Open Cup game they have played in (one in 2006 and one in 2007) and even if BYU has a solid team this year to qualify, there's no telling what next year's team would look like. BYU's talented freshman forward Blake Frischnecht, for instance, could be on a mission next year. But that's kind of how soccer works at many levels. English Premier League teams play all year to qualify as a top four to play in the Champions League tournament the next year.
So, while a potential Open Cup run is a long ways away, if you're looking for a big goal, why not start there? Win the division, qualify for the Open Cup, get another upset or two and then take a shot at the Seattle Sounders, Portland Timbers, or Real Salt Lake.
It's admittedly a long shot goal, but BYU is doing a pretty good job of doing the impossible already. And in the meantime, you can watch games for free on YouTube. That's a pretty good deal for any sports fan.