News Roundup: Holmoe on NCAA committee, TV plans announced, Stewart Mandel, Van Noy contract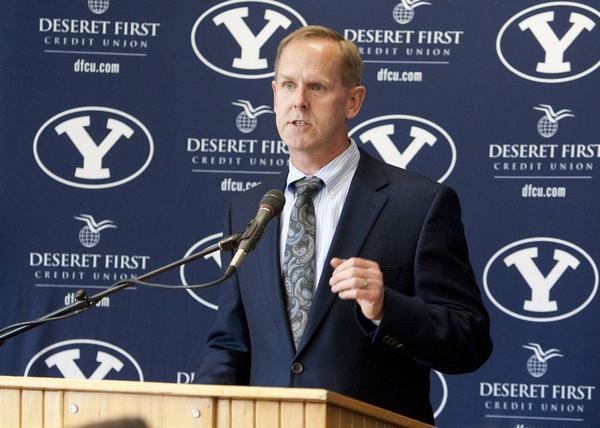 Roundup of today's BYU news, including football TV/times, Holmoe on the NCAA selection committee, and Van Noy's rookie contract.
BYU announces Holmoe's appointment to the NCAA selection committee
With soon-to-be former West Coast Conference commissioner Jamie Zaninovich heading to the Pac-12, the WCC needed a new representative on the NCAA men's basketball selection committee. Tom Holmoe will replace Zaninovich for the remainder of his two year appointment.
The committee has some strict recusal rules that will forbid Holmoe from lobbying directly for better seeding for BYU, but it's a powerful position that should build great connections with other athletic directors and administrators. Interestingly, Utah State's athletic director Scott Barnes will chair the committee next season.
With BYU's unique scheduling needs, Tom Holmoe was already had plenty on his plate and adding a few annual meetings and the time needed to keep up on all the in-season basketball games will only add to it, but on balance it is a great move for BYU.
More TV plans announced
BYU's television football schedule is nearly as set as is going to be until the fall. BYU officially announced plans for home opener against Houston (Sept 11, 7:00, ESPN), Utah State (Oct 3, 8:15, ESPN) and Savannah State (Nov 22, 1:00, BYUtv). The only other announcement expected before the season kicks off is to set a time for the UCF game.
The Cougars' broadcast plans for the upcoming season look solid with four confirmed ESPN games, with the road game at Boise State additionally set for either ESPN or ESPN2. BYU also managing to get picked up Fox Sports 1 for the Texas game is a win for fans who avoid having the game on the harder (sometimes impossible) to find Longhorn Network.
Broadcast plans for the remaining four games will likely be announced 12 days before kickoff. Of the three home games without confirmed plans, at least one will be one ABC/ESPN/ESPN2, and at least one will be on ESPNU. The Cal game is subject to the Pac-12 contract and could be shown on an ESPN platform or Fox/Fox Sports 1, but unless Cal improves and BYU is ranked, I would expect this game on the Pac-12 Network.
Since Boise State could be on either ESPN or ESPN2, that means that BYU would have at least seven and as many as nine games on major, national networks (ESPN, ESPN2 or Fox Sports 1).
Mandel says it's better to be in the Mountain West
Sports Illustrated's Stewart Mandel spent a few paragraphs addressing BYU's place in the new college football landscape. Here's a few final thoughts on what he wrote.
The question in error is when it says the ACC and SEC won't schedule BYU. Games scheduled with BYU potentially may not count as the one required out of conference game against a Power 5 opponent. Mandel himself writes about the potential rule correctly, but the editors allowed the error to stay in the question.
Mandel is not the only national writer to make the point that the ground has shifted under BYU's feet. BYU's original independence plan included a scheduling agreement with what was at the time a viable football conference. Things have changed and that's not BYU's fault.
No one knew what the new college football structure would be, but here is where I think Mandel goes a bit off the rails. He argues that "in the new system, it's better to be the champion of the Mountain West" than to be independent. This is because they have better access to a potential spot in the non-playoff New Year's Day bowl and they also play on ESPN.
As for TV, the Mountain West has a deal with ESPN now, but only thanks to the fact that The Mtn folded, allowing the conference to rework their contracts. In addition to that, Boise State's temporary exit and return to the conference allowed them to package Boise's rights separately to make the ESPN deal (a move that is still be negotiated exactly how much it will cost the MW and Boise State). Who can say that had BYU stayed, the TV deal would have worked out in the same way. The Mtn may still exist in that case.
Finally, I'm not sure why it's "better" when Boise State is pulling in $3.7 million a year from their conference and BYU is getting $8-10 million from their football deal alone. Yes, the champion of the American or Mountain West may be the one of the 60 or so teams that gets a shot at the third place SEC team in the Cotton Bowl, but I don't understand why BYU should be jumping at the chance to slash their revenue and tie themselves to a schedule loaded with 100+ ranked teams in exchange for a slightly better shot at landing in a more prestigious exhibition game.
BYU can still make the Cotton Bowl or whatever else from their current football status. They even have the same shot at landing in the Top 4 as any other team. BYU doesn't have the best deal in college football, but until a truly better deal comes along, BYU should do what every other college team is trying do: get as many wins and as much success as they can.
#GETPAID: Kyle Van Noy signs rookie deal
The Detroit Lions posted a quick news item this evening: Kyle Van Noy has signed his rookie contract with the franchise. The details: Four years, $5.1 million with a $2 million signing bonus.
Someone from the Lions should send a giant novelty check to his wedding reception this weekend, signed with love from the Ford family.