Midway through, BYU soccer in two-team race for the PDL Mountain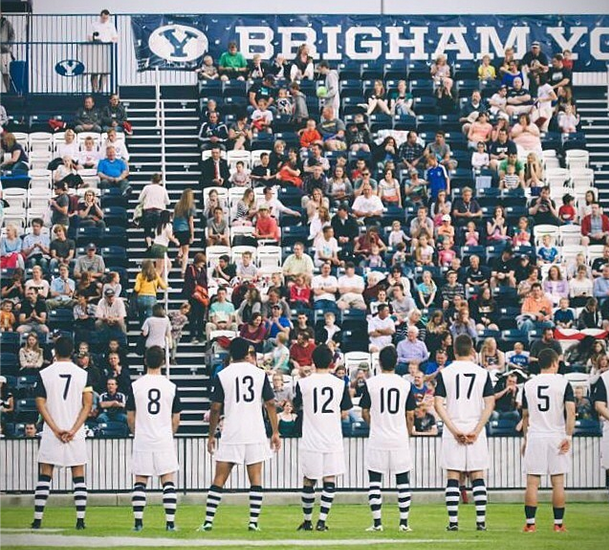 Greg Welch takes us through BYU's remaining schedule and its path to a division title.
The BYU men's soccer team has followed its white-hot 4-0-0 start at home by going 2-2-0 on the road. Despite cooling off a bit on the road trip, BYU is still in a in the race for the PDL Mountain division title.
Currently, BYU is 6-2-0 for 18 points (3 points for a win, 1 for a draw) with FC Tucson leading at 6-1-1 for 19 points. Looking at the schedule, it seems the games each team plays outside the division may be the determining factor in the final race. Both teams have played 8 games and have 6 remaining.
It felt like a good win at the time, but BYU's opening week 3-2 victory at home over Tucson has turned out to be huge. Even with BYU dropping the return trip (in a game that featured this insane bicycle kick)…

…the Cougars are still just one point back more than half way through the season.
The rest of the Mountain Division seems to still be looking for footing. Las Vegas (2-3-1) and Albuquerque (1-3-4) have been somewhat competitive and will be difficult to play on their home fields, but aren't looking like threats to win the race. Real Colorado is struggling at 0-3-2.
Related: Explaining BYU soccer's place in the PDL
Tuscon finishes with home games against Vegas, Albuquerque and Colorado. At this point, 9 points from those games seems pretty reasonable. They also play one home game and two road games with California teams from the Southwest division. If BYU is going to make up any ground, FC Tucson's June 28 trip to the Southwest division's second place OC Blues (3-3-2) may be the best chance for that to happen, except Tucson already beat them 7-0 (yes, seven) at home in their first game this season.
BYU finishes with three games against Real Colorado (one at home and two on the road) and Albuquerque home and away. As with Tucson, those games seems somewhat manageable, but the July 4 meeting against the LA Misioneros FC (4-0-2) looks like it will be pivotal in keeping the race for first place close.
Tucson plays four of its last six games at home, while BYU plays three home and three away. I expect both teams will be putting plenty of pressure on each other down the stretch. BYU does play the first place Southwest team, but the Cougars get them at home while Tucson plays the second place Southwest team on the road — but BYU is behind, and the back half of the schedule seems to favor Tucson.
BYU's last three home games are June 24, the big game against LA Misioneros on July 4, and Albuquerque on July 8 — at South Field or on YouTube.