BYU soccer pushing for playoff bid in season's home stretch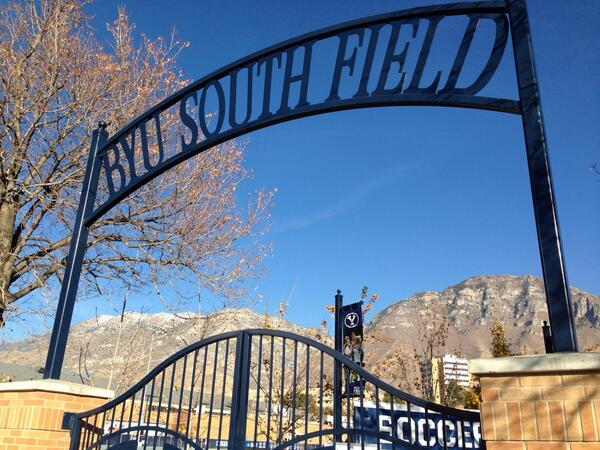 Soccer is falling behind FC Tucson but is still in a position to compete in the playoffs.
BYU men's soccer closed out June by playing the Real Colorado Foxes three times in five days. BYU was able to get points from two of three matches — winning the first at home, losing the second on the road, and fighting for a 0-0 draw in the third.
Series like that are not that uncommon in the Premier Development League. To cut down on travel costs, usually a couple times in the season a team will travel to an opponent and play games back-to-back on a Friday and Saturday night.
One June 24 at home, freshman forward Blake Frischknecht netted an 82nd-minute game winner in a 2-1 victory. BYU fell behind early, giving up a 10th minute goal. After halftime, BYU quickly equalized on a Winston Sorhaitz goal in the 50th. BYU dominated the overall position, earning six corners to Real's zero, and out-shooting the Foxes 17 to 5.
Things kind of fell apart for the Cougars on Friday, June 27. The Real Colorado Foxes have played eleven games and scored only seven goals all season. Three of those seven goals came against BYU in the second half on Friday. On the road and in front of 275 fans, BYU lost 3-0, despite outshooting the Foxes on the game 17 to 13. The Cougars managed to shoot a lot, but only forced Real's goalkeeper to make three saves in the game, all in the first half.
After a tough loss, the Cougars bounced back and salvaged a point on the road on Saturday, June 28. BYU again outshot the Foxes, 19 to 17, and managed to put 8 shots on goal, but the Foxes saved all of them. Real Colorado only put 4 shots on net all night. The draw leaves the Cougars with 22 points and a record of 7-3-1 on the season.
BYU now has three games left in its 14-game PDL schedule. On July 4, the Cougars host a huge game against the Southwest Division-leading LA Misioneros at South Field. Then they play host to the Albuquerque Sol on July 8, and close out the regular season on the road at Albuquerque on July 12.
Attendance has been steady and slightly improving for BYU over the season. The Cougars opened the season in May to 1,412 fans but drew 1,679 in their June 24 game.
With the July 4 holiday and a fireworks show, hopefully the Friday crowd will be a great atmosphere, because the Cougars need a good final stretch for playoff consideration.
The Cougars are still chasing FC Tucson for the division, but Tucson only has a pair of games left and they're both at home. With Tucson at 9-2-1, BYU will need to win out and have Tucson drop one of its home games just to to tie on points in the standings.
FC Tucson is a very good team this year, having scored 32 goals and only giving up 11. BYU has scored 18 and given up 19, so if goal differential is the first tiebreaker like it usually in is soccer, BYU not only needs to win out, but needs FC Tucson to either lose or draw both of its final two games at home against Real Colorado or Albuquerque. It's probably a tall order.
Even if the odds for passing FC Tucson are getting longer, the PDL playoffs begin after July 20 and will feature 19 teams. With ten divisions, one would expect ten automatic births for each division champion and nine slots going to second or third place teams with the most points. As long as BYU closes out the season well, the Cougars should be in position to compete in the PDL's postseason.