BYU basketball: Who will get minutes?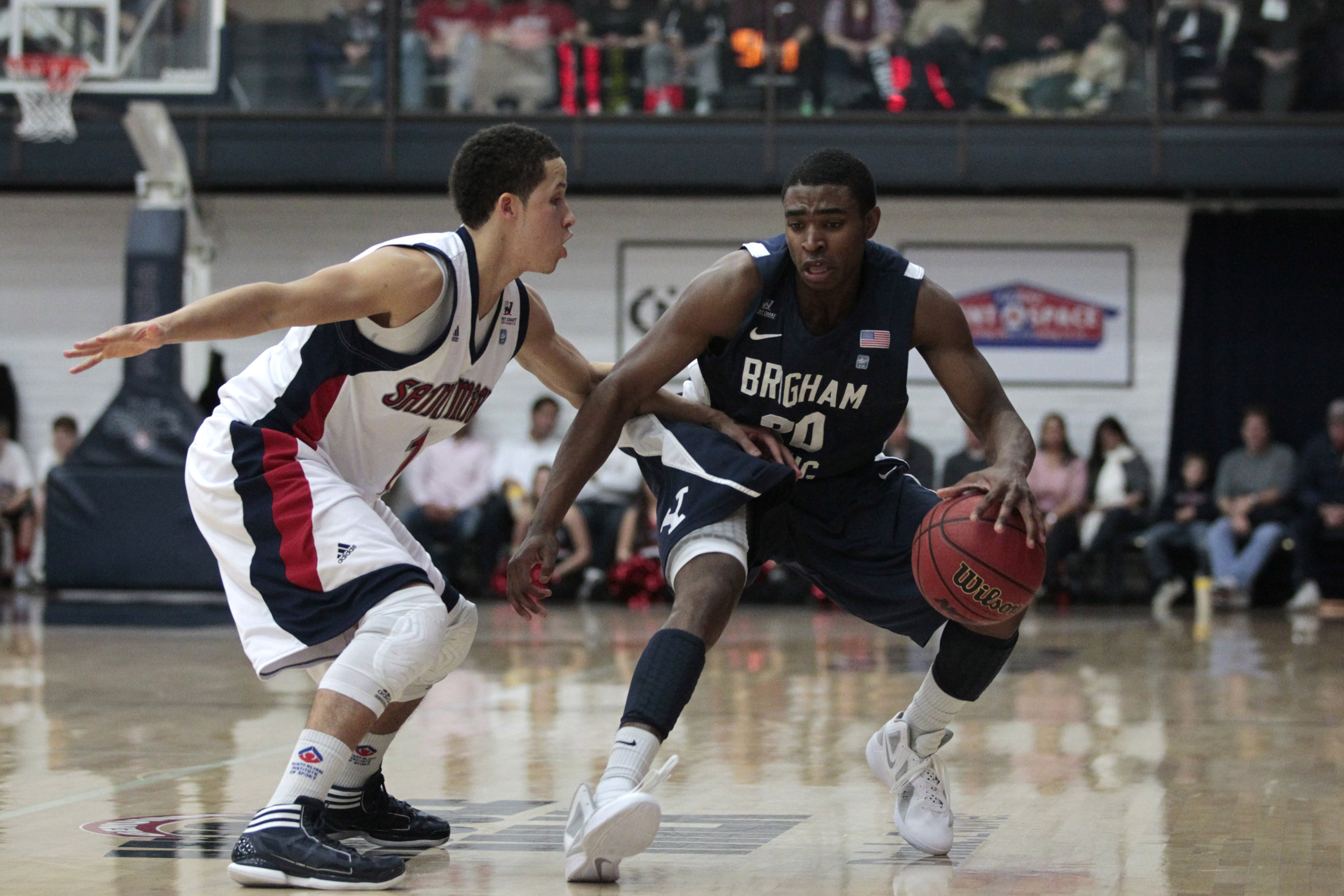 BYU basketball has an overloaded roster full of talent. Geoff Johnston examines which players have the inside track on getting minutes from Dave Rose in 2014-15.
Once BYU football fall camp starts later this week, it will be all football all the time for BYU fans. So before we get fully immersed in football, let's talk BYU basketball.
As has been widely discussed, BYU will have 16 scholarship-quality players on the squad this season. With 16 guys vying for minutes, the BYU coaching staff will likely face some tough decisions this season. The first hard decision will be choosing which of the 16 guys will have to stay home on road trips. As I understand it, teams are only allowed to travel 15 players. It is possible that an injury will solve that problem for Coach Rose, but if not, one guy is not going to make the cut.
Beyond that, there will likely be 15 guys suited up at every game and Dave Rose historically doesn't regularly play more than 10 guys. In this post, I'll look at all 16 players and discuss what it will take for them to earn regular playing time this season.
The Locks
Tyler Haws — Haws is not only slated to start every game, he is likely to play big minutes. He's an All-America candidate, and Dave Rose is not afraid to play his stars 35+ minutes per game.
Kyle Collinsworth — KC is right there with Haws as a lock to start every game, assuming he is healthy. Collinsworth was arguably as valuable to the team as Haws last season, and with Matt Carlino no longer sharing point guard duties, KC will be even more important to the team this season.
Nate Austin — Austin is not as much of a lock as Haws and Collinsworth, but he's virtually a lock to get significant minutes. Nate is 6'11", he knows the system inside and out, and he never slacks while he's on the floor. That's the kind of senior coaches love to have on the floor.
Likely Candidates for Regular Playing Time
Chase Fischer — This Wake Forest transfer redshirted last season, so he knows the BYU system well-enough now and coaches know him well. All reports are that Fischer can shoot the lights out and is going to be a big contributor this season as a shooting guard.
Isaac Nielson — Neilson is a returned missionary big man who has been with the team since last winter. He's received positive reviews early on and is a strong candidate for minutes at the center position.
Jamal Aytes — Aytes transferred from UNLV last December, so he won't be available to play until late December of this year. He's a somewhat-undersized power forward, but the reviews of his game have been very positive. He is reportedly excellent with his back to the basket and has a variety of low-post moves. He's likely to get plenty of minutes at the 4-spot for BYU.
Anson Winder — Winder is a journeyman combo guard who had a productive year last season coming off the bench. As a senior this season, Anson knows BYU's system and Dave Rose is likely to use him — especially early in the season.
The Gonna-Have-To-Earn-Minutes Crew
Corbin Kaufusi — Kaufusi is the latest addition to the team and has been getting rave reviews this summer. You can't teach size, and at a reported 6'10" and 260 lbs, Kaufusi might prove to be a very valuable arrow in Dave Rose's quiver this season. But it is one thing to impress in summer workouts as a walk-on and another thing to impress under the lights in the Marriott Center. Kaufusi will have a chance to show if the hype he has been getting is warranted.
Luke Worthington — Worthington has a year in the program under his belt now and has the advantage of being a big, strong kid. His defense was solid last season but his offensive game was unimpressive. With 5-6 guys vying for minutes in the low post, Luke should have plenty of chances in practice and in early season games to show coaches he should be on the floor.
Frank Bartley IV — I was tempted to put Bartley in the "likely" category, but decided he still has things to prove. Frank is a combo guard who could play the 1-3 positions this season. There is talk that he might be vying for the backup point guard job. There are minutes there for Frank to take — he'll just have to show coaches that he can consistently get the job done both on offense and defense.
Jordan Chatman — Chatman is a big combo guard who recently returned from his mission. Based on recent photos he looks like he could be 6'6″ now. Chatman has a reputation as a solid shooter, distributor, and ball handler. He is rumored to be in the mix for the backup point guard spot as well. If Chatman can impress in that point guard role he'll have a solid shot of being the guy to give Kyle Collinsworth a rest every game.
Jake Toolson — Toolson is a highly touted true freshman combo guard who, due to some health issues, ended up on the team this season rather than in the mission field. Toolson is reportedly a big and athletic kid who knows how to fill up the basket after averaging 27 points and 12 rebounds as a high school senior. As a true freshman, Toolson will have a steep learning curve; but if he steps up in practices and delivers in early games he could play his way into regular minutes.
Skyler Halford — Halford got a lot of minutes last season but was a sporadic performer for BYU. He had one monster game early in the season but then he laid several eggs in later games. Halford was brought in as a three-point specialist, but failed to connect from deep too often. Halford will be up against a lot more competition for minutes this year than he faced last season. He'll have to play better than he did most of last season or he may find himself stuck on the bench.
Dalton Nixon — Nixon, like Toolson, is another prized true freshman recruit who did it all for his team in high school. He will most likely be competing for minutes at the 4 spot but will need to step up and impress coaches to steal regular minutes from guys like Austin and Aytes. Nixon is a big body with the ability to hit three pointers so he has the tools and potential to earn those minutes.
Ryan Andrus — Andrus is another true freshman low post player. He is reportedly a solid player with a reliable shot. Working against him this season is his weight — he is apparently quite skinny still. It may be hard for him to beat out the bigger, heavier, stronger guys he'll be competing with for minutes in the low post this season.
Josh Sharp — Sharp is returning to BYU in the low post as a senior. As a sophomore, Sharp started several games at the 4 spot for BYU. He's quick, tenacious, and can jump out of the gym. The problem is that he's 6'7″ and skinny, and doesn't have a jump shot to speak of. With so much talent and size in the low post, Sharp faces an uphill battle to get many minutes this season.
Minutes are there to be earned by all of these guys. We'll see who steps up and seizes them. With this much competition for playing time, it seems likely that guys will be pushed hard to improve in every practice. Because of that, BYU should put a very good team on the floor every game this season.