Opponent Notebook: Summer Links – Houston Cougars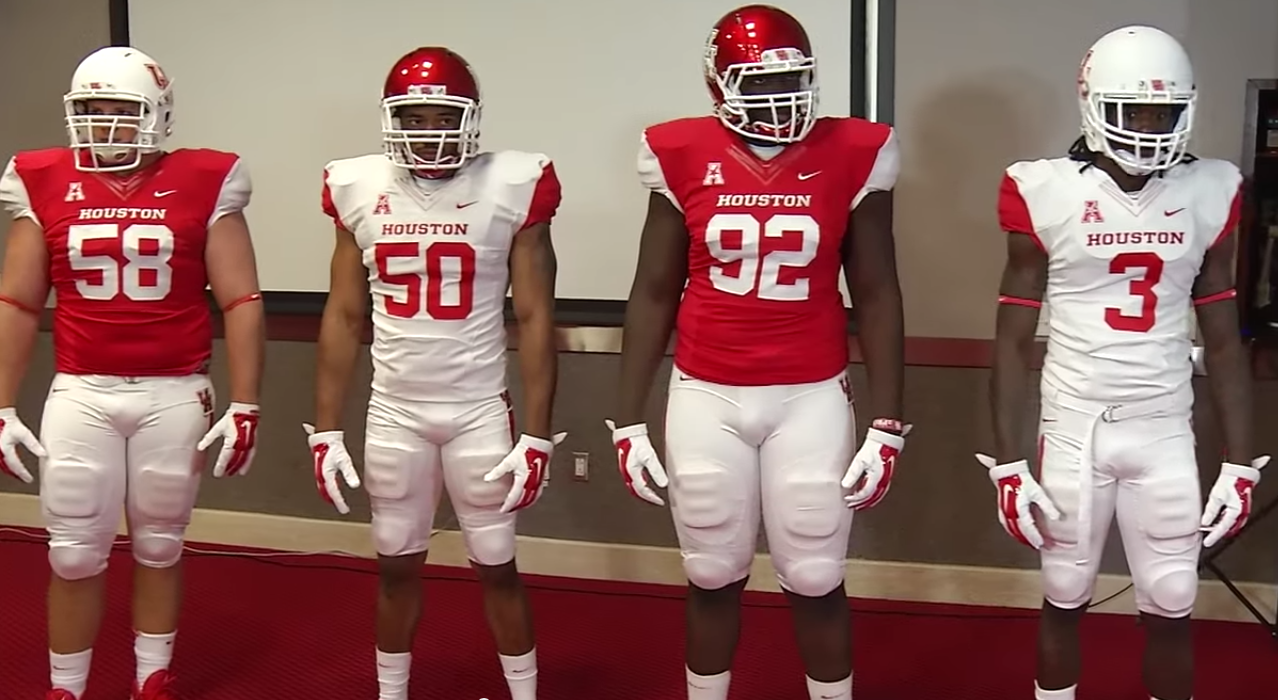 Checking in on the summer story lines for the Houston Cougars, the third opponent for BYU in 2014.
A lot of stuff is happening off the field for Houston. Not like Texas. And actually, not all the way off the field, because some of it has to do with the field itself.
First things first: It may not be important to you, but it is to me. Nike did Houston right in the uniform department after setting them up in clown get-ups in 2013.
The picture at the top of the article is the new, 2014 uniform set. Let's compare them side-by-side, 2013 on the left, 2014 on the right:
First, a slow-clap for whoever decided to not use a red and white UH backdrop this time around.
Everything about the UH Cougars' 2013 uniforms tried too hard to be different, and what they got instead was a mess. If your uniform resembles an NFL Pro Bowl get-up, you aren't wearing a good uniform.
2014 shows simple is better. Gone are the massive shoulder panels and the alternate-colored sleeve cuff, and the stripes on the pants are smaller (though those are hard to see in these pics). The helmet goes from the depth of a Christmas ornament and a lean toward orange to a more classic, bright red. Also a step forward.
I don't have an opinion on this either way, but notably absent this year are red pants.
Much better. Let's move on — but only a little.
* * *
Houston will break in a brand new stadium against UTSA and Grambling State in 2014 before traveling to Provo in week 3, which has recently been named and had its turf design revealed.
Old Robertson Stadium has given way to TDECU Stadium (that's a credit union), a 40,000-seat, $120-million beauty.
With it comes a new turf design, which gives a neat nod to downtown Houston in one endzone and features their Thundercats secondary logo in the other.
A look at the artificial turf design at Houston's @TDECU Stadium pic.twitter.com/R6iO51hBPC

— Joseph Duarte (@Joseph_Duarte) July 16, 2014
Exciting times for Houston faithful.
* * *
Your first stop for everything 2014 Houston Cougars should be this piece in the Orlando Sentinel, a Q&A with Houston beat writer Joseph Duarte. Tons of good things. Get after it.
* * *
Dan Wolken wrote a good profile for USA Today looking at Houston's defense adopting the university's identity as a downtown urban school.
With most of the defense returning — the unit that led the country with 43 takeaways — defensive coordinator David Gibbs could complete the process of identity change for the Cougars.
* * *
This guy apparently thinks Houston will waltz out of Provo with a win and head to conference play 4-0. Yeah, last game was a shootout and could have easily been a Houston win. BYU was also starting safeties at cornerback and walk-ons at safety in that game. And this one is at elevation in Provo.
If there is one "trap game" on BYU's schedule, though, it is Houston. BYU has to travel back from Austin to play the Thursday contest and could be a little less energetic.
* * *
A look at which Cougars appear on national watch lists helps us learn and/or remember which Houston players will be key to their success in 2014.
Senior linebacker Derrick Mathews appears on three watch lists. One is the Rotary Lombardi Award, which according to its site goes to an offensive or defensive lineman who gives outstanding performance and displays Vince Lombardi-like discipline. Not sure why he's on it as a linebacker, but there you go.
Mathews also appears on lists for the Bronko Nagurski Trophy (best defensive player) and The Butkus Award (best linebacker).
The other defender for Houston appearing on an awards watch list is safety Trevon Stewart. The junior appears on the Jim Thorpe Award for the best defensive back.
BYU fans remember John O'Korn for torching BYU's make-shift secondary. The sophomore quarterback appears on the Davey O'Brien Award (best quarterback) and the Maxwell Award (Best player. Like the Heisman, but not.) Wide receiver Deontay Greenberry also appears on the Maxwell watch list, as well as for the Biletnikoff Award (best receiver). Senior wide receiver Daniel Spencer is also on the Biletnikoff watch list.
Kenneth Farrow was named to the Doak Walker Award list (best running back), and rounding out Houston's watch-list watch is Bryce Redman for the Rimington Trophy (best center).