BYU AD Tom Holmoe says what Loyal Cougars readers already know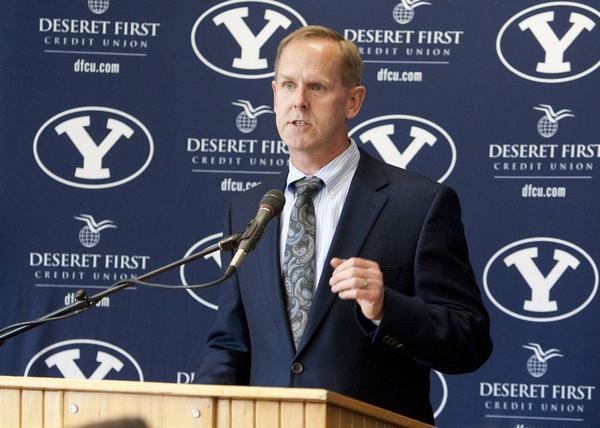 Greg Welch breaks down the major topics from Tom Holmoe's roundtable discussion with members of the local media last Wednesday.
Before beginning, I understand if some people will classify this article as blatant self-promotion. To that I say: "It's the Internet, pal. Get used to it."
While listening through all 52 minutes of BYU Athletic Director Tom Holmoe's impromptu August 20 press conference, a thought came to my mind over and over. "Hey, Loyal Cougars has written about that." This article will not only give you a chance to catch up on what Holmoe thinks about the current issues that affect BYU sports, but also a reminder that if you keep reading here, you're probably well ahead of the game.
Issue 1: BYU's investigation of potential NCAA violations
Tom Holmoe: "I don't like to make predictions about what the NCAA is going to do. We feel good about what we've done. I don't see this as a major case. It's a violation of a rule like so many teams see. I hate to use the word routine …"
"I don't really want to go into the depth of it. [The NCAA] may come back and not say much. I guess I can say that there might have to be a repayment on something and other than a repayment on something, that's all it comes down to and there wouldn't be a penalty. Or there could be a penalty based on that."
Loyal Cougars reported way back on May 28 the following two key points:
First, in an environment where some media outlets were talking about major violations and severe infractions, we said that "BYU anticipates no major penalties will result from its internal investigation and report to the NCAA." We also added, "BYU's forthcoming resolution is expected to look like something similar in practice to Oklahoma's. Players will pay back the $10-20 per pair of socks or whatever else they received, people will shake their head slowly at the NCAA rules, and life will go on."
As Holmoe noted, until you have final word from the NCAA you never know about potential penalties, but our report at the time spoke of the expectations within the BYU Athletic Department and it appears those expectations and plans for potential repayment are in line with what Holmoe said last week.
Issue 2: November Scheduling with the Pac-12
People are sometimes skeptical about what exactly ESPN does for BYU as an independent.
Holmoe said,"it might appear that we're always giving on (kickoff) times and such, but it is give and take." He went on to say that the late November scheduling with the Pac-12 was one of the things ESPN helped push through.
"That was a situation where we came together with ESPN and the Pac-12. They were able to say 'hey, this is a win-win for both parties.'"
Back in June, 2012, prior to the launch of Loyal Cougars, I wrote that BYU could help balance out the scheduling problem created by grandfathering in the Notre Dame games with USC and Stanford. "There's a lot of ways it could work, but from a league level, I promise it's easier to figure out how to schedule 14 teams to play in one week than it is to schedule games for 13 teams."
"It's just good old fashioned you scratch my back and I'll scratch yours."
Issue 3: The Notre Dame Series
Holmoe: "The Notre Dame series is in question right now because they changed everything and I get that. I talk with Jack Swarbrick and Notre Dame and they'd like it to happen, but it's not easy to make that happen. You see their schedule changing all the time. We'll have to make a deal on that getting the next game in Provo or a buyout or whatever, but I'd rather wait with them to get the game."
In December 2013, Loyal Cougars spelled out the challenges the series was facing. "It appears it will come down to how BYU's contracts are written and how they compare to the other contracts teams have with Notre Dame. Also, it will depend on what BYU values more—playing the games sooner, or playing the games in Provo." Notre Dame's recent announcement of a home and home with Georgia added to the issues. Hopefully for BYU fans the schools work out a rescheduling rather than a buyout, but if not, maybe the canceled series can pay for the Jack Swarbrick Memorial Locker Room.