Bronco & BYU to put it all on the line at Texas
Updated: September 4, 2014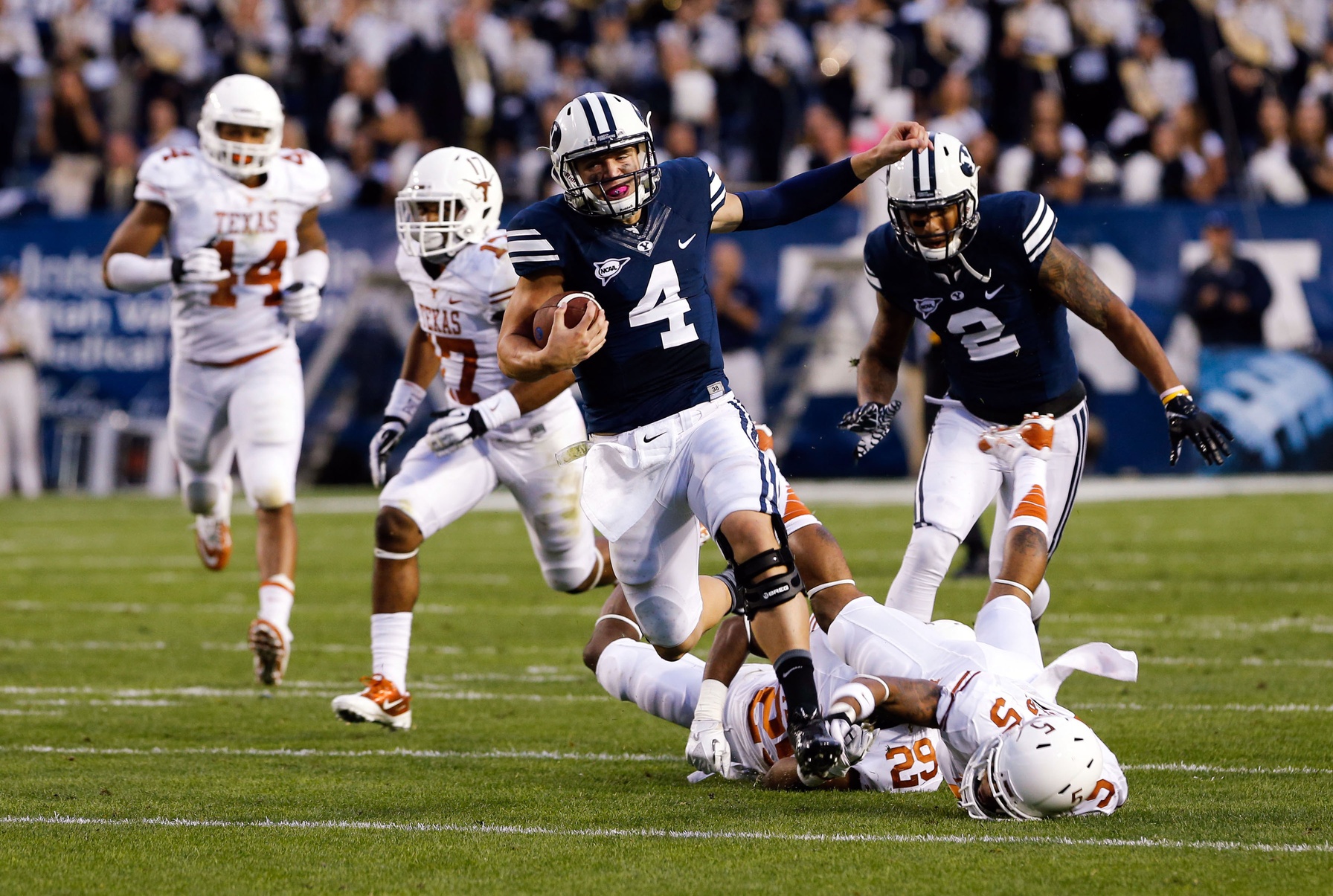 My family grew up watching The Blues Brothers. My brother had taped an edited-for-TV version and over the years it became a family tradition. Some families gather around the TV and watch It's A Wonderful Life; we would get together and watch Jake and Elwood. Eventually, the dubbed-in, lesser swears and 80's commercials became a great part of the movie for us.
The movie opens with about five minutes of silence, moving from an aerial shot of an industrial wasteland to inside a prison, following Jake on a long walk out of the prison. Finally, the first piece of dialogue in the film comes as a guard walks to open the door where Jake can check out of jail. He turns back and says, "Well, this is it."
This is it. This is the game that can define a team's season, a player's career, and the program that is looking to make a name for themselves as an independent.
8-5 is better than 4-8, but I don't think that the BYU administration feels like independence will work without marquee wins. It's harsh, but the reality is that a handful of 8-5 seasons won't get the Cougars much of a raise when the time comes to renew their ESPN contract in 2018.
I've always thought of independence as starting your own business instead of working as an employee of a conference. BYU has found a system that offers a higher ceiling, the potential for attention that BYU is looking for, but it's also a tough row to hoe.
This week's IMG production of Bronco On-The-Go provides a pretty good window into the mindset of BYU right now.
Greg Wrubell says that off the air after the Connecticut post game radio show, Bronco said to him, "I'm really looking forward to it." Wrubell points out there was a pause, after which Bronco said, "I'm really looking forward to it."
Bronco responds, "As an independent with so much to prove, with this unique landscape of college football, these are games that you can't wait to play: a big stage in front of a lot of people, a quality opponent on national TV, and we have a good team."
Saturday, BYU is pushing all the chips onto the table.
This is it. This is why BYU went independent. BYU has been willing to make huge changes, even since going independent, to try to make it work. After bottoming out in 2012 and rebuilding in 2013, can the BYU offense get them over the top?
This is it. This is why Bronco has moved into more of a true head-coaching role. After putting up dominating defenses for the last few years, Bronco has turned over the reigns to Defensive Coordinator Nick Howell. Yes, Bronco could keep coaching Top-25 defenses, but as good as those defenses were, it simply wasn't enough.
Texas' defense is better than their offense and statistically that's true for a majority of BYU opponents this year. Other than UCF and maybe Nevada, the offense has the bigger challenge this year and from my perspective Bronco's shift sure makes it look like BYU has done absolutely everything they can to meet those challenges head on.
Bronco has been stoic in his "every game matters" mantra and while I don't think he's shifted away from that behind closed doors with the players, there has been a shift in public perception. He's noticed that when BYU beat the pants off Texas on national TV, a lot of people remember that more than squeaking out a win at Houston or coming up short on the road at Wisconsin.
Bronco explains, "That's part of being an independent. This is exactly the kind of game that we're scheduling. We're scheduling for a long time out; five, six or seven of them; as many as we can per year. This is BYU football."
This is it. BYU has lucked into Taysom Hill transferring after a coaching change at Stanford and has built the team and offense around him. The departure of Offensive Coordinator Robert Anae, his time under Rich Rodriguez at Arizona, and his return are all setting up for Saturday.
Sure, Texas is mad about last year, but everyone is mad about something. BYU players lost enough games last year to remember what that's like. The coaching staff has lost enough early season games to know what that's like.
Texas wants revenge for last year? Who cares? BYU wants revenge on college football for everything.
This. Is. It.