Stacking BYU up against BCS-Busting Teams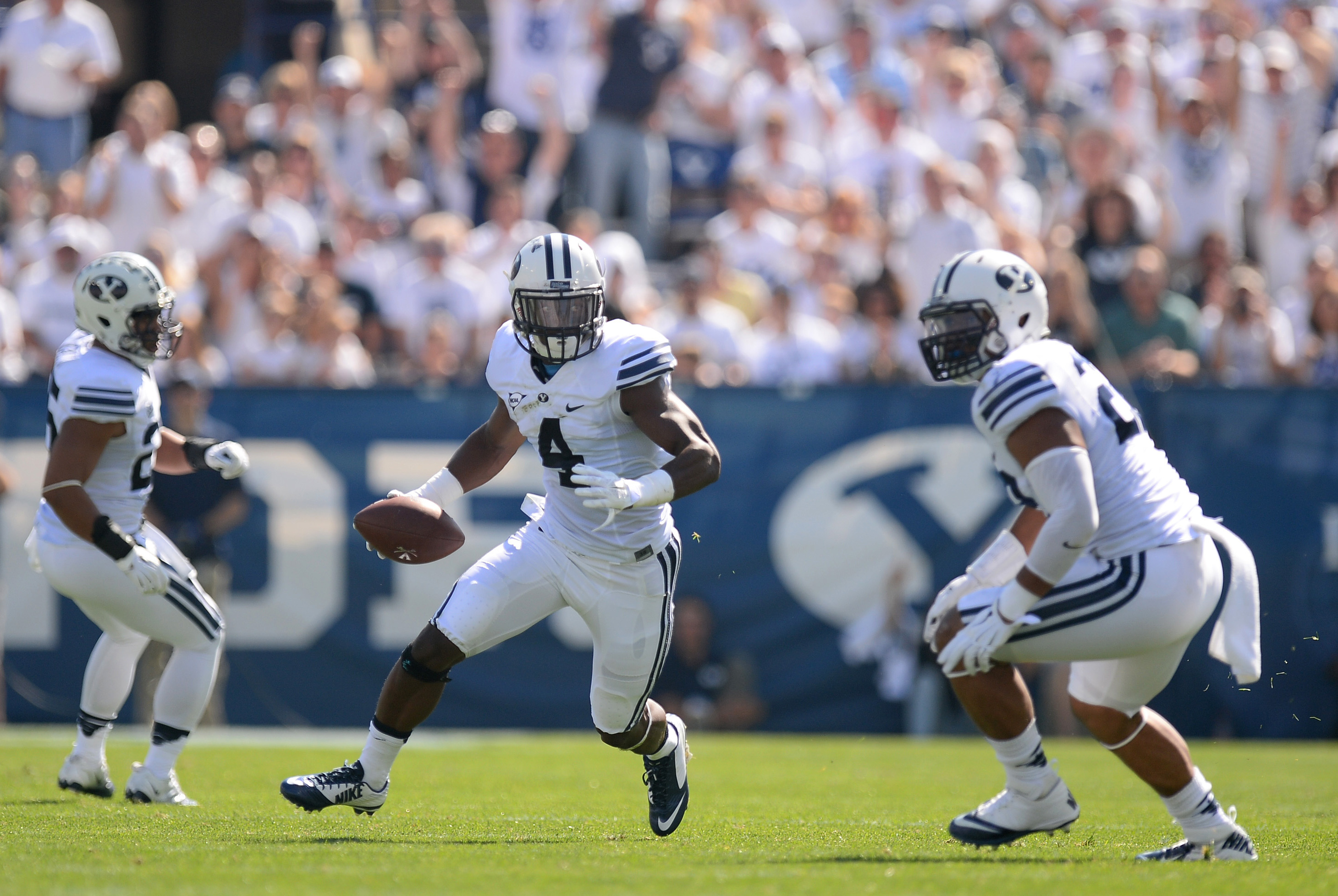 What began as a 1.6% chance at immortality is now up to a 29.2% possibility. Four games into the season, BYU is on a mission towards a historical season. The goal: an undefeated season (or at worst settling for the best season in the last five years). We shall see.
While the players and coaches stay focused on a one-game-at-a-time mantra, fans and national media have been talking about BYU as a point of conversation to "bust" the new College Football Playoff and other New Year's Six bowl games.
No one knows exactly how the new committee will slot teams this year, but comparing BYU's start to the previous non-BCS teams who were selected to play in major bowls yields some interesting results.
Most of the BCS-busting teams were well-known coming into the year. Should BYU make a major bowl this year, they would join Boise State's 2006 team (and the fluky Northern Illinois team) as teams that begin the year unranked and went on to play in a major bowl.
Even if teams were ranked in preseason polls, there is a noticeable plateau reached by most teams in November. Teams that were in the Top 10 in early November couldn't jump up any higher than 5 or 6 or 7. This bodes well for those that worry about BYU's weak November schedule. Wins over UNLV and Middle Tennessee won't be enough to jump BYU very much, but the other BCS busting teams were doing most of their moving in October anyway.
Right now, BYU looks like they track closest to Hawaii 2007 and Boise State 2006. They were lower in the polls, but were able to continue to rise, both sneaking into the Top 10 in the final weeks. Hawaii 2007 was the slowest riser, which seems pretty justifiable given their very weak schedule.
Another team's rankings the 2014 Cougars are following is the 2001 BYU squad. They both started the year unranked, the 2014 and 2001 teams each entered the polls after week two (25/24) and then slowly rose (21/20, 20/20, 18/18).
Before the big loss at Hawaii, BYU was released from BCS consideration. They were ranked ninth in the AP poll at the time and in the top 12 of the BCS, but with only four BCS bowls at the time, there was no room for them. In many other years, they would have been fighting for a sure bid, rather than being sent packing.
Playing under different rules in a different year, BYU would have had much better chances. Even after the loss to Hawaii, BYU's ranking and record was close to Northern Illinois who was able to go to the Orange Bowl under the rules for the 2012 season.
Despite it being a near-constant source of complaining about BYU, the Cougars' 2014 schedule compares quite favorably to these other BCS busting teams. While the 2001 Cougars were able to pave the road for the very rule changes that allowed these other teams in, their success in the big bowls may pay it back for the Cougars when the committee starts trying to evaluate exactly how BYU stacks up.
The Congrove computers show that BYU's strength of schedule this year is projected to be better than any previous BCS busting team. Sagarin's numbers show BYU with a great strength of schedule, but those are only based on games played, rather than projecting the rest of the season.
| | | |
| --- | --- | --- |
| Team | Congrove SOS | Sagarin SOS |
| 2004 Utah | 98 | 67 |
| 2006 Boise State | 91 | 90 |
| 2007 Hawaii | 114 | 132 |
| 2008 Utah | 76 | 56 |
| 2009 Boise State | 88 | 96 |
| 2009 TCU | 89 | 60 |
| 2010 TCU | 82 | 76 |
| 2012 Northern Illinois | 112 | 121 |
| 2014 BYU | 70 | 38* |
Dave Bartoo of CFBMatrix.com agrees with the premise of Congrove's projections, saying that BYU's 2014 schedule strength "should end up in the high 60s maybe low 70s." He adds that when compared to the BCS-busting teams we've been looking at, BYU's 2014 slate "should be as good or better."
So, BYU's 2014 schedule is as good or better than past BCS-busting teams, their current ranking is as good or better than past BCS-busting teams, and their October schedule gives them a chance to rise.
Bracketologist Jerry Palm says that the way the New Year's Six bowl slots break down this year, "Realistically, a top ten ranking should be good enough."
Looking at the past history, when November starts there's one of two paths: Either BYU jumps into the top 10 and plateaus, or more likely, BYU moves up to between 10 and 12 and sneaks up the last couple spots to close out the year. Other than TCU, undefeated teams in the past haven't been able to jump up into the top five, but all of the undefeated teams were top ten, which should be good enough for something like the Fiesta Bowl.
With eight games left before a bowl, there's plenty of work ahead of the Cougars. Whether it is the CFP or just the New Year's Six, all the Cougars can do is put together the best resume possible and see where the committee places them.
Bronco Mendenhall has often said that the best-case scenario to provide a chance for inclusion in the playoff is to have two back-to-back solid seasons, and TCU proved that in 2009 and 2010. In their second BCS run, they were ranked in the Top 10 wire-to-wire.
Without an upcoming highly ranked opponent to launch them up, getting into the top four would take some serious shakeups. But unlike the BCS of 2001, at least the Cougars have not been released yet.
Today Mendenhall told The Sporting News, "I think we would deserve to be in the playoff, because it's something new. It has to be something special like we did. I think we would have to be the only undefeated team left. If everybody else has at least one loss, then I think we would have a shot at it."