Notre Dame could fulfill contract with BYU by 2025, if they really, really wanted to
Updated: October 22, 2014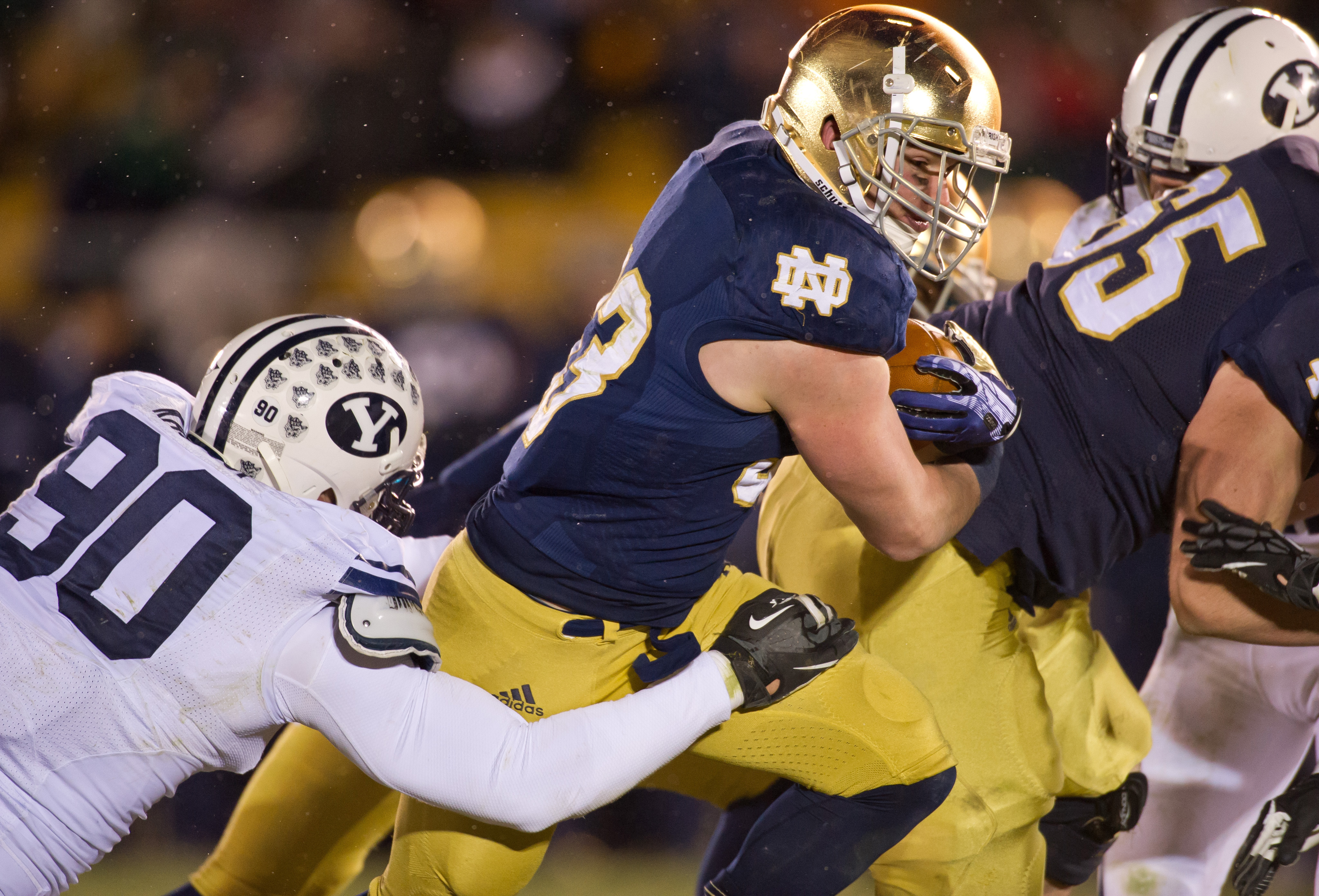 Notre Dame's scheduling deal with the ACC has thrown a wrench into the 6-game contract they signed with BYU back when the Cougars first left the Mountain West conference in 2010. The originally contracted games were supposed to be completed by 2020 and that won't happen, but the games could be played eventually.
While there have some glimmers of hope the games would be played, like Notre Dame Athletic Director Jack Swarbrick saying, "we gotta get out to Provo," the more recent tone from BYU has been more pessimistic. Tom Holmoe explained, "we might take a big break until we play them again."
Notre Dame's schedule is not that different from a conference schedule now. They have eight regularly-scheduled games. Five of those games are from the ACC, and the other three are Navy, Stanford and USC.
They also try to play a neutral site shamrock series game, and also a money game with someone like Rice, UMass, Nevada, Temple or Miami of Ohio that would not be returned. That leaves two games a year to schedule on a home and home basis.
That means that in any given year, Notre Dame really only has one road game to schedule. So, for BYU to get two future road games would be a major commitment.
Today, the ACC announced its schedule with Notre Dame through the year 2025. They did not stick to a consistent five game a year format, but with six games some years and four in others, it all averages out.
Without even considering anything sooner than 2018, here is the new Irish future schedule.
There are two slots left for away games for the Irish: one in 2021, and one in 2025. It appears the Irish need to get a lot of home games back for the road games they have left to give out.
Even if you take away the nine buyout games, that leaves six home games to fill. So the Irish would need to sign four extra buyout games to fill their schedule, or get teams to agree to a neutral-home arraignment while they're filling up their Shamrock Series game. Perhaps Notre Dame will be able to convince an ACC team, Navy or BYU to be a Shamrock game in future years.
Long story short: there are two slots for Notre Dame road games. And Notre Dame could fulfill the contract they signed and play BYU four more times between 2021 and 2025 or so.
BYU got a pretty raw deal. Yes, they were able to schedule games at Notre Dame and fill up their schedule, but playing two away games with nothing in return isn't great. Lots of teams have broken contracts due to realignment and the day may come that BYU will have to.
But the Irish signed a contract and while I don't expect BYU to go Arizona State on the Irish and say something like "the good nuns (in the little Catholic town I grew up in) wouldn't have thought that was a very appropriate way to honor your word," it would be nice to see the Irish in Provo.
That still looks like a pretty big long shot, but at least the possibility is there.