Now what, BYU? What's the plan?
Updated: December 29, 2014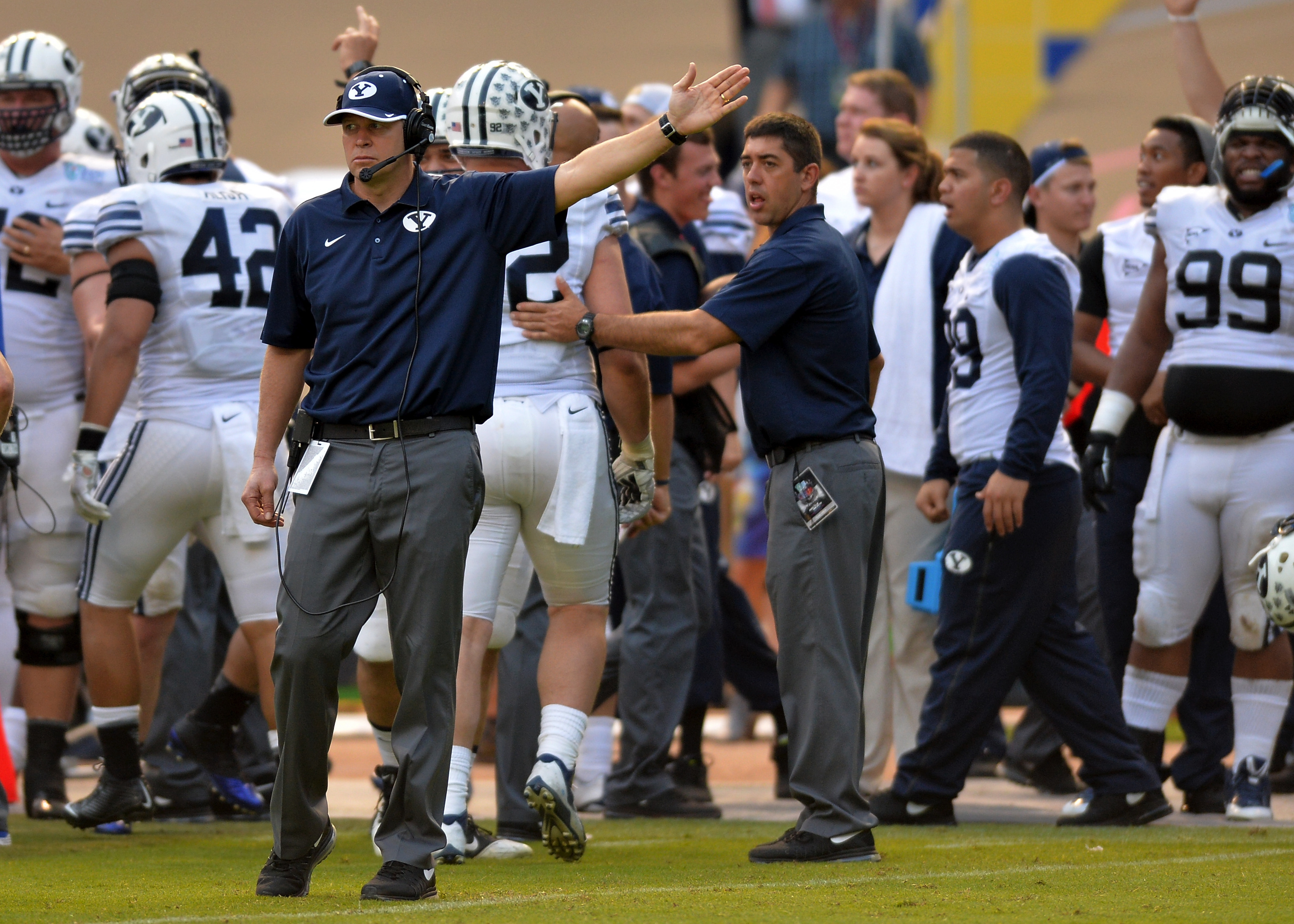 It was so nice when BYU football rattled off four straight wins and placed October squarely in the rear-view mirror. BYU celebrated holding onto a close victory at Cal and talked a lot about improvement and overcoming adversity.
Then came Memphis. It was a kind of microcosm for the year: strong offense, lack of pass rush, and giving up a lot of points – way, way too many points – and eventually coughing up a lead and losing the game late.
If BYU got a little lucky in the Cal game, the Cougars got very unlucky with Memphis; a pair of crazy fourth down conversions and the longest field goal ever made against BYU turned out to be too much to overcome.
What's especially bizarre is this season comes on the heels of three of BYU's best defensive seasons ever. Not only that, but after three years of offensive struggles, and even after the being decimated by injuries, the offense was finally able to put a good amount of points on the board in 2014. And BYU couldn't defend.
So now what? What's the plan?
BYU is trying to make the best of its independent situation, but it isn't all bad. BYU is hardly the first college football team to have to slog through tough times.
TCU got left behind when the Southwest Conference dissolved. BYU fans were upset to lose out on a Big 12 spot to Baylor in the early 90s, but TCU fans were just as mad. They'd been conference members with Baylor, so they probably had even more right to be upset than BYU fans from a few hundred miles away.
But back to the issue at hand: what's BYU football going to do next year? What's the plan?
On offense, I wouldn't change a thing. As long as the Cougars can fend off any lingering bids for their coaches, I expect all five coaches that were brought in after the 2012 season to stay for their third year together. They've shown both improvement and the ability to adjust and succeed on the fly.
Robert Anae isn't always well loved by every Cougar fan out there, but he has shown a consistent track record. He has the wherewithal to put an above-average to well-above-average offense on the field in college football. He's not perfect, but if you're putting top 30 offenses together, it's tough to reasonably ask for more – at least at BYU.
On defense, it seems like there are three options: give Howell another shot, have Bronco take back the reigns, or clean house and give the defense to someone else.
The 2014 BYU defense allowed the second-highest point total of Bronco's tenure, being beaten out only by his debut year as Head Coach in 2005. If BYU's plan is to give Howell another shot with a new crop of players, it may be a tough sell for fans and boosters, but stranger things have happened. The defenses in 2005 and 2014 are pretty comparable in a lot of ways. Bronco managed to turn the 2005 group around into what was perhaps his best defense in 2006, ranking sixth in the country in defensive efficiency. And when it comes to hiring and firing, BYU seems to embrace the status quo more often than not.
One thing that's so bizarre about this season's defensive collapse is that Bronco has proven that he's thoroughly capable of putting together good defenses at BYU. Is there a better defensive coach in the history of BYU football than Bronco Mendenhall?
And yet, this season, Bronco decided to coach offense. The program leaders looked at what they had, and knowing it was a young and shaky defense, decided Bronco's time would best be used coaching up Taysom Hill and trying to outscore the competition. Will the coaches try this again, or will Bronco go back to coaching defense in 2015?
BYU could probably even somewhat pacify the angry mob by keeping Howell as the defensive coordinator, but getting Bronco much, much more involved in day-to-day defensive operations. The public would be none the wiser, and hopefully we could go back to having defenses like what BYU had in 2012 and 2013.
The final option would be big changes. So far, all the Whittingham to BYU rumors feel to me much more like negotiation leverage with Chris Hill than actual discussions with Tom Holmoe. But, if the rumors turn out to be more than rumors, and if BYU is looking for someone to fix the defense, sure, why not? At least that's a plan, right?
Even if this fantasyland move somehow plays out, there would be a ton of problems to confront. Would Bronco and Whittingham somehow work together? I'm guessing the coaches who won't even get in the same radio studio to record a charity commercial together would not be working together on the same staff. And if they're not working together, the usually cautious and financially scrupulous BYU buying out both Whittingham and Bronco seems well out of character.
That's a lot of money to trade a great defensive coach who makes questionable coordinator hires for a different great defensive coach who makes questionable coordinator hires.
With the new year upon us, spring football is only weeks away. BYU's 2015 schedule looms large and opponents like Nebraska and Michigan have already been making their changes.
Any idiot blogger can point out the problems: get the offense healthy and get the defense back to the 2012 or 2013 versions. But, as far as fixing the defense, who is going to do it? Howell, Bronco, or someone else?
BYU will most likely put Bronco back in charge of the defense. He's corrected issues in the past and there's no reason to believe he can't do it again for 2015.