Entering contract year, Bronco turns attention back to defense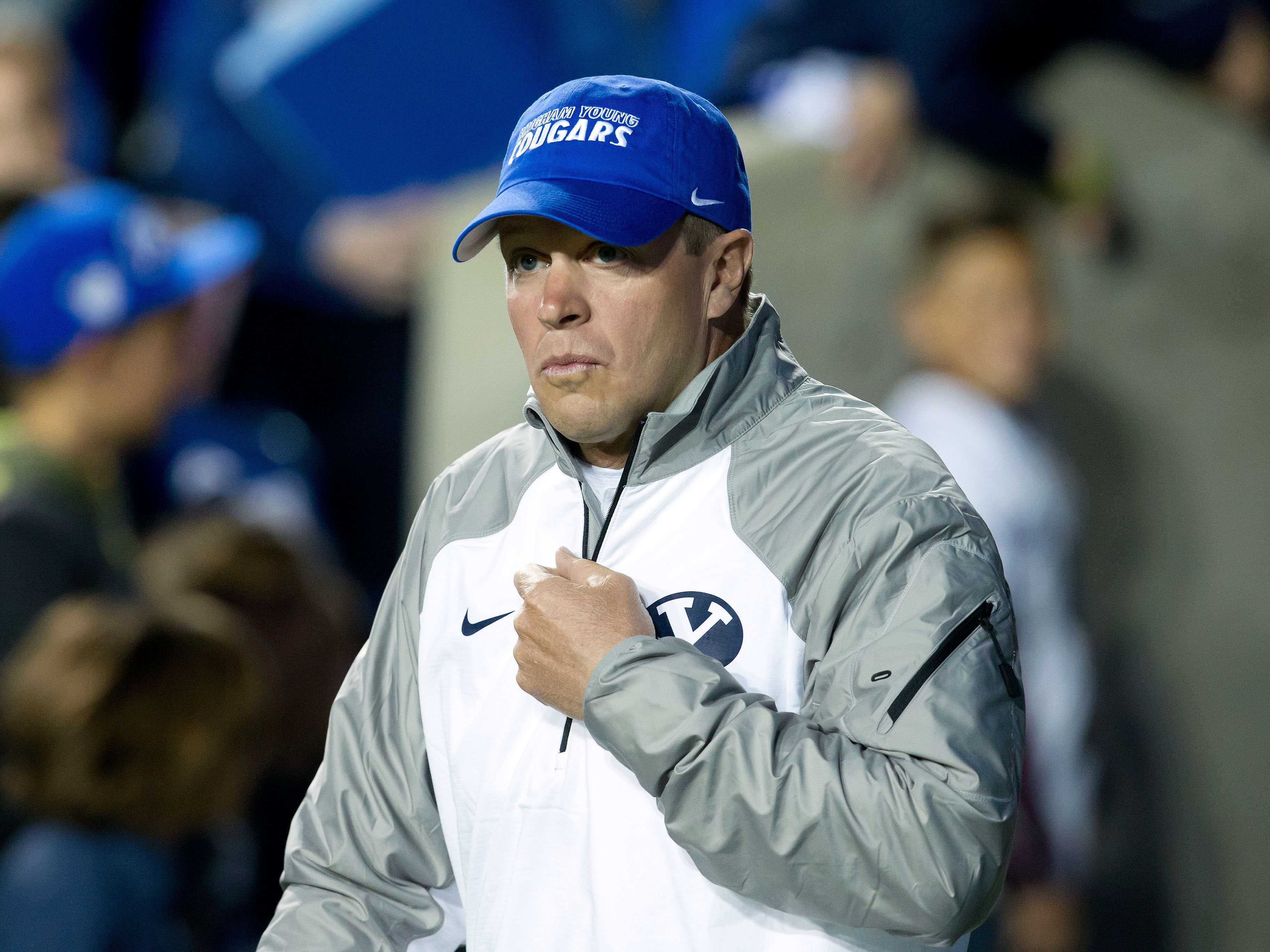 Last week, it appeared that BYU had three choices for what the plan would be for 2015, especially regarding the defense: A) give Nick Howell another shot on his own, B) have Bronco Mendenhall re-take control of the defense, or C) clean house and give the defense to someone else entirely.
Bronco announced to team today that he is "taking over the defense." Whether this means DC or just play caller, not 100% clear.

— RoyalBlue72 (@nalletto) January 5, 2015
Flash back Oct. 25: BYU's defense needs Mendenhall's full-time attention. Word today? Done. http://t.co/82dzGX54U3 via @deseretnews

— Dick Harmon (@Harmonwrites) January 5, 2015
It remains to be seen if BYU and Bronco are landing fully on any one of the three above options or something closer to the 2013 defensive staff structure when Howell held the defensive coordinator position but Mendenhall had a more significant role with the defense. With the coaching carousel still spinning, I think it's too soon to say definitively that there will be no coaching staff changes at BYU for next year. However, major shakeups in Provo appear unlikely.
Yesterday's scant reports seem to at least indicate that Bronco will have a much large role in the strategy and execution of the 2015 defense. And that is a change in the right direction.
Technically, Bronco is under contract for two more seasons, but coaches in college football today rarely coach in the final year of their deals. Sure, it's financially beneficial for the school to not have to buyout contracts, but coaches don't work well without the assurance of a coaching home for the following season. Following the 2013 season, Utah athletic director Chris Hill decided to force assistant coaches to work in their final year of their deals – a decision that was reportedly a huge factor in the recent departure of Kalani Sitake to Oregon State.
That means 2015 is a contract year for Bronco.
At the end of 2015, BYU will likely need to make a decision to extend him or move on. It is possible BYU could push for 2016 to be the contract year, but both assistants and recruits are harder to land without long term guarantees in place.
As Bronco enters his contract year, I'm sure the last thing he needs is another person telling him what to do. But, after three straight 8-5 seasons, Bronco would perhaps do well to take a page out of President Obama's book and put last season on himself.
There was about a two-day window in 2012 where it looked Mitt Romney was in the lead for the presidential race. After the first 2012 debate, things looked dire for President Obama. His response after the first debate shellacking was reported thusly:
After watching a videotape of his debate performance, Mr. Obama began calling panicked donors and supporters to reassure them he would do better. "This is on me," the president said, again and again.
Imagine what Bronco could say to panicked donors and supporters to reassure them he can do better: "Hey, even with injuries, some pretty reliable statistics say we just put the worst team of my 10-year tenure as head coach at BYU on the field. That's on me."
The are tons of fans out there who love BYU and will pay and cheer and fight for the team. It's fun to play "us against the world," but the more people you can draw into the "us" side of that equation, the easier it is to go out and fight "the world."
BYU plays a brutal schedule next year. I don't know what kind of bar is fair to set for a team with so many health question marks right now, but after three straight 8-5 years, I don't think improvement is too much to ask for.
And it doesn't take a genius to see that Bronco's most successful years (2006, 2007, and 2009) have come with both a strong offense and a strong defense. Other than that, one side or the other has struggled.
BYU S&P Rankings 2005–2014
In 2014, the Cougars will likely end the year ranked #49 in S&P. The offense finished at #38 after being as high as 19 after September. The defense ended the year ranked 48th. They finished strong after being ranked 86th after October.
In previous seasons, Bronco has bounced back from down defensive years in a big way. After starting ranked #74 in defense in 2005, the defense finished at #18 in 2006 and #15 in 2007. Another down year in 2008 (#76) was followed up with a great year in 2009 (#13). A couple above average years (#34 and #29 in 2010 and 2011) were followed up with two more exceptional years in 2012 and 2013 (#13 and #16).
While there's certainly no lack of negativity among fans in Cougar nation, it appears that this is our team.
Even with the limitations at BYU, Robert Anae has fielded a top 30 offense in 5 of his 8 years at BYU and would have had 6 of 8 with a healthy Taysom Hill this year. Bronco as a head coach has put top 30 defenses on the field in 6 of his 10 years.
History says they have the wherewithal to do it. I can't say I object to the rumored strategy of Bronco telling the team he is taking over the defense. With Bronco entering a contract year, BYU fans will all certainly hope to get his best effort. And his best effort seems to come when he personally leads the defense.