A fond post-mortem review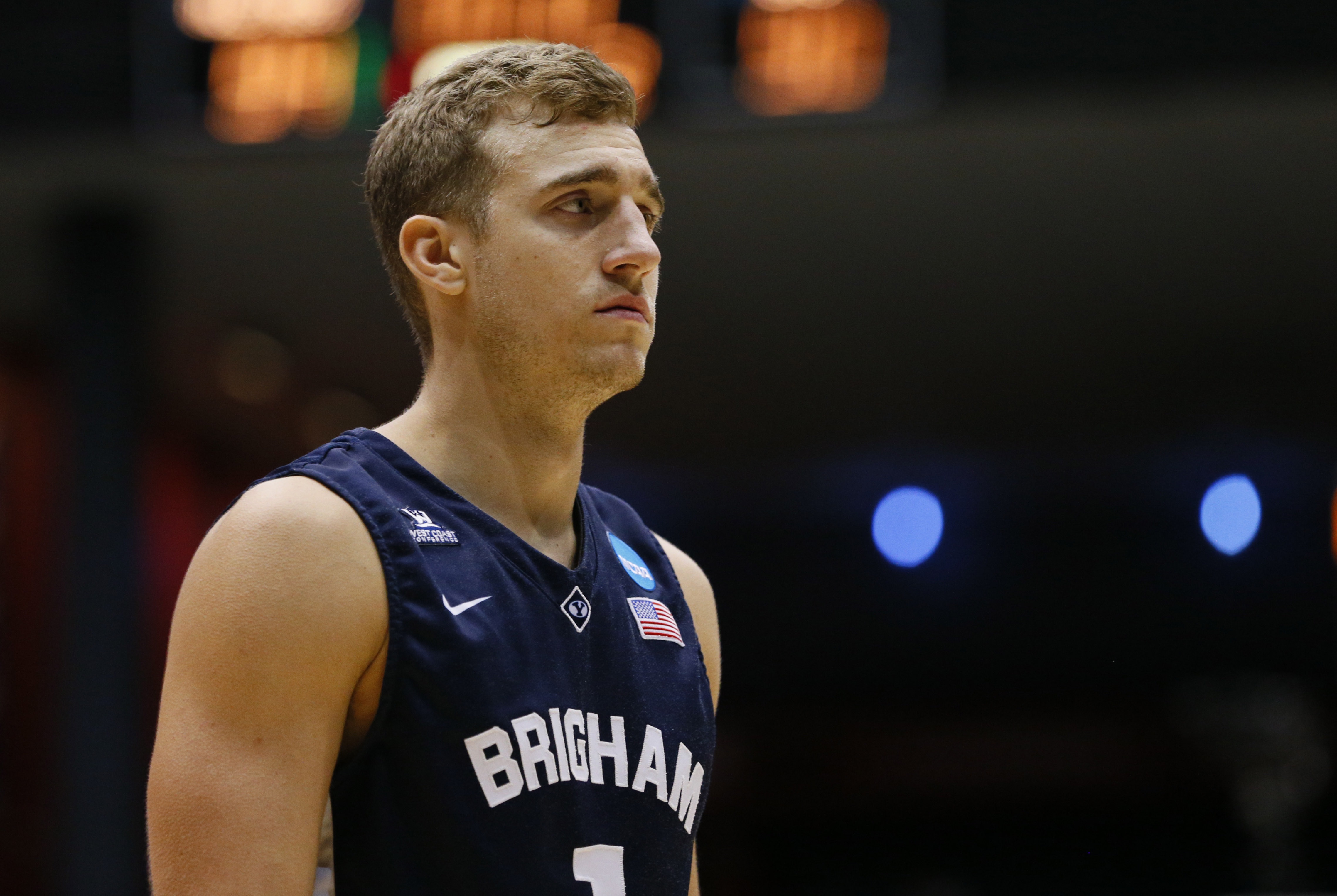 BYU basketball was bounced from the 2015 NCAA tournament in spectacular fashion on Tuesday night in a game that showcased the best and worst of the 2014-15 team. The best was illustrated by BYU blitzing Ole Miss in the first half, drilling 10 threes and lighting the Rebels up to the tune of 49-32. The worst was revealed by BYU getting blitzed by Ole Miss in the second half, giving up a stunning 62 points after the break. It's not often a college basketball team scores more than 90 points and loses, but BYU managed it. It will never be said that BYU played boring basketball this season.
So with this season officially over, here are some observations about the dearly departed 2014-15 BYU basketball team:
Tyler Haws is a bucket-getting cyborg from the future. Haws relentlessly pursued buckets from the minute he stepped on BYU campus. It was a joy to watch a guy who "quietly" dropped 30 points on opponents on a regular basis. BYU will not find a replacement for Haws next season — the team will just have to do its best to replace those 22 points per night by committee.
Kyle Collinsworth is endowed with mutant basketball-playing powers. It is hard to imagine that in a season where Tyler Haws became the all-time scoring leader at BYU that any other player on the team could garner national attention, yet that is what happened thanks to Mr. Triple Double. Collinsworth was the engine that drove BYU this season. If things go right, KC will become a national sensation for BYU next season as he destroys the all-time NCAA triple-double record en route to becoming an NBA draft pick.
How about them seniors? BYU's four seniors all had terrific seasons. I've already discussed the ridiculousness that was Tyler Haws. Anson Winder emerged as one of BYU's three best players before injuries slowed him. Skyler Halford made his critics eat a heaping dish of crow by proving he is a serious baller. Josh Sharp endured numerous nights of riding the pine before being inserted into the starting lineup late in the season and helping BYU win 9 straight games. Congratulations to all of those guys for excellent careers at BYU.
A severely unbalanced team can only go so far. If 2014-15 showed us anything, it is that excellent teams have excellent players in both the back court and the front court. It wasn't for lack of effort that the BYU front court was so ineffective this season, it was more lack of experience. Having two all-time great guards on this team helped BYU get to 25 wins. If BYU had one or two experienced, excellent big men on this team we might have seen BYU win 30 games instead of 25. Jimmer and Jax had Davies and Hartsock in the low post — we can only guess how far this team could have gone with a Davies or a Hartsock manning the low post. Sigh.
Corbin Kaufusi could potentially be very good for BYU. Kaufusi made major strides this season and seemed to turn a corner 0n the back nine of WCC play. He still has a long way to go, but with the physical tools he possesses, he has an unusually high ceiling for a BYU big man.
BYU was slightly better this year than last year. Last spring, I predicted that BYU would be better this season. Despite losing two top front court players, I think this team was indeed better than last season's team. Sure, the team last year was awarded a 10-seed in the NCAA tournament, but BYU was arguably overseeded in 2014. In the end, the 2013-14 BYU team finished the the season 23-12. This year's team finished 25-10.
Dave Rose and his staff did a nice job managing several devastating injuries. Losing potential starter Jamal Aytes before the season hurt. Losing starter Nate Austin hurt even more. Then losing emerging star Anson Winder made things worse. BYU's coaching staff did an admirable job rolling with those significant punches and getting BYU to 25 wins and into the big dance again this season.
Dave Rose and his staff have to figure out how to get their guys to play better defense. Someway, somehow, BYU just has to get better at defending. Scoring 80 points is a wonderful thing, but it is not so great when you give up 90.
Viva fast paced basketball! Kudos to Dave Rose for sticking with his blistering pace of play. It makes for an enjoyable viewing experience and will surely attract talented recruits down the road.
And so we bid a fond farewell to the 2014-15 BYU basketball season. You broke our hearts at times, and thrilled us at other times, but most importantly, you never bored us.