Why BYU basketball will be better next season (again)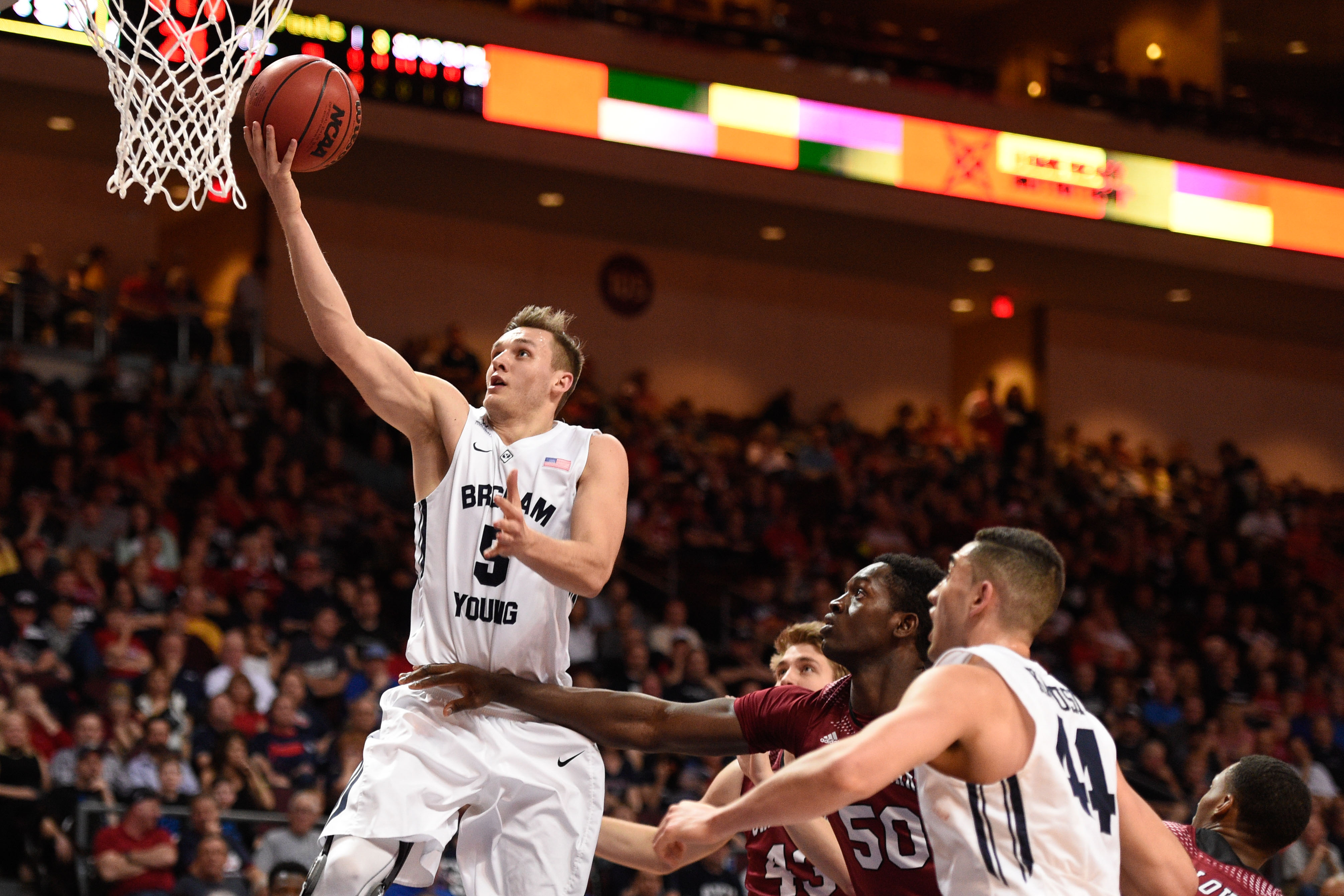 Last March I wrote a post called "Four reasons why BYU hoops will be better next season". BYU finished the 2013-14 season with 23 wins and I predicted that BYU would win "more than 25" games in 2014-15. As it turns out, BYU won 25 games this season despite losing its two projected starting big men early on.
With four seniors graduating after this year, including the incomparable Tyler Haws, I had to think hard about predicting BYU would get better for the third straight season. But I've decided to take a leap of faith and predict that the 2015-16 basketball team will win 26+ games and will at least make the field of 64 in the NCAA tournament.
Here are four reasons why BYU will be better next season:
1. Bringing balance to the Y. BYU's young big men gave all they had in 2014-15, but they were just too inexperienced to provide any notable low post scoring. As a result, Dave Rose went primarily with a four guard lineup and all but gave up on the idea of low post players scoring. This severe imbalance in scoring between the back court and front court players made it too easy for opponents to game plan against BYU. Next season I not only expect the guards to continue to be dangerous scoring threats, but for the low post players to be markedly better scorers as well. Not only will Nate Austin likely be back to snatch up gobs of rebounds, BYU will also have power forwards Jamal Aytes and Kyle Davis playing next season, both of whom are reportedly excellent low post scorers. Add to that mix the return of Corbin Kaufusi, who will have a full season and full offseason under his belt. Add to that a wiser (and hopefully heavier) Isaac Neilson, along with promising incoming freshmen Jakob Hartsock and Braiden Shaw and BYU will surely be significantly improved in the low post next season.
2. The return of Kyle Collinsworth (and friends). Without Kyle Collinsworth BYU would probably be worse next season. Collinsworth will be the unrivaled star of the team and should continue to be the engine that drives BYU.  In addition to KC, returning guards Chase Fischer, Frank Bartley IV, and Jake Toolson should all be a year wiser and more experienced, and thus more useful to Dave Rose and staff.
3. Hot wings. There are several exciting guard/wing players that will make their debuts at BYU next season. Nick Emery is expected to come in and contribute early on, Jordan Chatman should be healthy and ready to earn minutes, Zac Seljaas is coming off a stellar season in high school and should compete for minutes at the 3 spot, and former Colorado scoring champ Cory Calvert should be back from his mission. We'll see which of the new guys will earn minutes but all will certainly be fighting hard for playing time and that will only make the team better.
4. Getting defensive. It's hard to imagine BYU not improving at least some on defense. And believe it or not, BYU's defense did improve this season over the previous year. The 2013-14 team gave up a whopping 77.1 points per game compared to 73.2 per game for the 2014-15 squad. At the very least, BYU should be better at protecting the rim and rebounding next season. I predict BYU will hold opponents to less that 70 points per game on average next season — and hopefully a lot less.
You may be asking "How could BYU possibly replace the 50 points per game this season from the seven guys who won't be on the team next season?" First, don't underestimate Dave Rose's offensive system. He recruits guys who can fill up the basket and puts them in positions to do so every season. Second, with any luck BYU's defense will improve so BYU won't have to replace all 50 points in order to win at least 26 games next season.
So there you have it — despite BYU losing the legendary Tyler Haws, I predict BYU hoops will better next season anyway. What say you?