Cougar Predictions: BYU at UCLA
Updated: September 18, 2015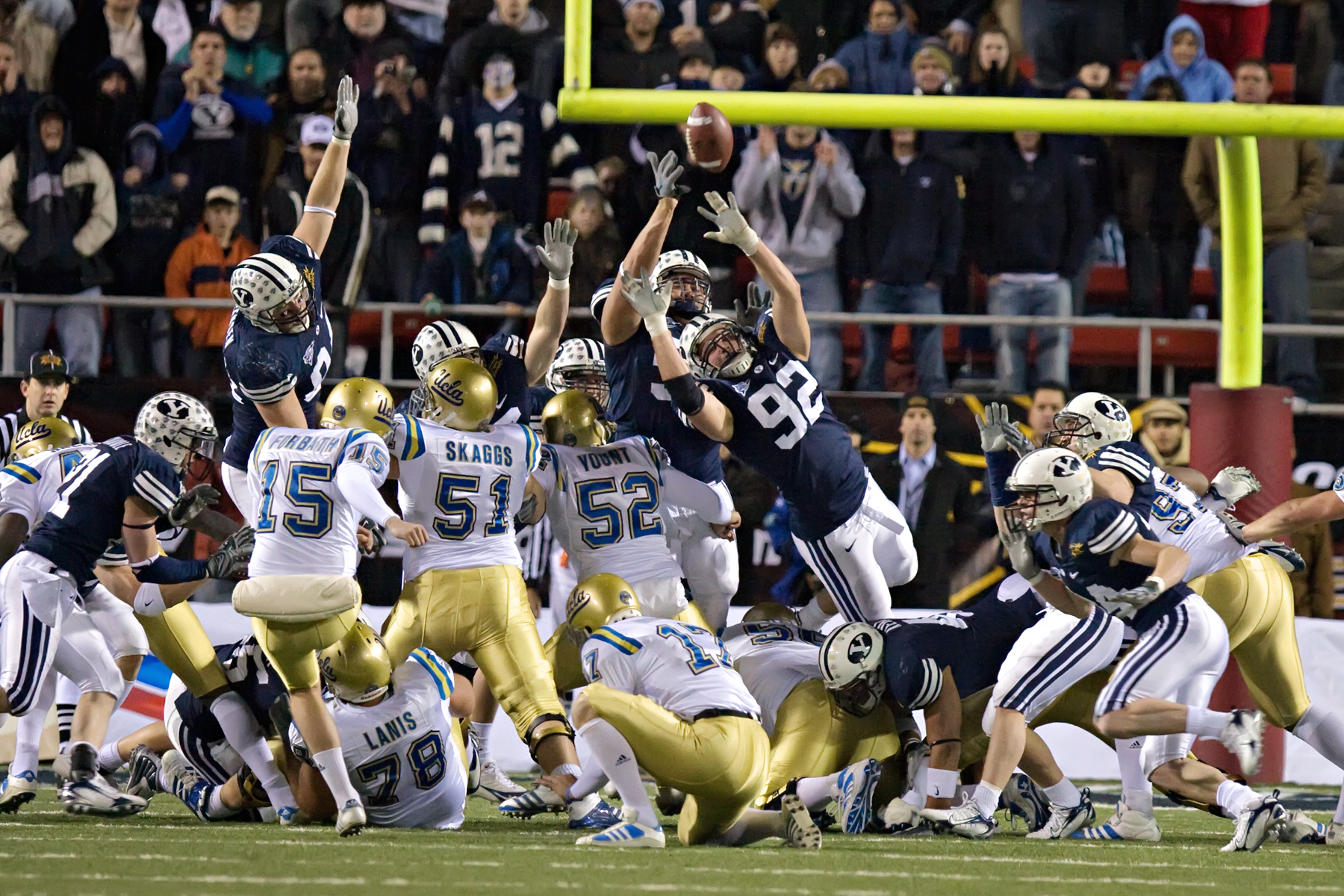 We surveyed 32 BYU fans for their expert opinions on what to expect when the Cougars face the UCLA Bruins this Saturday night at the Rose Bowl in Pasadena. Here are the consensus top answers.
Last week against Boise State, our experts finished with a respectable 9-6 record, including correctly predicting a BYU upset over the Broncos. Will the panel predict yet another BYU upset this week? Here are the responses:
When will BYU score its 12th point of the game? 44% said during the third 10 minutes of the game. 44% said during the second 10 minutes of the game. 6% said the 3rd Quarter. 6% said the 4th Quarter.
How many BYU players will score their first TD of the season this week (In the first two games, TDs were scored by T.Hill, M.Mathews, M.Juergens, Hine, Mangum, and Nacua)? 66% said 1. 31% said 2. 3% said 3 or more.
What jersey number will be worn by the first BYU player to score a TD? 12-99: 72%. 1-11: 28%.
BYU's leading tackler will be a ______ (LB Pikula led the team in Week 1; DB Wadsworth led in Week 2)? DB: 53%. LB: 47%.
Which QB will have a higher QB rating? 69% said Mangum. 31% said Rosen.
Will BYU have a pass play go for 50+ yards? 53% said No. 47% said Yes.
Will the lead change in the 4th Quarter? 69% said No. 31% said Yes.
Will BYU down a punt (or have a punt go out of bounds) inside the UCLA 10-yard line? 72% said Yes. 28% said No.
Which team will register more sacks? 63% said UCLA. 37% said BYU or the teams would tie.
How many yards per carry will Adam Hine record? 72% said under 4.0. 28% said 4.0 or higher.
Which team will have the longest punt? 81% said BYU. 19% said UCLA.
Which happens first by either team: a Turnover, a Personal Foul penalty, or a Field Goal attempt? 47% said a FGA. 34% said a TO. 19% said a PF penalty.
Will BYU's total rushing yardage account for 30% or less of its total yardage from scrimmage? 66% said Yes. 34% said No.
Will both teams combine to score Over/Under 54.5 points? 50% said Over. 50% said Under.
If the spread were UCLA -9.5, which team would cover? 53% said BYU would still cover. 47% said UCLA.
So, yes, the experts appear to be wearing the blue goggles once again, predicting a BYU cover even with a less advantageous spread than what is currently being offered in Las Vegas. As a side note, of 406 serious predictions on Cougarboard, only 43% predict a BYU loss. At least the homerism doesn't appear to be that thick among our group.