BYU v. ECU Preview
Updated: October 10, 2015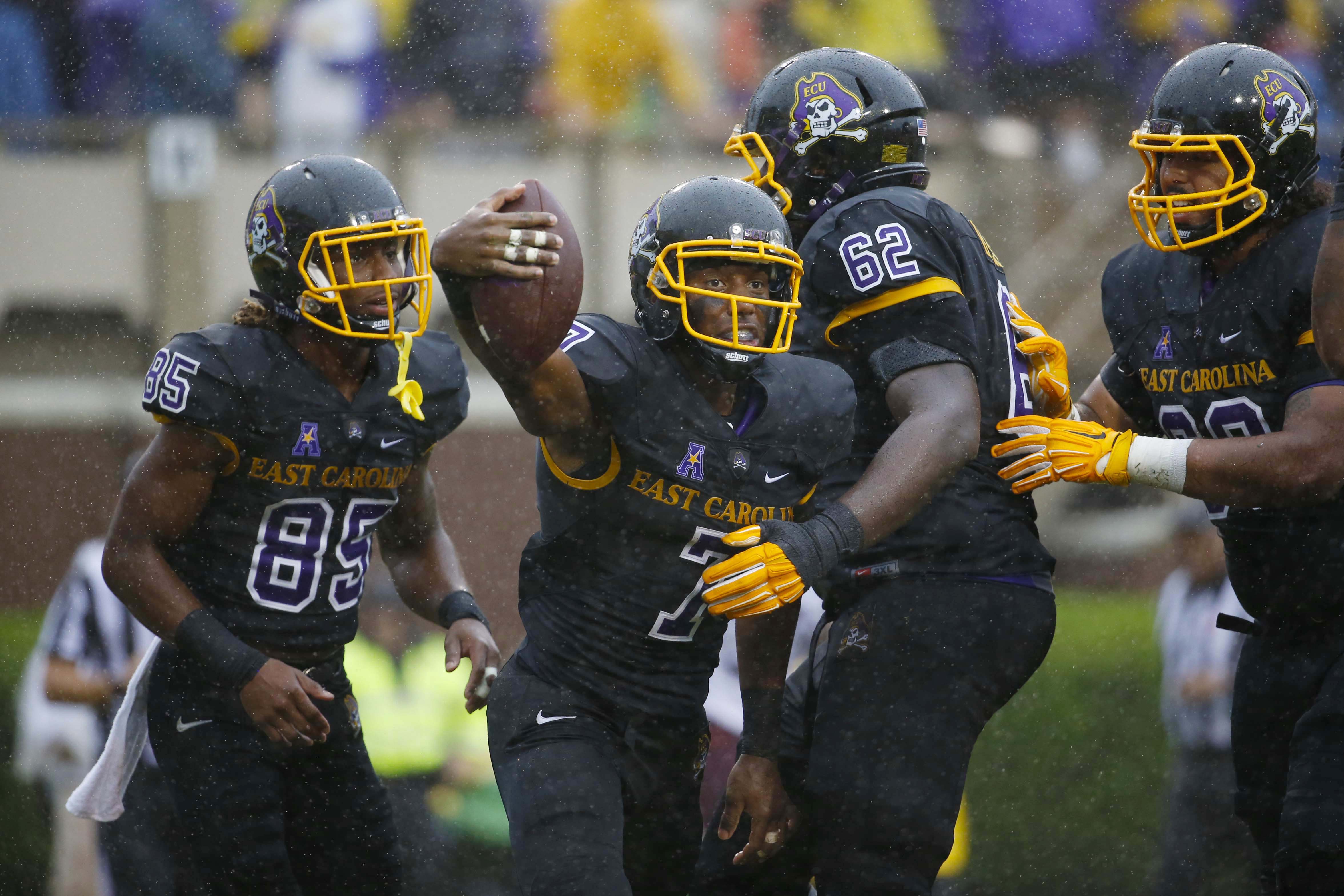 Game Capsule
East Carolina Pirates (3-2) at BYU Cougars (3-2)
LaVell Edwards Stadium, Provo, Utah
Kickoff Time: Saturday, October 10, 2015, 5:30pm MDT
TV: ESPNU (Allen Bestwick/Dan Hawkins), BYUtv Countdown to Kickoff (Dave McCann/Blaine Fowler) 4:30pm MDT
Radio: Cougar IMG Sports Network (Greg Wrubell/Marc Lyons): Sirius XM 143, KSL 1160 AM and 102.7 FM, and online at BYUcougars.com
BYU Game Notes, East Carolina Game Notes
Statistical Preview
Here are a few key battles to watch in tonight's game:
ECU 3rd Down– The Pirates lead the nation in Third Down Conversions with a 55% rate. BYU's defense ranks #36 in the country allowing opponents to convert on only 32% of their 3rd Down opportunities. This will certainly be a case of strength versus strength and the result of this battle will likely play a big role in deciding the outcome of the game. The Pirates do not face 3rd and long often, with only 20% of all of their Third Down plays requiring 10 or more yards to reach the marker, but as could be expected, they convert the longer-yardage situations at a much lower, though still respectable, 25% rate. BYU's defense has only allowed opponents facing 3rd and 10+ to earn four 1st Downs in 25 attempts (16%), so the key for the Cougars will be to play well enough on 1st and 2nd Down to force the Pirates into longer 3rd Down situations.
Red Zone Offense– Against UConn last week, BYU finished the game with five scores in six trips into the Huskies' Red Zone. On the surface, it seems like a respectable number until you see that three of those scores were Field Goals. Then, you look at the times when BYU came close to the Red Zone but the drive stalled before entering. At the end of the day, the BYU offense crossed the UConn 40-yard line 11 times and only came away with 3 touchdowns and 3 field goals. A similar trend is visible when looking at the season as a whole, with BYU scoring points on 93% of its Red Zone trips (15th-best in FBS), but only scoring touchdowns on 53% (ranked 98th in FBS). Against a team like ECU, BYU won't be able to leave points on the field as the Cougars did against an inferior UConn team.

Interestingly, ECU suffers from the opposite problem, scoring points on just 80% of its Red Zone trips (ranked #92 in FBS), but scoring touchdowns and not field goals when the Pirates do score, with a RZ TD% of 75% (12th-best in FBS). Watch for how big of a role the defenses play in counteracting the season-long Red Zone trends of both offenses.

Turnovers– Against a more difficult opponent, BYU cannot afford to turn the ball over three times again this week. On the season, BYU has had a slightly better turnover margin; its +0.6 (#36 in FBS) is much better than ECU's -0.8 (#101 in FBS). The Cougars winning the turnover margin will go along way into making sure that the Cougars remain unbeaten at home tonight.
BYU Pass Game– Yes, BYU's pass efficiency is a mere 120.92, only good enough for 86th-best in FBS football. But, keep in mind that the Cougars have faced the second-, fifth-, and twelfth-best pass defenses in Michigan, Boise State, and UCLA respectively. When comparing BYU's pass efficiency ratings against the averages allowed by its opponent's defense, the Cougars have averaged 13.4 points higher than the opponent's defensive pass efficiency. Against an ECU defense that allows an efficiency of 131.56, a similar performance by the BYU offense would give the Cougars a rating near 145. However, the ECU defense has played four Top 50 passing teams, usually limiting opposing offenses to 14.3 points lower than their season-average pass efficiency. So, if you work the numbers from this direction, ECU would expect to hold BYU below its season average of 120.92 to a rating somewhere in the 107 range. BYU's chances of winning the game will depend largely on how effective Tanner Mangum can be at finding his receivers and the BYU offense imposing its will on the Pirate D to reach an efficiency closer to that 145 number and not the 107.
BYU Pass Defense– The BYU defense has done a commendable job this season of holding opposing offenses to a Pass Efficiency of 118.81 (the 57th-ranked Pass Defense in FBS). But, ECU's offense is pass heavy. The Pirates' Pass Efficiency of 146.04 ranks #36 in the FBS, while their rushing average of 149.4 puts them at 96th-best. It seems clear (especially with the expected return of Travis Tuiloma) that ECU will not be able to do much on the ground. BYU's pass defense could be the difference between a BYU blowout win and another much-closer-than-necessary game.
BYU Run Game– BYU has only averaged 118 rushing yards per game, which is the 14th-lowest number in the FBS. But, Algie Brown and Francis Bernard are emerging as a two-headed monster, leading BYU to a season-high 174 yards last week against UConn. Couple that with the fact that the ECU rush defense allows 192 yards per game (ranked 95th in the FBS) including allowing FCS team Towson to put up 179 yards on the ground, and you'd expect BYU's running game to surpass last week's season high tonight. The Pirate defense has performed much better against the run in wins against Virginia Tech and SMU, so it will be interesting to see what kind of run/pass balance Coach Anae chooses to employ in tonight's game.
Depth Chart/Roster
Lastly, here is a look at the projected Depth Chart for tonight's game against ECU.

You can download the JPG and PDF versions of the latest Depth Chart, as well as a current roster, at the following location:
http://www.loyalcougars.com/football-roster/depth-chart/