Around the NCAA: Jim Harbaugh Dares You to Score Points
Updated: October 14, 2015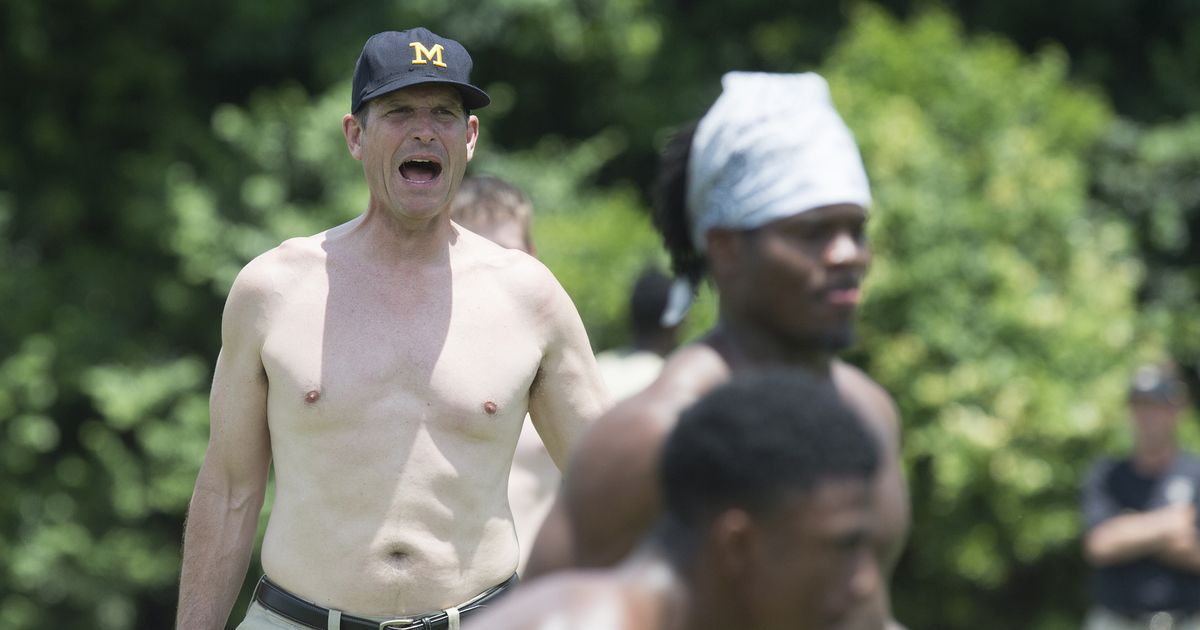 I don't think the BYU football team or its fans should feel too bad for not scoring any points on Michigan. It would seem that no one is able to. The last three games for the Wolverines have gone as follows: 31-0, 28-0, 38-0. And two of those teams were ranked at the time of play. If they can shutout Michigan State this weekend, it's quite possible no one will score any points against them until maybe Ohio State.
Coaching Matters
I think this goes to show what a difference coaching makes in football, especially college football. USC, Texas, Tennessee, Michigan, UCLA, Miami…all teams that consistently have top ranked recruiting classes but that, at least lately, haven't seemed to live up to their talent level. To me, the only logical explanation is coaching. A great coaching staff can elevate a less than elite roster and take an elite one to the top.
The obvious case in point is Harbaugh and the Michigan Wolverines. It seems like everyone figured they'd be challenging the B1G before long, but halfway through the first season? I'm not sure anyone would have guessed that- except for maybe Harbaugh himself.
While we are on the subject of coaching, how about Head Ball Coach Steve Spurrier hanging up the visor? Now there's a man who quits while he's ahead. "My answer has always been the same: If it starts going south, starts going bad, then I need to get out. … It's time for me to get out of the way and give somebody else a go at it." I'm sure ESPN already has a contract on his desk. And if that happens, let me just say, I hope he does sideline interviews.
Also in the coaching category, I'm sure most have heard about Steve Sarkisian's dismissal from USC. No matter the extent of his problems or how embarrassing and public they've become, it's great to see Cougar Nation throw out its support behind the former BYU QB.
Moving on…
Does this Touchdown Make Me Look Fat?
My favorite thing from last weekend's games, besides the BYU win of course, was seeing Navy's 6' 1", 253-lb Fullback Quentin Ezell run for TDs on two straight Navy possessions. Don't call him fat, 'cause I'm pretty sure fat can't do that. At least I know I can't!
Still Overrated
Even with 5 (5!!) interceptions thrown by surfer dude Jared Goff, the Utes still needed a stop on the final drive with Cal in scoring position to put the Bears away. Just like the last few years, I think Utah has amazing defense and a mediocre offense. Take away DeVonte Booker and his 30+ touches per game and it doesn't look good at all. Everything will catch up with the Utes eventually, just wait. Mark it down: USC, UW, ASU, UA, UCLA; there are at least two losses there.
Other Randomness
The Ducks lost again last weekend, this time to WSU…yeah that team. Near the end of regulation, the Pullman Cougars scored a touchdown, and the decision of go for two and win it, or kick the extra point and take it to overtime had to be made, and only one man could make the call…though another man sure tried to make it for him:
Go for two, or whatever… pic.twitter.com/rnKRnOTnyf

— WSUFootballBlog.COM (@WazzuFBBlog) October 11, 2015
This Kansas State player is more than meets the eye:
I'm so confused pic.twitter.com/fPAe32nRqB

— Bad SportsCenter (@BadSportsCenter) October 12, 2015
Awards
The Award for "Best Worst 4th Down Play of the Century or at Least the Weekend" goes to Rutgers QB Chris Laviano. Bummer.
Anything else of note I missed? Florida's QB suspended for PEDs perhaps? Discuss below.