Statistical Review: BYU v. ECU
Updated: October 14, 2015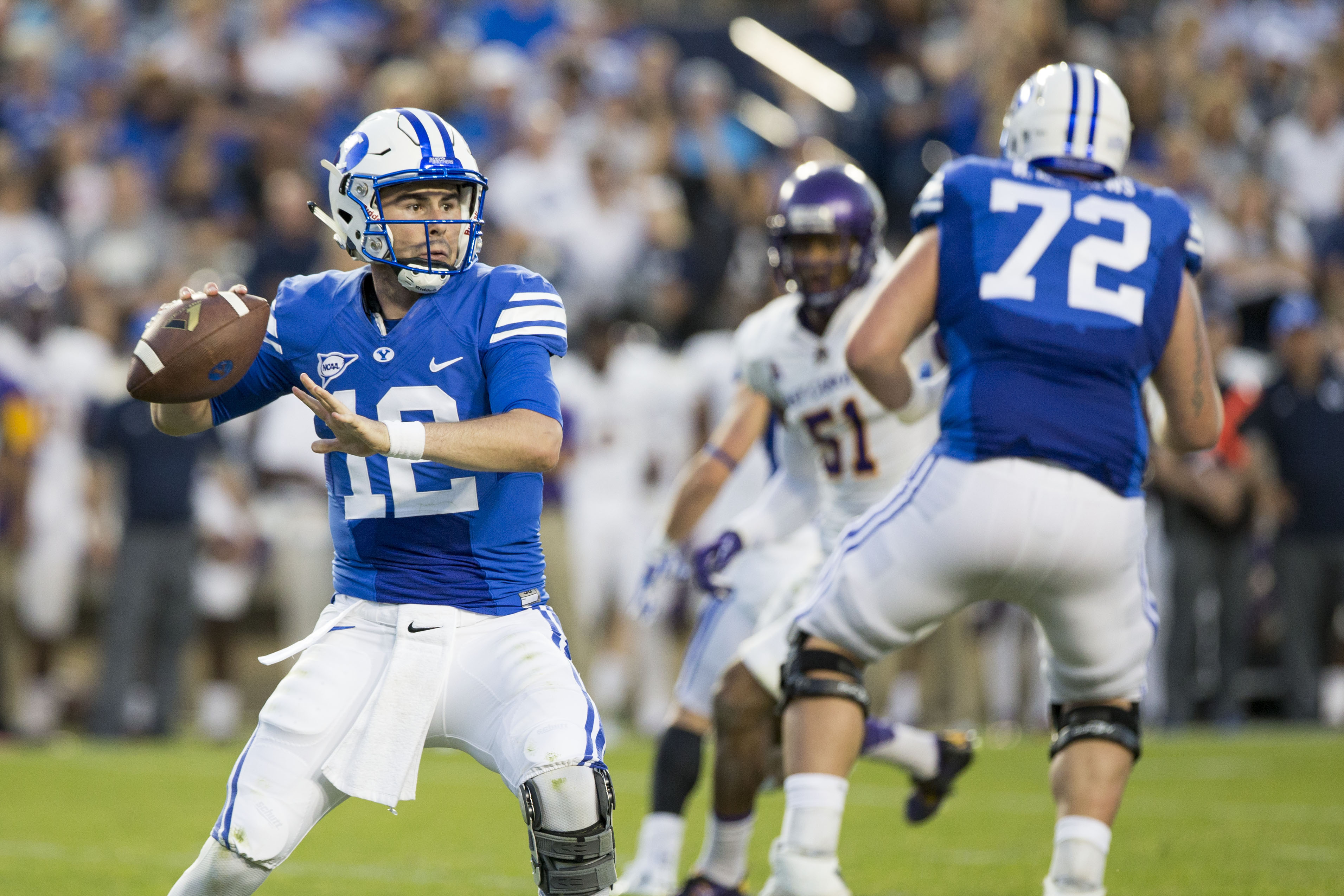 Prior to Saturday's game, I noted six key stats to watch for in BYU's game against the ECU Pirates. Today, I look back at how the game stats and how BYU's game plan proved successful enough in those key areas to secure a victory against East Carolina.
Here's a breakdown of the six key statistical categories I mentioned in last week's preview for the ECU game and how BYU fared in each:
ECU 3rd Down– Entering the game, ECU led the nation in Third Down Conversions with a 55% rate and BYU's defense ranked #36 in the country allowing opponents to convert on only 32% of their 3rd Down opportunities. I predicted that this matchup would "likely play a big role in deciding the outcome of the game." ECU converted on just 3-of-12 3rd Down opportunities. The BYU defense actually stopped the Pirates' running QB, James Summers, from converting a single 3rd Down (0-for-5). Blake Kemp took over at QB for the final drive of the first half and led the Pirate offense to much more respectable (though still below the season average 55%) 3-for-7 on its remaining 3rd Down attempts. As expected, BYU performed better on longer-yardage situations and limited ECU to only one conversion longer than 2 yards (in 9 attempts). At the end of the day, BYU's defensive performance on 3rd Down, especially against the mobile Summers, was a key factor in BYU's victory. Advantage: BYU.
Red Zone Offense– BYU did a much better job of sustaining and finishing its drives than in the previous week against UConn. After losing a fumble on their opening drive for the second straight week, the Cougars settled down and scored on all six possessions in which they entered ECU territory. And, five of those six scores were touchdowns. That is certainly a vast improvement over 3 TDs and 3 FGs on 11 trips inside the UConn 40-yard line the previous week. Advantage: BYU.
Turnovers– I wrote: "The Cougars winning the turnover margin will go along way into making sure that the Cougars remain unbeaten at home tonight." The Cougars indeed finished +1 in the turnover margin, recovering 2 ECU fumbles and an interception while giving up just one of each of their own. However, more importantly than just winning the margin was the timing of BYU's forced turnovers. All three came in the 3rd Quarter and all three occurred inside the BYU 40. As a result, though ECU tallied 8 first downs and 113 yards of offense in the 3rd Quarter, they scored zero points. During that time, the Cougars were able to extend a 7-point halftime lead into a 17-point lead when Tanner Mangum left the game with a hamstring injury. The 17 points proved to be just enough to account for both decreased offensive production with Beau Hoge under center (4 three-play drives resulting in 11 total yards, 3 punts, and an interception) and improved Pirate offensive efficiency (5 drives for 234 yards, with 2 ending TDs, 1 FG, 1 punt, and the clock running out on ECU's final drive). So, while Tanner Mangum's triumphant return to a tie game with four minutes left to lead a 10 play, 75-yard, touchdown drive and leave just 0:19 on the clock certainly didn't hurt, the timing of ECU's three turnovers was important in keeping momentum on BYU's side just long enough to give BYU the win. Advantage: Slight BYU.
BYU Pass Game– I predicted that BYU's pass efficiency would be somewhere between 107 and 145 and that "BYU's chances of winning the game will depend largely on how effective Tanner Mangum can be at finding his receivers." BYU, and especially Tanner Mangum, vastly exceeded my expectations in this category. Mangum finished with a QB rating of 187 (the highest rating by a BYU QB since Christian Stewart's 194 at Cal last year). The true freshman Hoge's negative rating on five pass attempts dropped BYU's average to 162, still much higher than anything the stats could have predicted. Advantage: BYU.
BYU Pass Defense– Unfortunately, the following was perhaps proven to be my most prophetic statement from last week: "BYU's pass defense could be the difference between a BYU blowout win and another much-closer-than-necessary game." With six members of the BYU defensive two-deep limited or out of action, the BYU pass defense had its worst performance of the season against the second-best passing opponent the Cougars have faced. BYU allowed ECU to pass for 385 yards and a rating of 159. Pirate QB Blake Kemp completed 78% of his passes and finished with a Tanner Mangum-like rating of 177. Lucky for BYU, five of the six hobbled defenders are expected to return for Friday's game against a Cincinnati passing offense that ranks #45 in the country, not far behind ECU's #29. ECU's ability to pass the ball in the second half gave it a huge advantage and, minus Mangum's now commonplace heroics, perhaps would have won the Pirates the game. Advantage: ECU.
BYU Run Game– The BYU run game proved adequate, and it seems clear that improvement is ongoing, but the Cougars did not surpass last week's season high of 174 yards against an ECU defense that statistically gives up more yards than UConn. It seems clear that the ECU run defense is also trending in a positive direction, holding the Cougars to an average of 3.9 yards per carry after holding Virginia Tech's #68 rush offense to 3.8 ypc and SMU's #60 rush offense to 1.3 ypc. BYU's run game was not bad, by any stretch, but simply accounted for fewer yards on more carries against a statistically worse rush defense than the previous week. I shudder to think of how the numbers would look if not for Algie Brown's 53-yard touchdown run on a delayed handoff (114 yards on 42 carries for an average of 2.7 ypc). Fortunately, the touchdown did count and so, the Cougars fell just short of meeting the statistical benchmark I set last week. Advantage: Slight ECU.
When all is said and done, BYU performed well enough in 4 of the 6 categories, and pulled out the narrow victory. We'll see if Tanner Mangum is able to play for BYU this Friday and if the Cougars are able to continue their improvement in the run game this week against a similar opponent in Cincinnati.