BYU v. Cincinnati Preview
Updated: October 16, 2015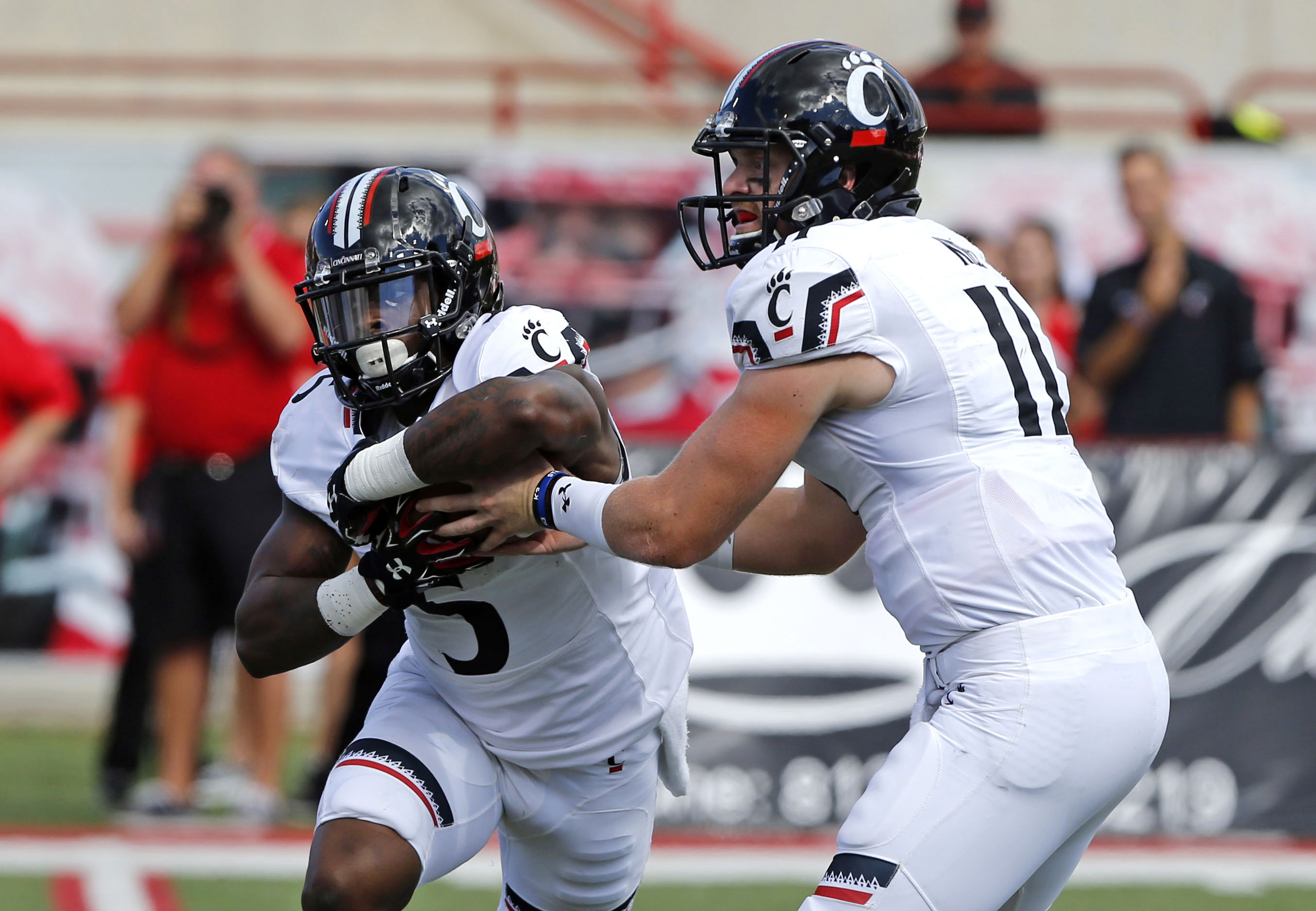 Game Capsule
Cincinnati Bearcats (3-2) at BYU Cougars (4-2)
LaVell Edwards Stadium, Provo, Utah
Kickoff Time: Friday, October 16, 2015, 6:00pm MDT
TV: ESPN (Adam Amin/Kelly Stouffer/Olivia Harlan), BYUtv Countdown to Kickoff (Dave McCann/Blaine Fowler) 5:00pm MDT
Radio: Cougar IMG Sports Network (Greg Wrubell/Marc Lyons): Sirius XM 143, KSL 1160 AM and 102.7 FM, and online at BYUcougars.com
BYU Game Notes, Cincinnati Game Notes
Statistical Preview
It's difficult to compare statistical rankings when there's such a big disparity between the quality of opponents; Sagarin ranks BYU's schedule as the 4th-most difficult and Cincinnati's at #82. As such, any number-to-number comparison is almost meaningless without slightly handicapping the numbers in BYU's favor. Here are my keys to the game:
Turnovers– I know, I know, this was one of the keys to the game last week. Well, this week, BYU is strong at both holding onto the ball on offense (#58 in FBS) and forcing turnovers on defense (#23 in FBS) while Cincinnati is weak in both areas (#118 in TOs/game and #124 in Turnovers Forced per Game). The statistics predict a +1.5 turnover margin for BYU.

I'd say if BYU finishes with a turnover margin of +2 or better, the Cougars get the win

. Against the Bearcats' 5th-ranked offense, turnovers can and do make a difference: in its two losses, Cincinnati turned the ball over 3 times against Memphis and 5 times vs. Temple.
BYU Red Zone Defense– BYU's defense is one of the worst (#106) in the country at keeping teams from scoring touchdowns when in the Red Zone. The Cougar D has allowed its opponents to score on 17/20 Red Zone trips, and just three of those scores were field goals. But, while Cincinnati's offense is prolific, the Bearcats' drives sometimes fizzle upon passing the opponent's 20-yard-line. Cincinnati has only scored on 25/32 Red Zone trips (ranked #102 in FBS) and 9 of those 25 scores were field goals, meaning that Cincy has only scored TDs on half of its Red Zone trips.

If the BYU defense can continue this trend and hold Cincinnati to touchdowns on half of its Red Zone trips (or fewer), the Cougars should have a successful night

. And with the return of Travis Tuiloma, Harvey Langi, Micah Hannemann, and Jordan Preator to the BYU defense, they have a better chance to make that happen tonight.
BYU Red Zone Offense– Red Zone scoring is an area in which the Cougars excel, coming away with points on 19/20 trips inside their opponents' 20 this season (12th-best in the country). Fortunately for BYU, Cincinnati has allowed its opponents to score on 20/22 opportunities inside its Red Zone.

Look for BYU to own the "Blue Zone" again tonight, scoring points on every trip inside the Bearcat 20-yard line

. If the Cougars can continue last week's improvements of scoring touchdowns (instead of field goals) in these opportunities, it will be a sign of a good night for Bronco Mendenhall's Cougars.
BYU Pass Game– Yes, BYU's season-long pass rating of 127.36 is only good enough for 76th-best in the country. But, the Cougars have faced four of the best pass defenses in the country including two of the top 3 in Boise State and Michigan. In fact, over the course of 6 games, BYU has passed for an efficiency about 17 points higher than the opposing defense's season average. So, if the Cougars can pull off a similar feat against the Bearcat Pass defense that yields an efficiency of 133.5 (#84 in FBS), BYU can expect to finish the night with a rating of 150. Since Tanner Mangum's health/mobility is not at 100%, the team would certainly be ecstatic with such a performance. But, I would expect at least a slight dropoff even if Tanner is able to play the entire game. As such,

I'll put the number to beat at 140; BYU will have the best chance to win if the passing game can exceed that number

.
BYU Run Defense– Cincinnati's offense averages more yards on the ground (201.4 ypg – 32nd-highest in FBS) than any opponent BYU has yet faced this season. The 2nd- and 3rd-best rushing opponents BYU played ran against the Cougars for 296 (UCLA, averages 197.8 ypg) and 254 (Michigan, averages 201.3 ypg). The two differences between those games and tonight are: First, those were road games and BYU is at home this time around. The Cougar D has held all three home opponents under their season-to-date rush averages. And second, the Cougars' best defender against the run, Travis Tuiloma, missed those games with a knee injury. Tuiloma should be back tonight close to full strength. With these two factors playing in BYU's favor,

I predict Cincinnati's rushing yardage tonight will be closer to 150 than 200

. BYU's ability to make that happen will be yet another key in leading the Cougars to victory tonight.
BYU 3rd Down Defense– As was the case last week, BYU faces one of the top 3rd Down offenses in the country. Cincy ranks #11 in FBS, converting on 48% of its 3rd Down opportunities. Conversely, BYU's defense has played well on 3rd Down, holding opponents to a 31% conversion rate. Last week against East Carolina, BYU defenders held a Pirate offense that was leading the nation on 3rd Downs (55%) to convert on just 25% of its opportunities. Bronco Mendenhall's defense will need to perform well on 3rd Down yet again tonight.

If the Cougars can hold Cincinnati to 38% (approximately 5-of-13) or less on 3rd Down, I like BYU's chances of winning

.
If the Cougars can achieve at least half of these six benchmarks, I like BYU's chances of winning tonight's game. If not, it's going to be very difficult, statistically-speaking, for BYU to come away with the win.
Depth Chart/Roster
Lastly, here is a look at the projected Depth Chart for tonight's game against Cincinnati.

You can download the JPG and PDF versions of the latest Depth Chart, as well as a current roster, at the following location:
http://www.loyalcougars.com/football-roster/depth-chart/
Go Cougs!