9-Line Prediction: BYU v. Wagner Preview
Updated: October 24, 2015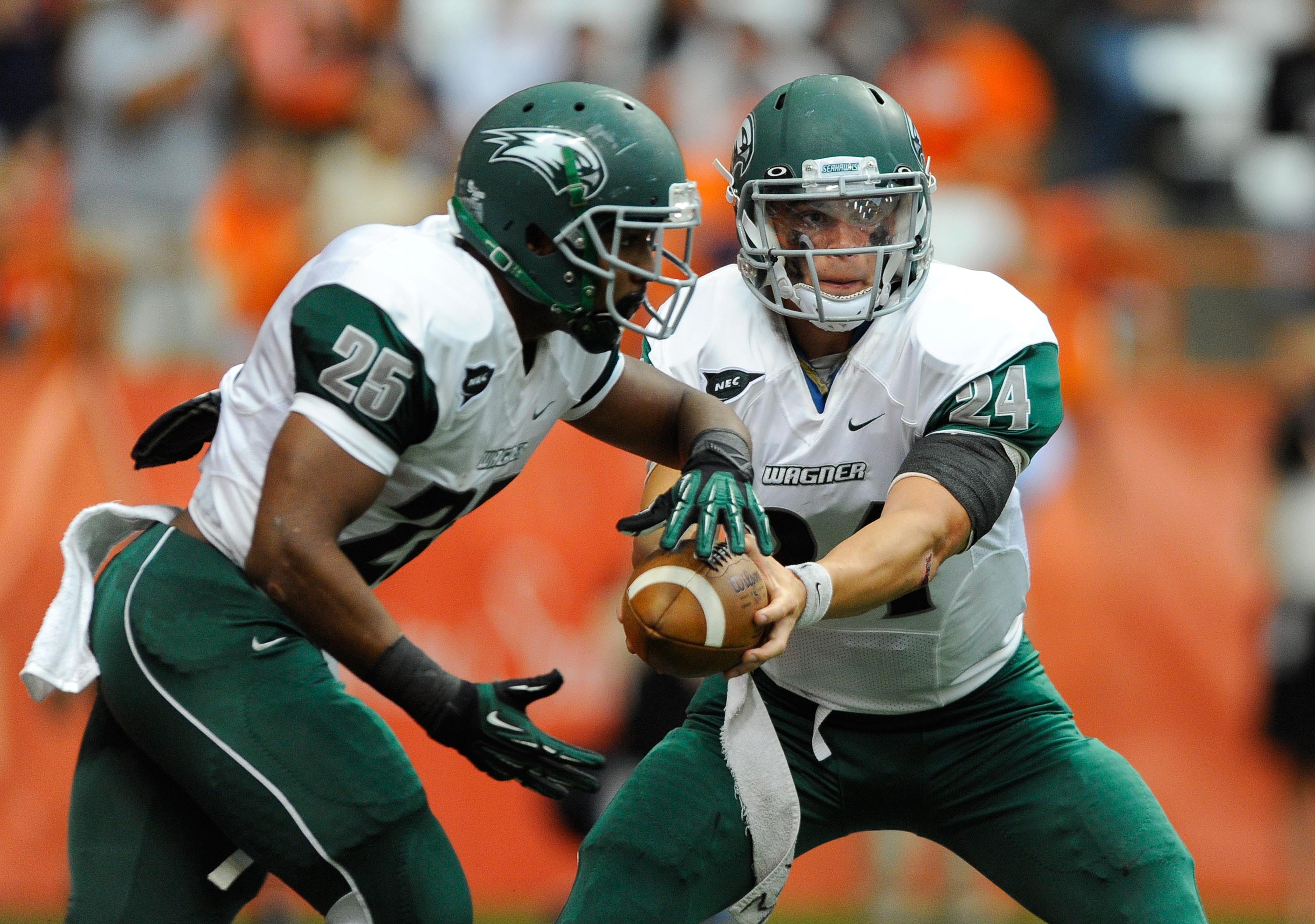 Game Capsule
Wagner Seahawks (0-6) at BYU Cougars (5-2)
LaVell Edwards Stadium, Provo, Utah
Kickoff Time: Saturday, October 24, 2015, 1:00pm MDT
TV: BYUtv (Dave McCann/Blaine Fowler/Lauren Francom), BYUtv Countdown to Kickoff (Dave McCann/Blaine Fowler) 12:00pm MDT
Radio: Cougar IMG Sports Network (Greg Wrubell/Marc Lyons/Nate Meikle): Sirius XM 143, KSL 1160 AM and 102.7 FM, and online at BYUcougars.com
BYU Game Notes, Wagner Game Notes
Statistical Preview
It would be pointless to list out the things that BYU needs to do to win this game, since the outcome is a mere formaility at this point. Last season, BYU beat Savannah State 64-0. Jeff Sagarin ranked Savannah State as the 251st-best team in college football in 2014 (next to last). While Wagner doesn't rank as low in this year's rankings (242nd), they are a similar caliber opponent and a similar outcome should be predicted.
Wagner Points: Over/Under 1– BYU held Savannah State scoreless last year. I predict they will do the same to Wagner tonight. PREDICTION: UNDER.
BYU Points: Over/Under 55– Yes, BYU scored 64 points against Savannah State last year (8 TDs, 2 FGs, 1 Safety). Basically, the question here is: Will BYU score the equivalent of 8 touchdowns against the Seahawks tonight? We all know that Coach Mendenhall doesn't like to run up the score. There's also a pretty good chance that the backups will see more time than what happened last year, especially with Tanner Mangum still recovering from hamstring issues. I still think BYU will score in the same range as last year's game. PREDICTION: OVER.
Wagner Total Yards: Over/Under 63– Why 63, you ask? That's how many yards of offense Savannah State ran up against BYU last year. Aside from season-long suspensions and injuries, the BYU defense is relatively healthy heading into the game. It will be interesting to note how many reps Coach Mendenhall and Coach Howell will allow the starters to get. And then, just how deep into the bench will they go and how well will those backups perform? PREDICTION: OVER.
More Yards: BYU Passing or BYU Rushing– In last year's game against Savannah State, BYU ran the ball 62 times and attempted only 20 passes, finishing with 30 more yards on the ground than through the air. I expect that the coaches will want to give Hoge a chance to find some success in the pass game, but I still think most of the game will be rushing. PREDICTION: RUSHING.
BYU Sacks: Over/Under 3.5– Wagner only attempts 23 passes per game, similar to the 28 attempts Savannah State made last year. But, BYU is coming off a near-school-record 8 sack performance last week against Cincinnati. I don't think the Cougars will rush the QB nearly as much this week, electing instead to drop most of the defense into coverage in pass situations. If BYU does best this number, it will likely only be as a result of the freakish athleticism along the BYU D-Line, particularly in the persons of Travis Tuiloma and Bronson Kaufusi. I'd love to see a lot of sacks by those two, but I think the final number will be 3 or fewer. But, you never know; even with so few pass attempts per game, Wagner does allow more than 3 sacks per contest. PREDICTION: UNDER.
Wagner First Downs: Over/Under 6.5– On Senior Day last season, the BYU defense allowed Savannah State to gain only 6 total first downs. That is pretty dominant (for reference, BYU had 8 first downs at Michigan in September). I'm guessing Wagner will do better than that, but not by much. PREDICTION: OVER.
BYU Turnovers Forced: Over/Under 2.5– BYU is still one of the best teams in the country at forcing turnovers (ranking 28th with 13 turnovers gained). Savannah State gave up the ball three times last year. Will this year's defense perform the same or better? My bet is yes. PREDICTION: OVER.
Wagner Punts: Over/Under 7.5– How many drives will each team have? How many Wagner drives will end in turnovers? Will Wagner fail on any 4th Down attempts? Will BYU score so quickly that Wagner will have the ball more times than usual? All of these questions go into predicting how many punts Wagner will have. Last year, Savannah State had 14 offensive drives ending as follows: 8 punts, 3 failed 4th Down attempts, 1 interception, and 2 fumbles. It's pretty much a crapshoot, but I'll take the under here. PREDICTION: UNDER.
Number of BYU Players to Score their first TD of the Season: Over/Under 2.5– BYU has the following players yet to score a TD this season on its sideline: Devon Blackmon, Colby Pearson, Kurt Henderson, Trey Dye, Nate Carter, Moroni Laulu-Pututau, Riley Burt, Beau Hoge, Toloa'i Ho Ching, Jake Ziolkowski, Josh Weeks, Akile Davis, David Kessler, Rickey Shumway, and Talon Shumway. That doesn't include the possibilities on the defensive side of the ball, or special teams for that matter: only Kai Nacua has found the endzone from those groups. The question is: Will three or more of them score a touchdown tonight? PREDICTION: UNDER
So, there you go: a few statistical milestones to watch for in tonight's game. Do you disagree with any of these areas? Post a comment below and we'll see if your guess turns out better than mine. Good luck!
Depth Chart/Roster
Lastly, here is a look at the projected Depth Chart for today's game against Wagner:

You can download the JPG and PDF versions of the latest Depth Chart, as well as a current printable roster, at the following location:
http://www.loyalcougars.com/football-roster/depth-chart/
Go Cougs!