Preview: BYU at San Jose State
Updated: November 6, 2015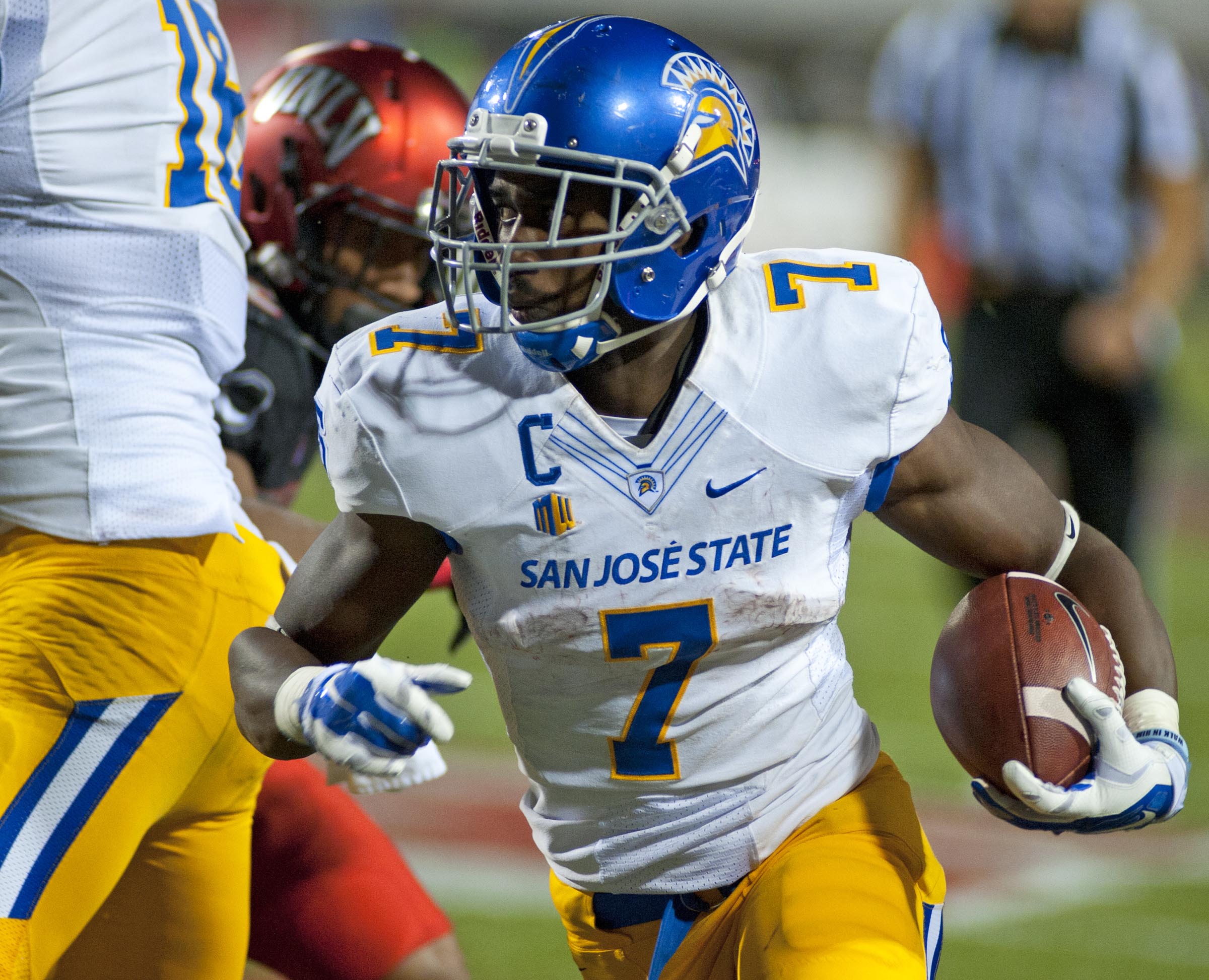 Game Capsule
BYU Cougars (6-2) at San Jose State Spartans (4-4)
Spartan Stadium, San Jose, California
Kickoff Time: Friday, November 6, 2015, 8:30pm PST
TV: CBS Sports Network (Rich Walz/Adam Archuleta/Cassie Gallo), BYUtv Countdown to Kickoff (Dave McCann/Blaine Fowler) 8:30pm MDT
Radio: Cougar IMG Sports Network (Greg Wrubell/Marc Lyons): Sirius XM 143, KSL 1160 AM and 102.7 FM, and online at BYUcougars.com
BYU Game Notes, San Jose State Game Notes
Statistical Preview
My brief foray into predictions using a quasi-gambling format did not go well as I only correctly predicted 3 of the 9 lines that I MYSELF SET for BYU's performance against Wagner last week. As such, I felt that a return to a stats-based prediction would more closely align with my wheelhouse. Here are my keys to the game:
BYU Pass Game– By now, you've all undoubtedly seen the numbers on the internet. San Jose State has the best pass defense in the nation (by yards allowed) but that is largely a function of who they've played. By pass efficiency, SJSU's defense ranks 12th, but all 8 of its opponents rank outside the Top 50 in offensive pass efficiency (including five ranked 100 or worse). What is perhaps most detrimental to the validity of the Spartan defense's #12 ranking is that SJSU has allowed five of these sub-par opponents to put up pass efficiency numbers higher than their season averages. For example, San Diego State averages a pass rating of 129.45 (ranked #71 in FBS), but in the game against SJSU, the Aztecs passed for an efficiency of 181.4 (52 points higher than average). On the season, the BYU offense ranks 43rd in FBS with a pass efficiency of 140.77, easily making the Cougars the best passing team San Jose State has faced.

If BYU can pass for an efficiency higher than its season average of 140.77, the Cougars should get the win tonight

.
Turnover Margin– BYU is ranked 27th in the nation in turnover margin with a +0.5 average. SJSU is ranked 102nd with a -0.6 average. As good as the Spartans have been against the pass, they have only forced 8 turnovers this season (11th-worst in FBS). In the first six games of the season, the BYU defense forced 13 turnovers, more than 2 per game. But, in the two games since (one against an FCS opponent), the defense has added just one more. Turnover margin has not been the best predictor of victory for the Cougars this year: BYU was +2 in the loss to UCLA and -1 in wins over UConn and Cincy. I won't say that it's impossible for BYU to get the win with a negative margin tonight (SJSU is clearly not at the same level as UCLA and Michigan).

I will say that BYU will win with a positive turnover margin tonight

.
BYU Offensive Scoring– Against a schedule ranked as the 100th-most difficult in FBS by Jeff Sagarin (here's a link to his bio if you don't know who that is-COUGH Kyle Gunther), San Jose State scores 27.6 points per game and allows opponents to score 27.6 points per game. And, true to form, the Spartans are 4-0 when scoring more than that average and also 0-4 when allowing more than that average. So, what does that mean? In all 8 games the Spartans have played, the winner has scored more than that 27.6 number and the loser has scored less. I'll put it simply for the BYU offense tonight:

BYU will win tonight if it scores 28 points or more

. That's four touchdowns, Cougars. You can do it- just please don't save them all for the 4th Quarter.
Red Zone Head-to-Head– Inside the Red Zone, both offenses have been excellent this season, not just at scoring points (BYU's 96.8% is 2nd-best in the country, SJSU's 88.5% is 29th), but at scoring touchdowns (SJSU ranks #1 in FBS with a 76.9 RZTD%, BYU ranks #15 with 71.0%). And, with both defenses struggling to stop opponents in the Red Zone, allowing touchdowns on 72% (BYU – ranked 113th) and 67% (SJSU – ranked 93rd) of Red Zone trips, it seems that once an offense enters the Red Zone tonight, there's a high likelihood that it will finish off the drive with seven points. So, rather than counting on one of these defenses to buck the trend tonight, I'll say the following: regardless of the outcomes of tonight's Red Zone possessions,

if BYU can take the ball inside the SJSU 20 more times than the Spartans go inside the BYU 20, the Cougars should win tonight

.
BYU Run Game– The Cougar running game has certainly seen improvement in recent weeks. The last four games have seen BYU notch its four highest rushing totals of the season, and while that could be expected considering the caliber of rush defenses faced in September (#2 Michigan, #4 BSU, and #13 Nebraska), BYU's 161 yards against UCLA's #108 rush defense was lower than its rushing totals against better defenses: 167 against #82 ECU, 174 against #91 UConn, and most recently and perhaps best of all, 197 yards against #76 Cincy. The expected absence of Riley Burt from tonight's lineup should be offset by the expected return of Adam Hine, if even in a limited role. Coach Atuaia and his stable of backs are licking their chops as they roll into Spartan Stadium tonight to find the nation's 13th-worst defense against the run. The Spartans allow an average of 225 rush yards per game. The question becomes whether or not Brown, Bernard and Hine can reach that number without the services of three of BYU's best offensive linemen in front of them in Lapuaho, Mathews, and Kyle Johnson. Statistically, a BYU rushing total of 225 equates to 3 rushing TDs, leaving only one more for the Cougars to find in order to reach my previous benchmark. That said, I feel confident that

if BYU surpasses 225 rushing yards tonight, the Cougars will come away win a win

.
Stop SJSU RB Tyler Ervin– Ervin ranks 3rd in FBS with 1159 rushing yards this season. He averages 24 carries and 145 yards per game (6.0 ypc). In contrast, BYU has only allowed three players to run for more than 80 yards this season and all three came in BYU's two losses (UCLA's Perkins and Starks, Michigan's Smith). Phrased differently, BYU is 6-0 when holding it's opponent's leading rusher under 80 yards. It will be difficult, but not impossible, to hold Ervin under 80 yards tonight. In his worst outing against San Diego State's 12th-best Rush Defense, Ervin ran for just 22 yards on 17 carries. BYU would be ecstatic if Tuiloma and the boys can hold him to a similar output tonight, undoubtedly leading the Cougars to a convincing victory. But, similar to Utah's DeVonte Booker, Ervin is going to get his carries. The important thing to watch for will be Yards per Carry. SJSU is 3-1 when Ervin averages more than 6 ypc and 1-3 when he averages less. Will Ervin's number be closer to the 7.8, 8.4, and 11.6 put up by Smith, Perkins, and Starks respectively earlier this season? Or will it be more akin to the 3-6 ypc that we've seen from the seven other Top 100 rushers that BYU has faced in 2015. 

If the Cougar D can hold Ervin under his average of 6 ypc, BYU will have a good chance to win tonight

. And, since I expect Ervin to finish the night with around 20 carries, that would put the number to beat at around 120 yards on the night.
BYU 3rd Down Defense– As has been the case often this season, BYU faces one of the top 3rd Down offenses in the country this week. SJSU ranks #15 in FBS, converting on 47% of its 3rd Down opportunities. Conversely, BYU's defense has played well on 3rd Down, holding opponents to a 33% conversion rate. BYU defenders held ECU 26.1% below its season average of 46.5% (17th in the country) and Cincy 6.6% below its season average of 47.8% (11th in FBS). Bronco Mendenhall's defense will need to perform well on 3rd Down yet again tonight.

If the Cougars can hold Cincinnati to 38% (approximately 5-of-13) or less on 3rd Down, I like BYU's chances of winning

.
If the Cougars can achieve at least three of these seven benchmarks, BYU will have a great shot at proving the oddsmakers right and coming out of tonight's game with a win. If not, it should be very difficult, statistically-speaking, for BYU to win and move to 7-2 on the season.
Depth Chart/Roster
Lastly, here is a look at the projected Depth Chart for tonight's game against San Jose State.

You can download the JPG and PDF versions of the latest Depth Chart, as well as a current roster, at the following location:
http://www.loyalcougars.com/football-roster/depth-chart/
Go Cougs!