Around the NCAA: Who is Overrated?
Updated: November 11, 2015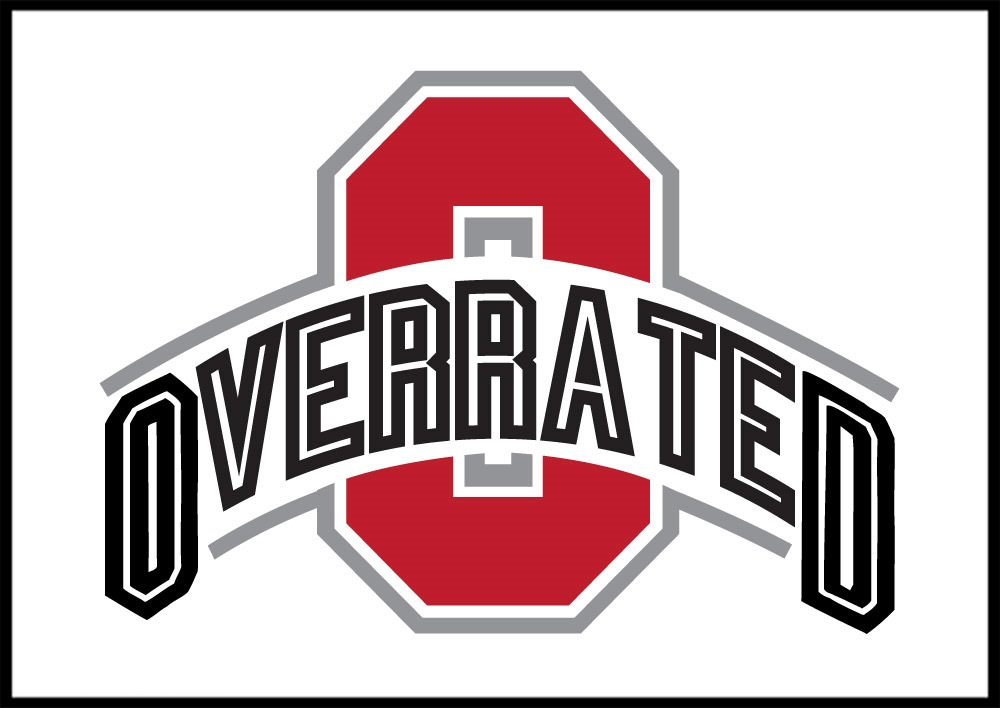 The second week of College Football Playoff rankings are out, and well, I'm a bit confused. At the end of last season, I personally felt like the committee got it right, that the four best teams were in the playoff.  I thought "Wow!  Maybe this committee really can be objective, and not look at past years and pedigrees and pick the four best teams for this season!"  Yeah, now I'm really starting to doubt that.  I mean they could still get it right in the end, there's still a lot of football to be played, but things are not looking so good for that right now.
So, let's take a look at the sometimes head-scratching CFP Rankings as I look at which teams are overrated and which teams should be ranked higher.
Overrated!
Ohio State – Why? Urban Meyer.  Do you need any other reason?  Seriously though, yeah, I get that they are undefeated and they are the reigning champs, but isn't it supposed to be about this season and this season alone?  They've had a carousel at QB with the better of the two having legal issues (though it's only a one game suspension, so don't worry about it).  They struggled against NIU, Indiana, and even a cruddy Maryland team.  And if strength of schedule is such a big deal to the committee, please, tell me, who has OSU played and beaten!?  Plus, just look at this picture below and try to not want to punch it, I dare you! I apologize in advance for any broken computer monitors. Overrated!
Notre Dame – I believe Notre Dame is a good football team, but not #4 in the country, sorry. They always play a tough schedule, so they have that going for them, but they play 7 home games, and have struggled against several teams the number 4 team should not have.  Below is how Brian Kelly feels about my assessment.  And it's also how he feels about being number 4 right now, interestingly enough!  Good team, but overrated!
Iowa – If Ohio State is overrated, than so is Iowa, for basically the same non-Urban Meyer reasons. They've played pretty weak competition and haven't won by a lot, but here's to hoping they are NOT overrated and ruin Ohio State's season in the B1G championship game!
Baylor – Only slightly. I'd give Baylor the top 10 nod, but probably not at number 6.  It's kind of the same thing every year in the Big12: you have 3 or 4 teams that love to just pile on the points, but once they face a team that actually decides to play defense (something that doesn't happen often in the Big12) they lose and their championship hopes are over.  We saw it last week with TCU and Oklahoma State, shoot, we almost saw it with Baylor and KSU!  I don't see them getting through the rest of their schedule unscathed, with their three toughest opponents coming up the next 3 weeks.  Another really good team, but a bit overrated!
Utah – You knew it was coming. Top 10, really?  I just don't see it.  I think Stanford is easily the best PAC12 team, but outside of that, I would really say it's a down year (again) for that conference.  And holy cow, if ever a win was gift wrapped, did you see the Utah-UW game?  Three turnovers by the Huskies in their own territory plus one more fumble returned for a TD – all in the second quarter!  You'd think UW had never played in the rain before!  It's Seattle!  In the fall!  From October through April it does nothing BUT rain in Seattle!
21 of Utah's 34 points came as a direct result of those turnovers. Good on them for capitalizing on mistakes and for Kyle Whittingham holding them accountable, but that did not look like a top 10 performance to me.  Overrated!
Underrated!
Stanford – Outside of its opening night loss to Northwestern and the win over WSU (who is giving EVERYONE fits this season, well unless you are an FCS team) Stanford has steamrolled everyone they have played. If Utah does make it to the PAC12 championship game, I see Stanford steamrolling them as well, a la ASU in the PAC12 championship game a few years ago.  If they can beat ND after Thanksgiving, and roll whoever wins in the south, I could see Stanford in the playoff.
Oklahoma State – If anyone in the Big12 deserves to be in the top 4 right now, it's Oklahoma State. The Cowboys are undefeated AND they creamed a really good TCU team last weekend.  With one of their 3 tests complete, they are closer than anyone else in the Big12 to finishing the season undefeated.  Now if only the Big12 would add two more teams so they could have a championship game…
Navy – I really like Navy. The Midshipmen's only loss is to Notre Dame and they had a real shot to win that game were it not for a fumbled kickoff return to start the second half that led to a quick and easy Notre Dame TD.  They destroyed a really good Memphis team last week and have destroyed just about everyone else they've played.  I'd put them in the top 15.  Plus this is still one of my favorite plays of the season, the fat FB hustling for a TD against ND.  So great!
My Top Four
So, who is in my top four? Glad you asked.  See below.
Clemson
Alabama (they probably have the most GOOD wins of anyone in the country right now)
Oklahoma State
Stanford
But hey, that's just me. What do you think?  Who would you put in the top four, who is over- or underrated?  Make your thoughts known below!