BYU v. Fresno St. Preview
Updated: November 21, 2015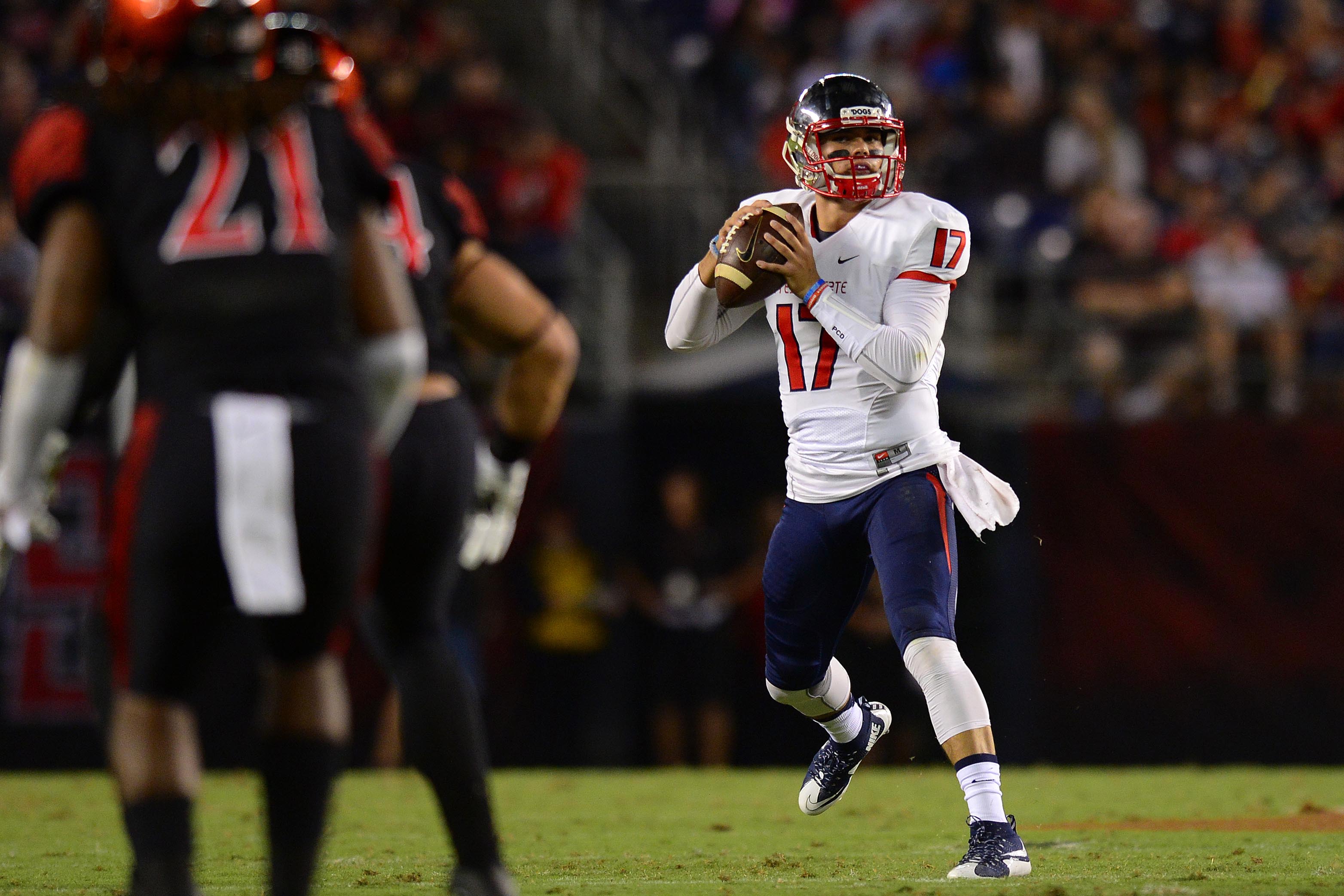 Game Capsule
BYU Cougars (7-3) vs. Fresno State Bulldogs (3-7)
LaVell Edwards Stadium, Provo, Utah
Kickoff Time: Saturday, November 21, 2015, 1:05pm MST
TV: BYUtv (Dave McCann/Blaine Fowler/Lauren Francom), BYUtv Countdown to Kickoff (Dave McCann/Blaine Fowler) 12:00pm MST
Radio: Cougar IMG Sports Network (Greg Wrubell/Marc Lyons): Sirius XM 143, KSL 1160 AM and 102.7 FM, and online at BYUcougars.com
BYU Game Notes, Fresno State Game Notes
Mizzou Statistical Review
As is customary, I like to begin by looking back at last week's keys. I was wrong in saying that "if BYU can score 14 points or more, the Cougars should get the victory." BYU did in fact score more than 14. A better place to draw the line would have been 17 points. But, BYU's defense did not do as well as I expected at keeping the Missouri offense from scoring. Neither team scored a non-offensive touchdown, and with a final margin of victory of four points, I was correct to state that if either team had done so, they would have won the game.
I took a big leap in predicting a Cougar win if BYU had a better average starting field position. That prediction turned out to be spot-on as Missouri had a 2.6-yard starting field position edge. However, if you take out the Tanner Mangum fumble that led to a 16-yard Missouri touchdown drive, BYU would have had a 3.5-yard edge and BYU would have won 16-13. I also said that BYU would win if it could amass 250 passing yards and 100 rushing yards. The Cougars finished with 244 passing yards and just 46 rushing yards. An additional 54 rushing yards and 6 passing yards would likely have improved upon BYU's 3-of-10 3rd Down conversion rate, leading to extended drives and likely an additional touchdown.
Lastly, I predicted that the chaos surrounding the Missouri program would play a role in the outcome. This appears to be the case, as the announced pending retirement of Missouri Head Coach Gary Pinkel appeared to be a unifying force in leading the Tiger offense to its best performance of the season.
Fresno State Statistical Preview
Fresno State has not been a good team this season. In fact, the Bulldogs rank among the bottom third of FBS teams in every offensive and defensive category I track except one: they do an average job in Red Zone Scoring defense, allowing opponents to score points on 82.5% of their Red Zone trips, the 58th-best rate in the country. Yep, that's the highlight. On average, Fresno allows its opponents to accumulate 137.9 more yards, convert 11.8% more 3rd downs, and score 14.5 more points per game. It would take a perfect storm of errors (similar to what BYU basketball had in Monday's 1-point upset loss at Long Beach State) for BYU to lose the game today (Vegas currently lists the Cougars as 26-point favorites). Nonetheless, there are certainly some areas that will go a long way in helping the Cougars to not just a victory, but a comfortable one. And considering that BYU hasn't had any of those against FBS opponents this season, now is as good a time as any. Here are the keys:
Scoring Offense: Two weeks ago, BYU was averaging 34.3 points per game. In the two games since, the offense has only managed half that number (17 at San Jose State and 16 vs. Missouri). On average, Fresno State has allowed its opponents to score 37.1 points per game. The Cougar offense will be looking to get back on track this week heading into the in-state season finale against the Aggies.

I predict BYU will break 40 against the Bulldogs this afternoon

.
3rd Down Offense: Prior to last week's game in Missouri, BYU was converting 41.2% of its 3rd Down attempts, ranking 50th in the country. But, the Cougar offense managed just 3-of-10 against the Tigers. When BYU has converted 43% or more this season, the Cougars are 4-0.

If BYU can exceed 43% against Fresno, it will lead to a Cougar win

.
Rush Offense: After rushing the ball for 103.8 yards per game in the month of September, the Cougars showed great improvement in October, averaging 217.0 yards per game on the ground. November has been the worst month of all, with BYU rushing for just 41 yards per game in its two November games. Now that BYU's running backs and offensive linemen appear to be fully healthy, and against an opposing defense that gives up 239.7 yards rushing per game (10th-worst in FBS), look for the Cougar run game to return to October form today.

I predict we'll see BYU run for over 200 yards against Fresno State

.
Tanner Mangum Passing: Through the first two months of the season, Tanner Mangum passed for an efficiency of 143 on 64% completions. Mangum has seemed less efficient in the past two games, only completing 59% of his passes for a rating of 123. Whether the dropoff has been caused by injuries along the offensive line or a drop in the freshman signal-caller's confidence, a return to LaVell Edwards Stadium should be just what Mangum needs to bump his numbers back up again. Looking at the season as a whole, Mangum has passed for a 138 rating on 62.5% completions. Against a Fresno defense that allows opposing passers to pass for a 142 rating, 

I predict we'll see Tanner perform better than his averages today against the Bulldogs

.
Red Zone Touchdowns: BYU ranks 25th in the country, scoring touchdowns on 68.4% of its trips inside the opponent's 20-yard line. On the other side of the ball, Fresno State's defense ranks 116th, allowing opposing offenses to score touchdowns on 72.5% of their Red Zone trips. It seems clear that BYU should have a fair amount of success in the Red Zone today. The Cougars have scored touchdowns on all of their Red Zone possessions in just two games this season (against Boise State and Wagner).

I predict we'll see the Cougars own the Blue Zone a third time today, scoring touchdowns on every trip inside the Fresno 20

.
Scoring Defense: BYU's scoring defense has actually been trending in a good direction in the past 3 games. After allowing 26.0 points per game through the first 7 games, BYU allowed 6, 16, and 20 points in its past three games. And while Wagner, San Jose State, and Missouri are not offensive juggernauts by any means, it's been a positive adjustment for the Cougar D. BYU now ranks 39th in the nation in Scoring Defense, surrendering 22.4 points per game. And with a Fresno State offense that averages just 22.6 points per game (103rd in the country) rolling into Provo, look for BYU to continue recent trends on Senior Day.

I predict Fresno State will score less than 20 points today

.
Rush Defense: The BYU defense has been a little bit two-faced against the run this season. In seven wins, BYU has allowed its opponents to run for just 101.6 yards per game (no opponent rushed for more than 133). But in the three losses, the Cougars allowed its opponents to run for 246.7 yards per game (no opponent rushed for fewer than 190). With Fresno's offense averaging only 134.1 yards per game on the ground (108th in FBS),

I predict BYU's defense will hold the Bulldogs under 125 yards this afternoon

.
Depth Chart/Roster
Lastly, here is a look at the projected Depth Chart for today's game against Fresno State.
You can download the JPG and PDF versions of the latest Depth Chart, as well as a current roster, at the following location:
http://www.loyalcougars.com/football-roster/depth-chart/
Go Cougs!