BYU v. Utah State Preview
Updated: November 27, 2015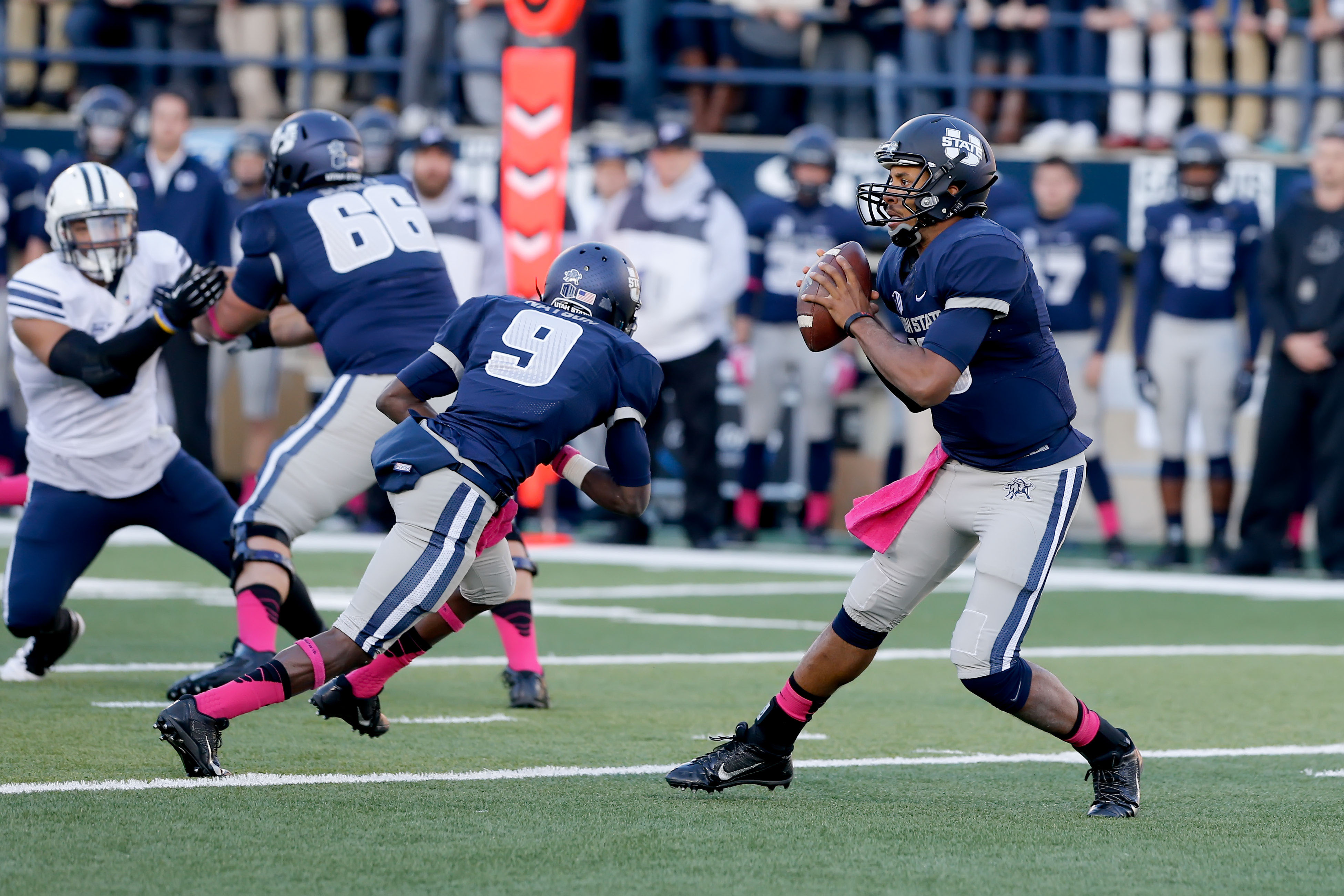 Game Capsule
BYU Cougars (8-3) vs. Utah State Aggies (6-5)
Maverik Stadium, Logan, Utah
Kickoff Time: Saturday, November 28, 2015, 1:30pm MST
TV: CBS Sports (Rich Waltz/Adam Archuleta/Cassie Gallo), BYUtv Countdown to Kickoff (Dave McCann/Blaine Fowler) 12:30pm MST
Radio: Cougar IMG Sports Network (Greg Wrubell/Marc Lyons): Sirius XM 143, KSL 1160 AM and 102.7 FM, and online at BYUcougars.com
BYU Game Notes, Utah State Game Notes
Fresno State Statistical Review
Last week, since the likelihood of a BYU win was more certain, I turned to more of a prediction model for my game preview. The results were positive, as five of my seven predictions came out as expected. BYU was able to score more than 40 points (52), Tanner Mangum surpassed his season averages of 62.5% completions and a 138 pass rating (64.9% & 150 respectively), BYU scored a touchdown on every Blue Zone possession (5/5), and the Cougars held the Bulldogs under 20 points (10) and 125 rush yards (85).
The only two goals that weren't met were a 43% 3rd Down conversion percentage on offense (4/11 for 36% – one more would have done it) and 200 rushing yards (BYU finished with 158 yards on the ground). These are both areas in which BYU is undoubtedly looking to improve for the final two games of the season.
From a rushing perspective, BYU started the season slowly, averaging 103.8 yards per game in September. However, there was hope for the future as three of those four opponents rank among the top 15 rush defenses (Nebraska is #10, Boise State is #13, and Michigan is #4 against the run). Indeed, improvement came in October, with BYU's rushing average ballooning to 217 yards per game. However, in November, BYU's numbers on the ground regressed to 80 yards per game. And while running for 46 yards against Mizzou's #23 rush defense is perhaps understandable, rushing for just 36 at San Jose State (#109 rush D) and 158 at home against Fresno State (#117 rush D) are both less than expected. That 158 may not sound bad until you realize that BYU ran for more yards against four superior defenses this season: 161 yards at UCLA (#83), 174 yards vs. UConn (#64), 167 yards vs. ECU (#76), and 197 yards vs. Cincinnati (#104). BYU's run game currently ranks 104th in the country- by far the worst aspect of the Cougars' game. We've heard time and again how much Bronco Mendenhall likes to focus on self-improvement; there seems to be no doubt that the running game was likely a major focus for the offense in this week's practices.
3rd Down conversions are another area in which the BYU offense needs to improve. The Cougars have converted just 61/152 Third Down attempts for a 40.1% conversion rate (65th in FBS). If the season ended today, that number would place the 2015 Cougars as the 2nd worst on Third Down in the Mendenhall era. The past two games have been below average, with the BYU offense converting just 30% against Missouri and 36.4% against Fresno State. On the bright side, the Cougars have somehow managed to find a way to face fewer 3rd Downs: through the first half of the 2015 season, BYU faced 16.3 Third Downs per game. In the past five games, that number has dropped drastically to just 10.8 per game. That's definitely one way to minimize the effect of having such a low conversion rate. Regardless, Third Down conversions have been a major pillar of Robert Anae's offenses and this is unquestionably the other area that the offense will work to improve in BYU's last two games of 2015.
Utah State Statistical Preview
As has been the case many times this season, tomorrow's matchup looks to be a defensive battle. The Aggies hold the 21st-ranked total defense (comparable to Boise State – not quite as good as Missouri, but better than UConn), but the 97th-ranked total offense (better than UConn, Fresno, and Mizzou, but not as good as ECU or San Jose State). And as we've seen before, it's the teams with outstanding defenses that tend to give BYU the most trouble (Michigan has the #2 defense and the #72 offense and Missouri has the #10 defense and the #124 offense). The Cougars have not had as much trouble playing well against teams with excellent offenses and lackluster defenses (Cincy has the #4 offense and the #82 defense; UCLA has the #22 offense and the #61 defense). Utah State's defense is comparable to Boise State's, but luckily for BYU, the Aggie offense is not as prolific. But, a pseudo rivalry game in Logan, where Utah State has won its last 14 games, makes this game a statistical toss up. With the Cougars favored to win by only 3 points, you can bet that a win tomorrow afternoon would elicit a similar reaction in the visitor's locker room to what we saw in last year's finale at California. Here are some keys to the game for BYU:
BYU 3rd Down Offense: Keeping in mind Coach Mendenhall's goal for self-improvement, the first key to the game relates to improving the offense's efficiency on Third Downs. As mentioned, BYU is averaging 40.1% on the season. What I haven't yet noted is that Utah State's defense does a fairly good job of stopping opponents on 3rd Down, holding them to a 34.3% conversion rate, 30th-best in the country. The Cougar offense will have its work cut out for it tomorrow. Without question, the offense will be happy to improve on the season average and convert 40% or more on 3rd Down this week. But, will that be enough to lead to a BYU victory in and of itself? Probably not. 

But, if BYU can convert at least 45% of its 3rd Down chances, the Cougars will beat the Aggies tomorrow

.
BYU Rush Offense: At this point, it's hard to know what to expect from this group. Establishing a successful run game early will go a long way toward opening the BYU pass game and allowing the Cougars to have long, sustained drives and putting the game away early. As I'm guessing this was a point of emphasis this week, and keeping in mind that the Aggie defense is good, but not outstanding against the run (USU gives up 163.7 yards on the ground per game, 58th-fewest in the country), I think Robert Anae will try really hard to find success on the ground this week. Especially with the strength of the USU defense being against the pass (39th-best in defensive pass efficiency), I think we'll see the Cougars run the ball around 40 times tomorrow. And if BYU can average about 4.0 yards per carry, it should be a good day for the Cougars. That's 160 rushing yards. BYU is 3-1 against Utah State when rushing for over 150 yards and the only loss came last year when the offense was thrown into chaos and the defense wasn't as good as it is now.

If BYU runs for 150 yards or more, it will lead to a Cougar victory in Logan

.
Turnovers: Both teams are excellent at forcing turnovers: BYU has forced 20 (35th-most) and USU has forced 21 (27th-most) through the first 11 games. But, BYU has been slightly better at securing the ball on offense, turning the ball over only 15 times (39th-lowest) compared to Utah State's 19 turnovers (85th-lowest). In the Mendenhall era, BYU is 4-0 against USU when winning the turnover margin (as a side note, against both Utah and USU, BYU is 7-0 when winning or tying the turnover margin and 2-8 when losing it). Last week against Fresno State, two quick turnovers and BYU touchdowns were the key in changing the game from a close battle to a blowout. 

If BYU can win or tie the turnover margin, the Cougars will get a win tomorrow

.
Field Position: Starting field position is an area that has plagued the Cougars this season, especially in defensive battles similar to what is expected tomorrow. Further complicating matters is the fact that the USU offense ranks 23rd in the country with its average drive starting on the 32.4-yard line. Defensively, BYU does a fair job, allowing its opponents to start their drives from their own 28.5-yard line on average (43rd best). On the other side, the Cougars usually get the ball on the 29.4 (ranked 81st), while USU opponents' average starting position is the 28.9 (ranking 53rd). As mentioned last week, starting field position proved to be the difference against Missouri. Once again, I will boldly predict that 

if BYU can hold the starting field position edge against Utah State, the Cougars will get the win tomorrow

.
BYU Red Zone Trips: As mentioned in this space several times, the BYU offense is one of the best in the country at turning Red Zone trips into points; BYU currently ranks #1 in the country, scoring points on 41 of 43 trips inside the 20. With the Aggie defense allowing opponents to score on 87.9% of their Red Zone trips (99th-best in FBS), it seems yet again to be a foregone conclusion that when BYU gets into the USU Red Zone, the Cougars will likely come away with points. Assuming that BYU doesn't have many long scoring plays tomorrow, the goal for BYU's offense then becomes to simply reach the Red Zone as many times as possible.

If BYU has at least four trips into the Aggie Red Zone, the Cougars will win tomorrow

.
USU Special Teams: Utah State's special teams are respectable and the Aggies' kick return group ranks 6th in the country, with an average return of 27.35 yards. Defensively, BYU's kick coverage unit has been average, allowing opponents to return kickoffs 21.32 yards per return. USU's punt return corps is also respectable, averaging 9.2 yards per return (50th-best in FBS). BYU's punt coverage team has not been good this year, allowing opponents an average punt return of 12.1 yards (109th in the country). Kicking the ball far and holding USU to short kickoff/punt returns will go along way toward winning the field position battle I mentioned earlier. The BYU defense should have the ability to stop the Aggies if they are forced to drive the length of the field. But, if USU gets the ball in BYU territory, the margin of error for the Cougar defense gets smaller, even against a bad Aggie offense. 

If BYU can hold the Aggies' kickoff and punt returns to their own side of the field (i.e. no returns across the 50-yard line), BYU will win the game

.
BYU Scoring Defense: BYU's scoring numbers are slightly better than Utah State's on both sides of the ball (against a slightly more difficult schedule). BYU's offense scores 32.6 points per game (ranked 48th), while the Aggie defense holds opponents to 24.8 points per game (53rd in FBS). Utah State scores 29.8 points per game on offense (#61 in the country) and BYU's defense gives up 21.3 points per game (30th in FBS). Those numbers certainly predict a positive outcome for the Cougars: somewhere along the lines of a 29-25 win. But, the goal for Bronco Mendenhall's teams has always been to score 24 points or more on offense and to allow 24 points or less on defense. And the benchmarks have certainly held true against the Aggies. In Bronco's tenure, BYU is 6-0 when holding Utah State to 24 points or fewer and 0-2 when allowing the Aggies to score more than 24. Meanwhile, on offense, BYU is 5-0 when scoring 24 points or more and 1-2 when scoring less than 24 (with the only anomaly being the 6-3 win in 2012). Since I don't predict we'll see a defensive battle quite on the same level as what happened in 2012, I predict the numbers will hold true again tomorrow:

if BYU holds USU to 24 points or fewer, the Cougars will close out the season with a win tomorrow

.
Depth Chart/Roster
Lastly, here is a look at the projected Depth Chart for tomorrow's game against Utah State.
You can download the JPG and PDF versions of the latest Depth Chart, as well as a current roster, at the following location:
http://www.loyalcougars.com/football-roster/depth-chart/
Go Cougs!