Holy Bowl Preview!
Updated: December 17, 2015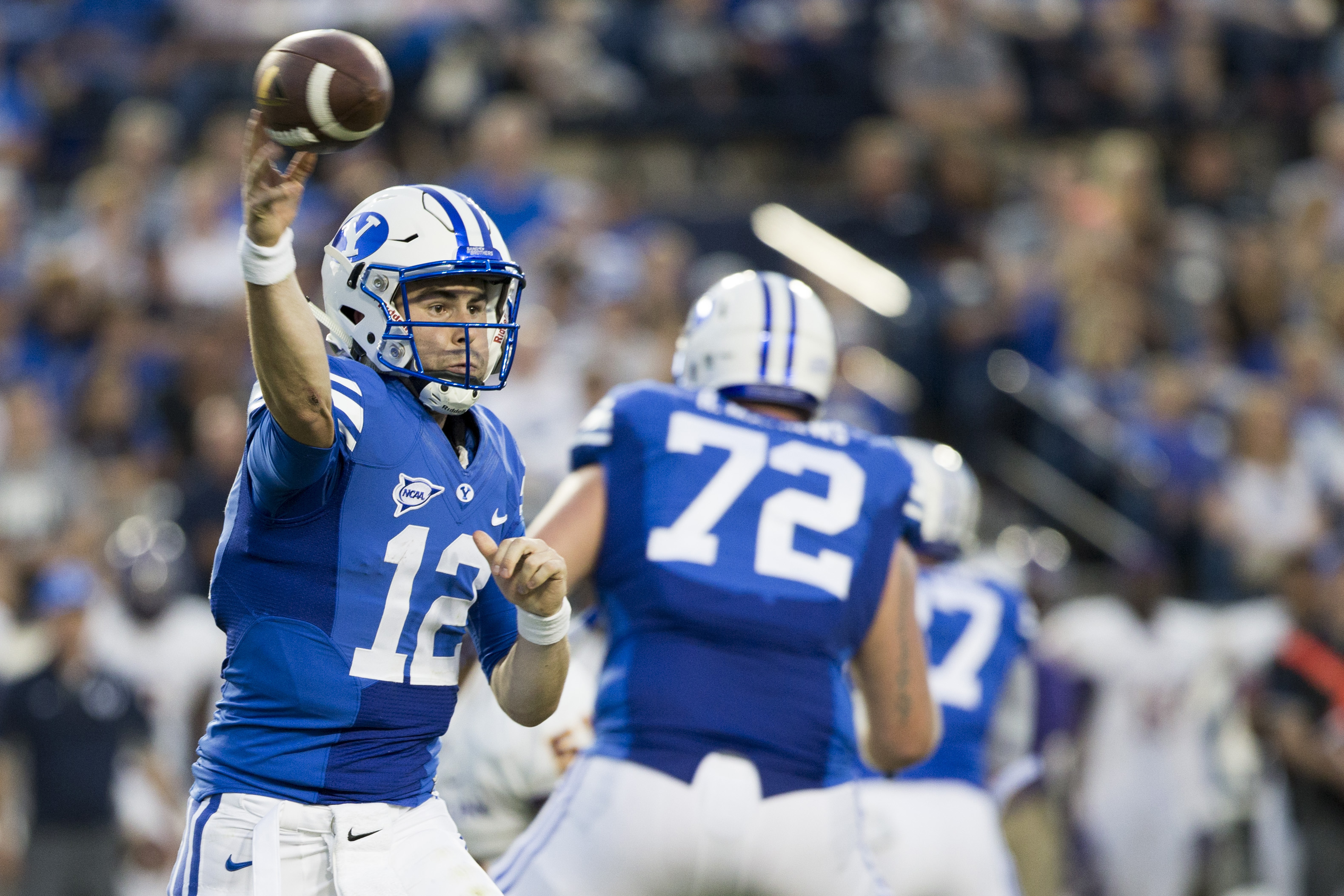 Well…this has been a fun couple of weeks, right? After the USU game, we were all wondering if BYU was headed to Vegas or Hawaii. And now, what should have been the headline and story of the season "The Holy Bowl: BYU vs. Utah in Vegas!" is merely an afterthought. Instead, Utah sports media have become TMZ paparazzi chasing down potential coaching candidates at the airport. (You can't tell me you don't think this is just sad and pathetic?)
So, forgive me if I take attention away from all the waiting and wondering about who the new coaching staff will or won't include or which member of the Board of Trustees doesn't care a lick about football and is only concerned with calling a "mission president" in Provo, but there is one last football game to be played. And, oh by the way, it's against Utah! What was supposed to be a two-year hiatus has now turned into just one!
Now, from the team's perspective, there are distractions. Most of the coaches are making plans at their new locale and tying up loose ends in Provo. Plus, I'm sure there are some players that are less than motivated about playing for guys who are leaving them for greener pastures. BUT, as a fan, I can hope that all those things can be tabled until after Saturday, and we can get the best possible product on the field…right?
So, just for discussions sake, let's pretend that is the case, and let's preview what's in store for Saturday!
"I've got a bad feeling about this"
Something about Bronco's record against Kyle Whittingham and how flat his teams have been the last 4 years against a sometimes inferior Utah team makes me a little nervous for the game. The previous Utah games that were played in September served as kind of a barometer for how well BYU would play in big games. If they played flat and uninspired against Utah, you could bet they would do so for other "big games" during the season.
Well, with this year's Utah game being at the end of the season, there is no clear predictor for this kind of thing. I mean, the Cougars played well and I was happy with their performance (besides the actual loss and second half run defense) against UCLA. But then there was the game against Michigan which need not be spoken of. Plus, BYU blew it under the spotlight of the weird games against a cruddy Mizzou team.
So, their "big game" results for 2015 have not been stellar, and I'm worried about which team will show up on Saturday. Plus, if there's one thing this BYU team loves to do, it's to make things exciting and give us lots of 4th quarter heroics!
"Do not underestimate the Power of the Dark Side"
We all love to rail on the Utes because that's what you are supposed to do with rivalries; it's good-natured fun. But through the first half of the season, it was looking like they were going to make some waves in not only the PAC12 but possibly even the College Football Playoff. Those hopes were quickly dashed, and they were relegated to a mid-level PAC-12 bowl game.
Now, I don't want to toot my own horn here…alright maybe I do…but I was never sold on Utah's top 10 status. I mentioned as much here, here, here, here, and here. I even said they'd lose to at least one California team and one Arizona team…anyway, my point is that while Utah is a good team that was on the verge of greatness this year, they are absolutely beatable, but BYU truly needs to be ready and hungry to win, not just talk about it.
"I find your lack of faith disturbing"
Many are already chalking this up to a loss and expecting a "typical" Bronco performance against the Utes and don't think there's any way BYU can win. But all hope is not lost. I actually like some of the match-ups, at least for BYUs defense.
It would appear that "Sack Lake City" moved south this year, with BYU ranked in the top 10 in sack production (and Utah allowing nearly two sacks a game). The biggest concern I do have is that it seems Travis Wilson is at his best when he can make plays with his legs. And that has seemed to be something that BYU has struggled with this year, at least at critical points in the game. They allow the QB to get first downs with his feet.
Now, Travis Wilson is not Taysom Hill fast, and he does not make the greatest decisions when he is kept from scrambling. Wilson torched Oregon with his feet which gave the Utes their best win of the season, while USC kept him from running and he threw 4 INTs. Keeping Travis Wilson from running and forcing him to make passing decisions is going to be key for the defense to keep Utah out of the endzone.
"That's no moon!"
On the other side of the ball, Utah's defense is, as is typical for them, pretty good, especially against the run. They are top 10 in the nation in run defense, while they are bottom half in pass defense. So getting some kind of run game going will be necessary in order for Tanner to do his thing and be successful. And who knows how he'll do, but assuming there aren't any compliance curveballs, Squally Canada is confirmed to be playing Saturday (and no, he will NOT be losing a year of eligibility for the bowl game), so hopefully his participation will help.
While I see this being close for most of the game and it could possibly go either way, I'm calling for BYU to pull away late.  Tanner will have zero INTs and Kaufusi 2+ sacks.  Oh, and Devon will catch a TD!  BYU wins, 38-24!
"May the Force be with you"
These are exciting times: a bowl game against Utah on Saturday, a new Star Wars movie coming out this weekend, Christmas next week, hopefully a new coaching staff announced soon…there's so much to be excited about! Regardless of what transpires with that coaching search, and however well Bronco and company do in their new venture in Charlottesville, I for one just hope our team comes out ready to play and makes this game fun and exciting.
Enjoy the weekend everyone! Merry Christmas! And Go Cougars!