Boney Fuller's 7 Cougars You Should Know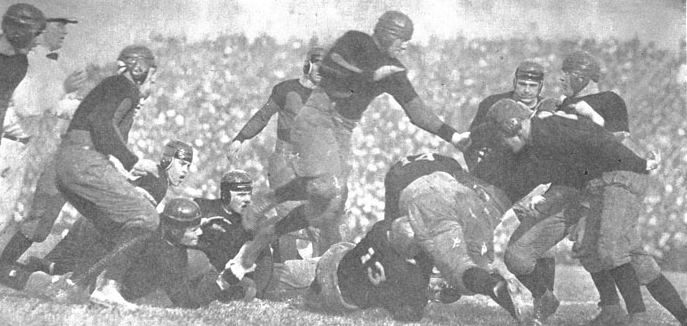 Every BYU fan's favorite funnyman Boney Fuller takes a look at a few BYU players (and one staff member) with whom we all should be familiar as we prepare for the 2016 season to kickoff in less than three weeks.
If you have questions about how the Honor Code works, you ask an Aggie. If you have questions about what to wear to a gathering of the juggalos, you ask a Ute. But if you have questions about Fall Camp, then I'm your man.
It's here. That time of year when blue chip college football players can finally stop pretending to sling Kia Sorentos for the highest-bidding booster and start trying to earn a Kia contract of their own. That time of year when linemen- once waddling, sweat-sheened loud-breathers- begin their transformation into the formidable mountain ranges of plastic-padded death lard we all know and love.
And it's that time of year when we mere fans begin our deep-dive into the endless echo chamber of Deseret News articles like so many unsupervised teenagers in the anatomy textbook section of a Barnes & Noble.
It takes a lot to make sense of fall camp, for a dummy like you. There are depth charts, rosters, academic non-qualifiers, injuries of varying degrees, and all the while you've got the coaches trying to figure out how to find scholarship spots for returned missionaries and one or two of weedy Edwards grandsons.
But I'm here for you. In this great big tangle of complex football competition and consternation, I'm going to narrow it down to key information. So, without further ado, here's my list of seven people you need to know going into Fall Camp 2016:
#7: Kieffer Longson: You may know Kieffer as the 4-star offensive lineman that chose BYU over traditional powerhouses like Ohio State, Florida State as well as a few cut-rate diploma mills like Arizona State and the University of Utah. Well you should know him as the guy that has basically the worst luck in history, as Kieffer was hit by a car on his mission not once, but twice. This isn't a joke. We welcome Kieffer back with this video of him taking the practice field for the first time as a Cougar:
#6: James Baird. James is a freshman kicker from Fort Dix (ha ha), New Jersey who checks-in at just 5 feet 7 inches tall. For those keeping track at home, that's five regulation-size footballs stacked-up tip to tip. In his spare time, James enjoys building forts (both tree and blanket), riding his bike to 7-Eleven for snacks, reading comic books under his blanket with a flashlight, and checking both cheeks and armpits for any signs of hair. James says he immediately connected with Coach Steve Clark who, seeing James struggle to reach the drinking fountain, graciously knelt down and invited him to climb on up.
#5: Tevita Mo'unga. Formerly probably a high school standout at whatever position he plays, Tevita is best known for being universally hated by both the football staff and his fellow players for eating the entire party sub at the last team get together. You may see Tevita on the training field being used variously as a tackling dummy, a water cooler, or a guy being hit in the face with footballs a lot. The coaches took that sandwich incident pretty personally.
#4: Koy Detmer, Jr. Son of former NFL QB Koy Detmer, the coaches assure me that Koy is definitely not on the team as a favor. A small QB at the college level, Koy makes up for his size by offering incredible versatility, demonstrating the ability to hand Taysom Hill a football, get Taysom Hill some water, and even carry Taysom Hill bodyguard style from class to class to protect those precious little knees of his. The sophomore QB is known to become a little confused every time the coaches tell him to "stop playing coy."
#3: Britton Hogan. Britton is a freshman deep-snapper out of Olympus High in Salt Lake City and made national headlines when he was named by ESPN as the class of 2016's top Hogan. According to Britton, no one makes fun of him for having a girl's name.
#2: Craig Manning: Craig has the distinction of serving as BYU's "Mental Strength Coach." Craig insists he can discern anyone's Love Language after a mere ten seconds of uninterrupted eye contact. His responsibilities with the team include the tall order of de-programming Y football players from immediately evacuating their bowels when they see the color red.
#1: The number one player you need to know going into 2016? You guessed it. Taysom Hill. He's back, guys, and he's fast. And he's more than just that one dude that turned Longhorn Nation into a giant orange pile of snot, tears, and "it's not fairs," he's also beautiful to look at. An Adonis in Royal Blue. A living reminder that we shouldn't be judgmental towards the LGBT community because frankly, if a sidelong glance at Taysom hasn't made you feel a little conflicted, chances are pretty good you aren't being honest with yourself.
P.S. Now that you're all caught up on fall camp, don't forget to check out my exclusive guide to Big 12 expansion candidates.