Boney Fuller: Ghost of Rick Majerus Haunts Local Pizzeria
Updated: September 6, 2016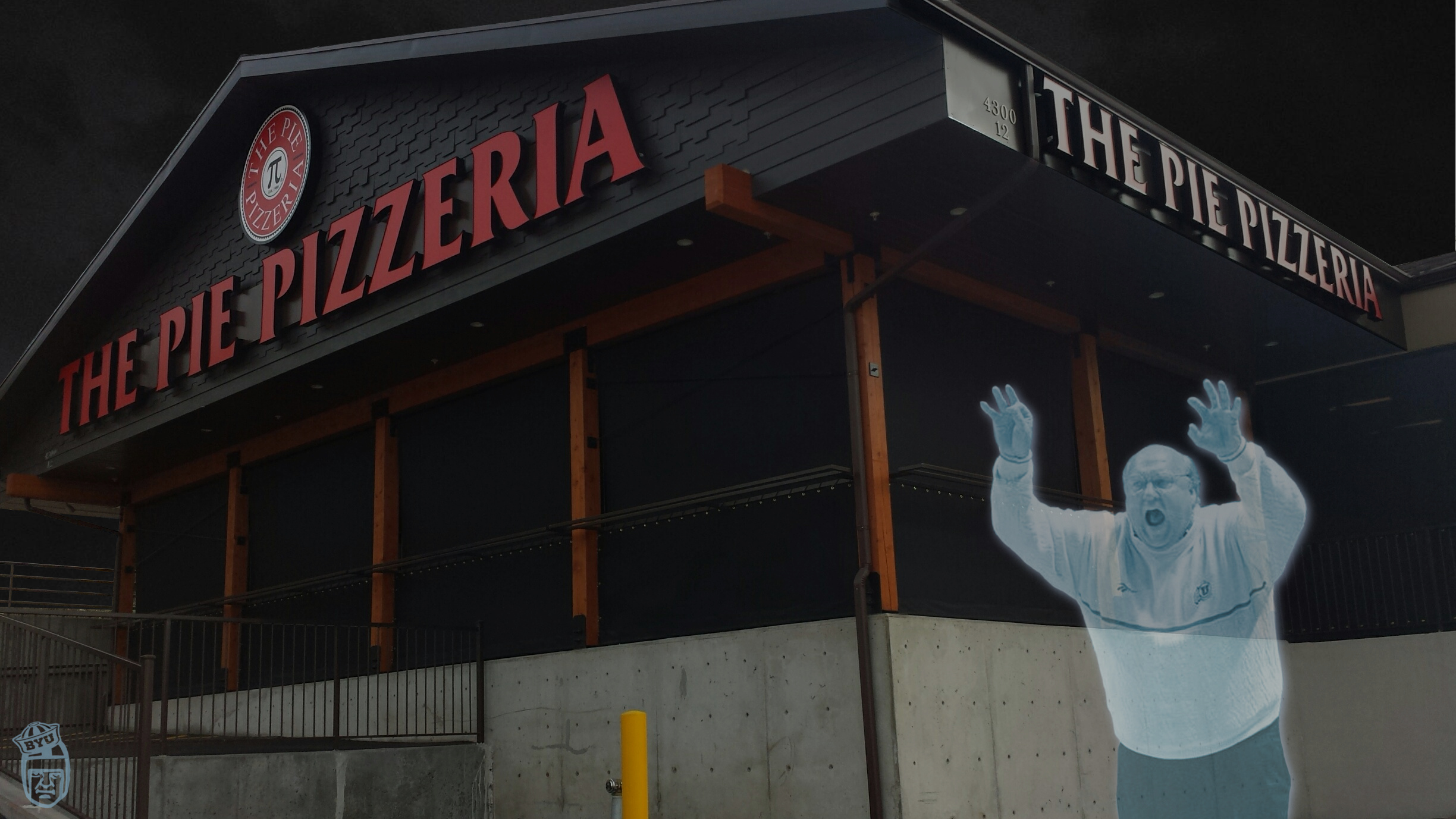 At the end of his shift each night, Salt Lake Community College sophomore Larsson Christiansen tosses one last order into the oven at local pizza hotspot The Pie. "Every night around 9:30, an order gets taped to the dumpster out back. I cook up the pies and put them on the back stoop. The boxes are always gone by the time I lock up." Larson goes on to explain: "A couple times a month Chris Hill calls in and pays off the tab. For the most part, I don't ask any questions."
This bizarre practice started in March 2015. The pizza's recipient? None other than the poltergeist of 5-Time WAC Coach of the Year Rick Majerus. Last year's exciting NCAA Basketball Tournament inspired Rick Majerus's shade to get back to his roots and coach the game that he loves. But coaching in the manner in which he is accustomed takes fuel. Pizza Fuel.
"It's never the same order," Larsson says, "and it's always a mix of some specialty pies and some customs. I'm guessing ghosts like spiced pork though, cause that's pretty much the only constant. Oh, earlier I mentioned that Chris Hill calls in and pays. Can you make sure your little write-up quotes me as saying 'Dr. Chris Hill?' You don't make that mistake twice."
Last year's Hauntin' Utes improved to a 19-14 record, narrowly falling to long-time Dead League coach Steve Fisher's SDSU Aztecs and missing out on their first tournament berth in 5 years.
It seems the specter is putting the Pizza Fuel to good work.  This year, the remnants of Coach Majerus's immortal soul wants to take it further. "Look, once you acclimate to the incorporeal existence, it's pretty much the same game" explains Coach Majerus's sentience. "We play hard-nosed man defense. We dominate the glass. And we work from the inside out on our end of the court. Same game."
Not only is the game the same, the dead don't get a break from practice or film study either. The ghoul that led the 1998 Utah team to the Final 4 continued, saying "I actually do a lot of film study with Stew Morrill nowadays. Hated him when we were coaching against each other, but now he is a great resource. He took a lot of heat for those glasses of his, but the reason he wears them is that they provide vision into the spectral realm. In this league, that is invaluable."
But things aren't all roses and lilies for "Big Rick's" spirit, as a coach's off the court issues don't fade away with one's untimely demise "You'd be surprised how much politicking goes on in the game. Even down here. Bundy thinks he should be on the squad just because of his celebrity, but if you're not getting into a 3-ghost-point stance the instant you have the ball, you're not on my team.  Either he fixes that or he's on laundry duty."
And some ex-players are a little too anxious to play for the haunt of their favorite coach. The spook chuckled as he recalled that "One time, Van Horn showed up to practice in a sheet with eye holes cut out looking like Charlie [explicit] Brown. It would have been great to have him out there instead of Shawn Greene, but they'd pick up on that during warm ups."
Whether it's the film study, the worth ethic, or even The Pie's spicy Stromboli Pizza, the move to a new coach is paying off. This season looks to be the season that the Hauntin' Utes take the next glide, maybe two glides. Anything short of a Spooky 16 appearance will be a failure, and failure isn't something on this coach's resume. Asked about the vaunted "Holy War" game, Coach Majerus's remaining entity mumbled, "We don't play them any more. Turns out the Mormons were right. They're playing up in heaven, or whatever they call it."
Dr. Chris Hill could not be reached for comment.