What Taysom Hill can learn from Jake Heaps and Riley Nelson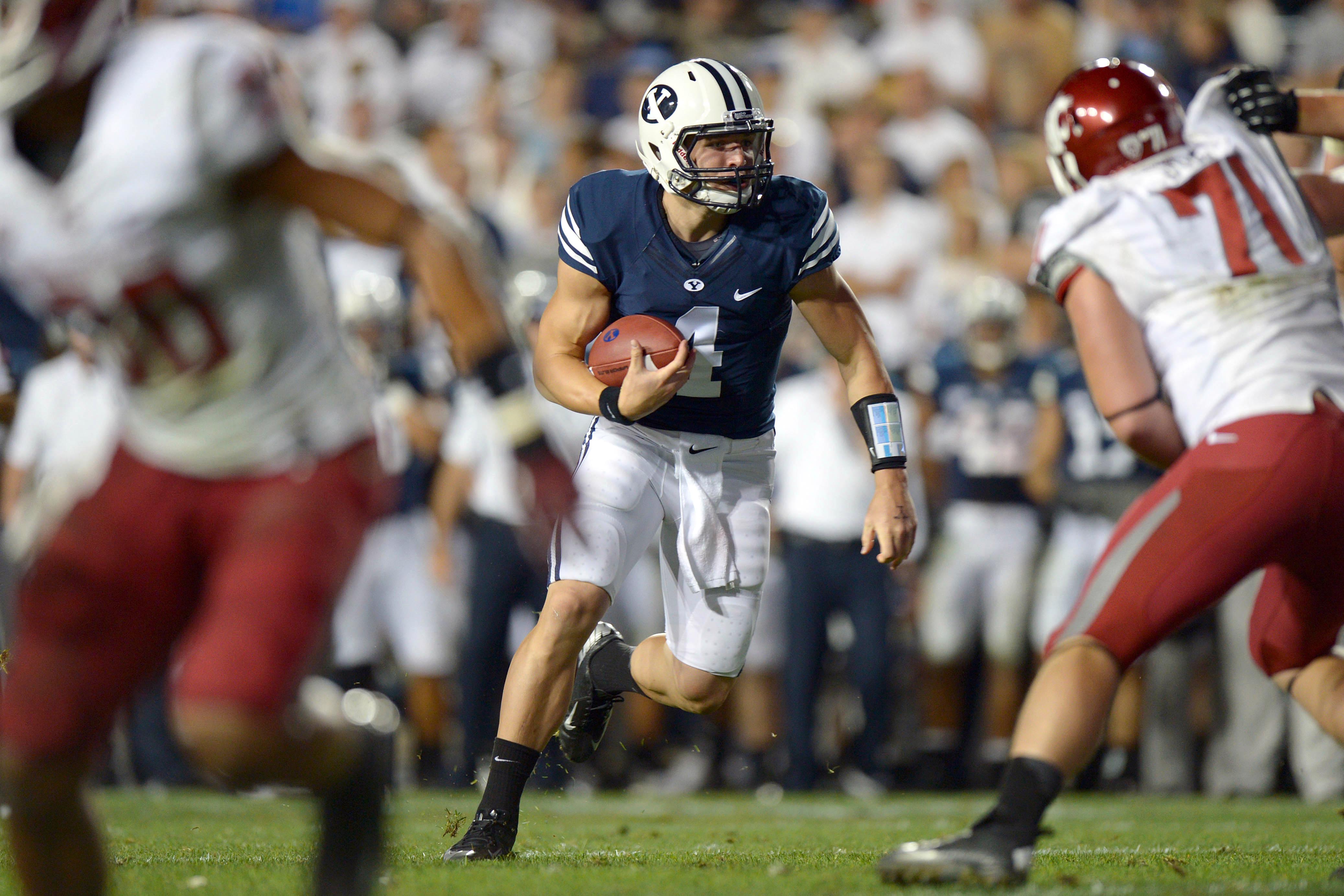 How pride got in the way of the BYU offense and what Taysom Hill can learn from it.
"Those who do not remember the past are condemned to repeat it." George Santayana
There are certain moments in BYU Football history that some fans wish they could wipe from existence, or at least from their memory.
The 1990 Holiday Bowl, 2009 FSU game, and any of the losses to Utah or Utah State all come to mind.
A good percentage of the BYU fan base would suggest that the past three seasons as a whole should be included in this list. That's not to say there weren't great games and moments between the 2010 and 2012 seasons, but most fans will look back and say that those seasons were undoubtedly disappointing. The overarching theme seemed to be the overachieving defense and substandard offense, most notably at the quarterback position.
This uninspired quarterback play over the last three years seems to have placed a good amount of pressure on Taysom Hill to not only bring some consistency to the offense, but also to help fans forget the offensive mess they have endured. There is no question these expectations might be unjust, but it's reality.
It might take time for Taysom to live up to the lofty expectations that fans place upon him, largely due to his impressive skill set, but he can get started in the right direction by studying the careers of his predecessors, Jake Heaps and Riley Nelson — and understanding their failings as signal callers at BYU.
Many point to the fact that an inexperienced Brandon Doman failed to lead a consistent offensive direction. There is no doubt his shortcomings hampered the offense, but the root of the problem was the pride of his quarterbacks that weighed them down.
"The test we must set for ourselves is not to march alone, but to march in such a way that others will wish to join us." Hubert Humphrey
At the end of the 2010 season, it was clear Jake Heaps was going to be the quarterback for the next three seasons. After struggling through the first seven games of the season, he finally started to play with confidence and the offense began to show signs of life. He demonstrated poise in the Utah game and tossed four touchdowns in the bowl victory against UTEP. Things were finally starting to click for Jake.
It was this progress at the end of the season in 2010 that left everyone stunned by his struggles in 2011. After a last second defensive victory against Ole Miss and a heartbreaking loss to Texas, Heaps looked lost in a blowout loss to Utah. The UCF game following looked as if it could be a nice bounce back game for Heaps, but he continued to struggle, completing only 47 percent of his passes for a mere 133 yards.
What was the difference between the 2010 and 2011 version Jake Heaps? The fact that he wasn't competing for the starting spot could have had something to do with the change. With Riley Nelson nursing a shoulder injury and Jake's late season success, it would be absurd to name anyone else QB #1. Maybe it was because he wasn't with the team as much during the off-season. It's understandable that he missed time because of his marriage, but it didn't sound right when players noted his repeated absence during winter workouts. (And yes, there was a change at offensive coordinator.)
Things started to make more sense when Jake was benched in favor of Riley, who the whole team seemed to rally around. Perhaps it's on the players for not fully sporting Jake anyway, but it was interesting to see how the players responded to a QB that played with all heart and less skill as opposed to one that relied solely on his talent.
No one blames Jake for leaving after he was benched for Riley in 2011. He saw the writing on the wall and there was no point in him sitting on the bench to watch Riley's swan song. It was, however, disappointing to see such a talented player leave the program without reaching his full potential.
"All men make mistakes, but a good man yields when he knows his course is wrong, and repairs the evil. The only crime is pride." Sophocles, Antigone
Despite his grit and determination, the Riley Nelson era of BYU Football will not be remembered fondly. His valiant efforts and commendable leadership will be overshadowed by his poor decision-making and propensity for turning the ball over. Those sins, however, pale in comparison to his most egregious trespass: being too prideful take himself out of the game.
After fracturing his vertebrae against Weber State, Riley decided to tough it out and log a subpar performance against Utah and an abomination against Boise State. Both of those games were painful losses that could have easily been victories with mediocre QB play. Even after sitting out two games against Hawaii and Utah State, he stepped back on the field knowing he was still not near 100 percent.
There is no question that the coaches should have pulled Riley long before they did, but no one doubts for even a second that Riley assured them every day that he was fine and was capable of playing. By refusing to leave the field and letting someone else take over, he exhibited a lack of trust in his teammates and ended up costing his team in the win column.
Even when healthy, Riley's pride impeded him from playing within his skill set. His determination was admirable, but towards the end of his career, it was clear his "grit" was the only thing he had going for him. He would never slide when taking off on the run. He would never throw the ball away if no one was open or the play was busted. He would repeatedly make these rookie mistakes, not at the fault of the coaches who undoubtedly counseled him otherwise, because he flat out refused to learn.
It's never healthy to ask "what if," but BYU fans can't help but wonder what could have been if Riley simply would have let BYU play to its defensive strength.
"Where there is unity there is always victory." Publilius Syrus
Taysom Hill doesn't need to be the savior of the BYU offense.
The sophomore quarterback is receiving a good amount of attention, but with the talent surrounding him there is no need for Hill to play beyond himself. He has a new offensive coordinator installing a fast-paced offense and one of the best collection of skill players in recent memory, leaving him in a situation almost destined for success. With Jamal Williams to his left and Cody Hoffman to his right, Taysom is certainly not alone in his quest.
This isn't to say that Taysom doesn't need to shoulder his load of the offensive responsibility. As we saw with the quarterback with a very gifted arm, simply showing up and relying on talent alone won't get him very far.
To adjust a phrase frequently quoted in religious circles, Taysom needs to work as if it's up to him but play as if it's on the team as a whole to be successful. If he is able to do this and learn from the mistakes of those who came before him, he will blaze a new trail of success that fans will never forget.
MORE FROM LOYAL COUGARS
Week 1 Depth Chart and Injury Report
Just how good is BYU's schedule?
Video Quick Hit: Virginia Preview/Predictions