9-Line Prediction: BYU v. LSU
Updated: September 1, 2017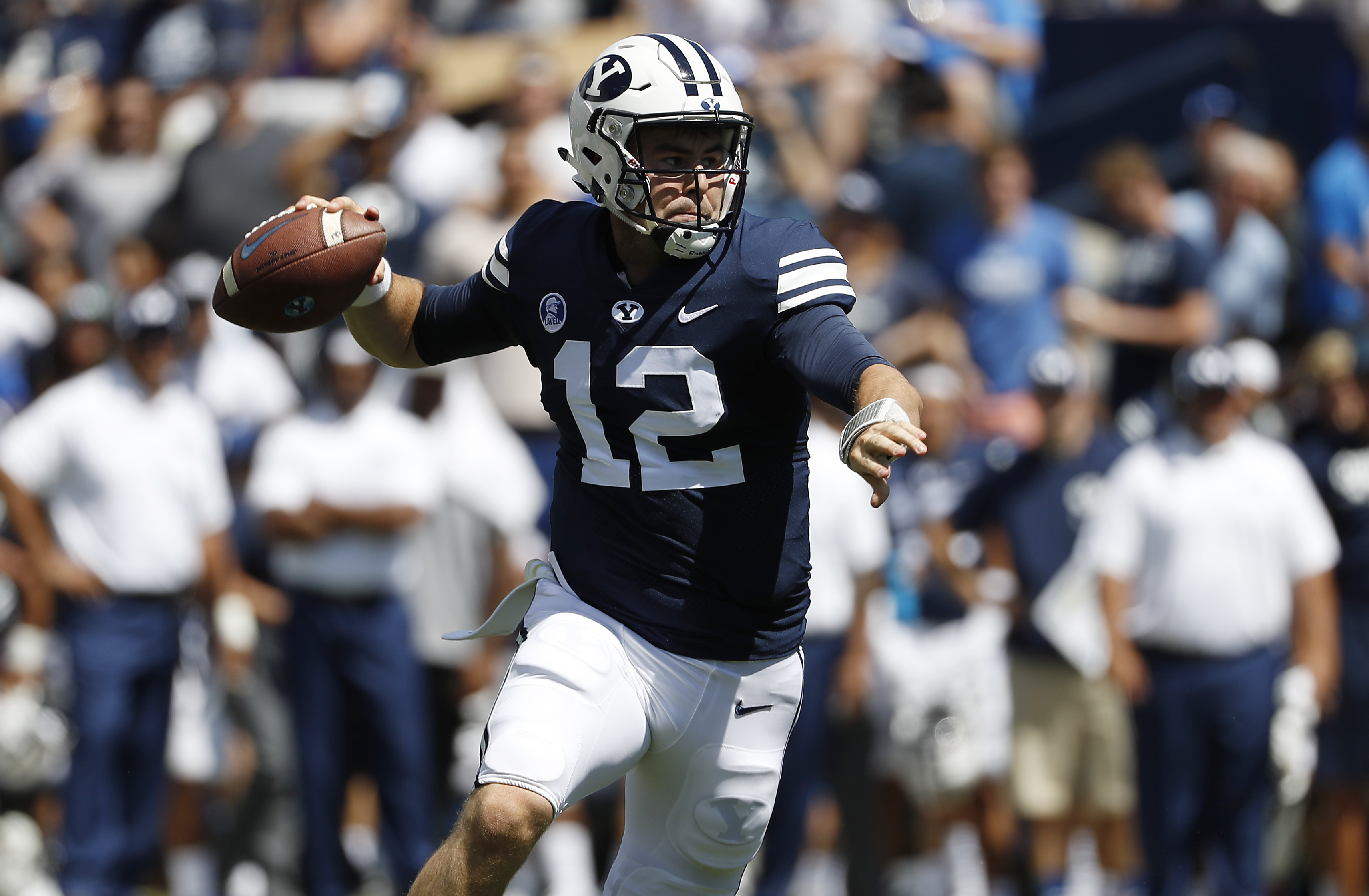 Loyal Cougars Editor Brandon Jones previews Saturday's game against #12/13 LSU with the LC 9-line Prediction: nine specific predictions presented as over-under betting lines.
Game Capsule
BYU Cougars (1-0) vs. LSU Tigers (0-0)
Mercedes-Benz Superdome, New Orleans, Louisiana
Kickoff Time: Saturday, September 2, 2017, 8:30pm CST
TV: ESPN (Bob Wischusen/Brock Huard/Allison Williams), BYUtv Countdown to Kickoff (Dave McCann/Blaine Fowler) 6:30pm MST
Radio: Nuskin Cougar Sports Network (Greg Wrubell/Marc Lyons): Sirius XM 143, KSL 1160 AM and 102.7 FM, and online at BYUcougars.com
BYU Game Notes, LSU Game Notes
In my Week Zero predictions, I went 6-3, which I guess isn't all that good when you consider that I chose the categories and set the lines. We'll see what Week One has in store as our BYU Cougars travel to New Orleans to take on a Top 15 team in the LSU Tigers. But just how much stock should we put into preseason rankings? Here are nine Vegas-style lines to watch for:
BYU Sacks – LINE: 2.5 – BYU had three sacks against Portland State and will match up well against an LSU offensive line that returns just one starter from 2016. Will the Cougars be able to duplicate that number in the second game of the season? Theoretically, Coach Tuiaki will be vastly less vanilla in his playcalling this week and the Cougars will bring more exotic pressures and do so at a higher frequency. OVER
BYU Offensive 3rd Down Conversion Rate – LINE: 40% – The Cougar offense converted on just 4-of-13 (30.8%) of its 3rd Down attempts last week against Portland State. In 2016, BYU had an 8-1 record when converting 40% or more on 3rd Down but went just 1-3 when converting less than 40%. Last week, the 3rd Down problems for the Cougars all started on first and second downs. BYU's average distance-to-gain on 3rd Down was 9 yards (though the Cougars did improve over the course of the game, averaging 3rd-and-6 in the 2nd Half after a horrific 3rd-and-12 average before halftime). I think BYU will improve on last week's performance, but still not surpass the 40% mark against an LSU defense that ranked 12th in the nation on 3rd Downs last season. If there is hope for the Cougars, it's that between graduations and suspensions, the Tigers don't return hardly anyone from that 2016 defense. UNDER
BYU Penalty Yards – LINE: 70 – BYU's 7 penalties (totaling 70 yards) came at costly times for the offense last week. Six of the seven came against the offense and all but one of those could be considered concentration penalties (as opposed to intensity penalties). Hopefully, the fact that the Cougars have played a game already and LSU has not will allow BYU to hold the advantage in penalty yardage tomorrow. And it could have been much worse in BYU's opener; Utah had almost double that number with 135 penalty yards last night in its season opener. I think BYU will clean up some of last week's mental mistakes and finish with a lower total against the Tigers. UNDER
BYU Turnovers Lost – LINE: 1.5 – BYU finished last week with a clean slate in the turnover column thanks to some nice work by Thomas Shoaf at the bottom of the pileup following a Tanner Mangum fumble. The Cougars are going to have to duplicate that performance against LSU if they hope to leave New Orleans with a victory tomorrow night. BYU will need to force the LSU offense to go the length of the field and settle for field goals instead of touchdowns. The Cougar defense may even be able to counteract a single BYU turnover with one (or a few) of its own, but if Ty Detmer's offense turns it over more than that, it will likely spell trouble for BYU. OVER
BYU Red Zone Touchdown Scoring – LINE: 50% – In four meaningful trips inside the Red Zone last week, BYU came away with points on three of them- the lone exception being the field goal missed after we iced our own kicker. However, only one of those trips netted a touchdown. This continued a pattern from 2016, when BYU was one of the best teams in the nation in Red Zone scoring (ranked 3rd in the country at 95%) but not so good at scoring touchdowns (finishing 73rd with only 60%). BYU will have to make the most of every trip inside the LSU 20-yard-line on Saturday. Because they likely will be few and far between. UNDER
BYU Turnovers Gained – LINE: 1.5 – The BYU defense will need to have one of its best performances of the Kalani Sitake era to give the Cougars a chance tomorrow. And we've seen some good performances with 4 turnovers gained against UMass, 5 against Boise State, and 6 against Utah last season. Will the turnover total be closer to those outstanding efforts from 2016 or to the single turnover we saw last week against Portland State? It will definitely be possible to get some interceptions against an unheralded QB in Danny Etling, and inexperience in both the offensive line and receiving corps. And if the BYU defense can not only give the offense short fields, but actually put some points on the board itself, it will go that much further in leading the Cougars to a potential victory. OVER
LSU Rushing Yards – LINE: 150 – It seems almost a foregone conclusion that LSU will lean heavily on one of the nation's top running backs, Derrius Guice, especially considering the inexperience at every other position on the LSU offense. New LSU Offensive Coordinator Matt Canada has shown the ability to adapt his schemes to available personnel over the course of his career and will try to get the ball in Guice's hands as much as possible. Last year, BYU finished 6-1 when holding opponents under 125 rushing yards. As run-heavy as I expect LSU to be, it may be wiser to consider the remaining six games from 2016. BYU went 3-3 when allowing more than 125 yards. Two of those losses came against teams that also passed for over 300 yards (WVU ran for 149/passed for 332 and BSU ran for 129/passed for 442). I don't think we'll see LSU put up passing numbers like that, so we can throw out those two games. In the Toledo win, BYU allowed 187 yards on the ground and 505 yards through the air, but Toledo's defense allowed BYU to score 55 points. LSU's defense will be much tougher than that, so we can throw out that game as well. In the three remaining games, BYU went 2-1 against Utah (passed for 194/ran for 169), Mississippi State (passed for 223/ran for 163), and Wyoming (passed for 207/ran for 166). I think LSU will put up yardage totals closer to those against BYU. And how many points resulted from those totals? Utah scored 20, Mississippi State scored 21, and Wyoming scored 21. If BYU can hold the Tigers under 150 yards on the ground, the Cougars should be able to win tomorrow. OVER
Total Points – LINE: 47 – When it comes to points, I'm finding it hard to see either of these defenses allowing more than around 20 points tomorrow. I guess there's always the potential for defensive touchdowns, but I still think we'll see a low-scoring affair. UNDER
LINE: LSU by -15 – BYU COVER – An upset is completely within the realm of possibility. I've almost never been more confident in BYU's ability to cover the spread. But will it be enough? In the end, I expect the Cougars to lose a close, defensive battle. BYU 17, LSU 20
Depth Chart/Roster
Lastly, here is a look at the projected Depth Chart for Saturday's game.
You can download the JPG and PDF versions of the latest Depth Chart, as well as a current roster, at the following location:
https://www.loyalcougars.com/football-roster/depth-chart/
Go Cougs!