9-Line Prediction: BYU v. ECU
Updated: October 20, 2017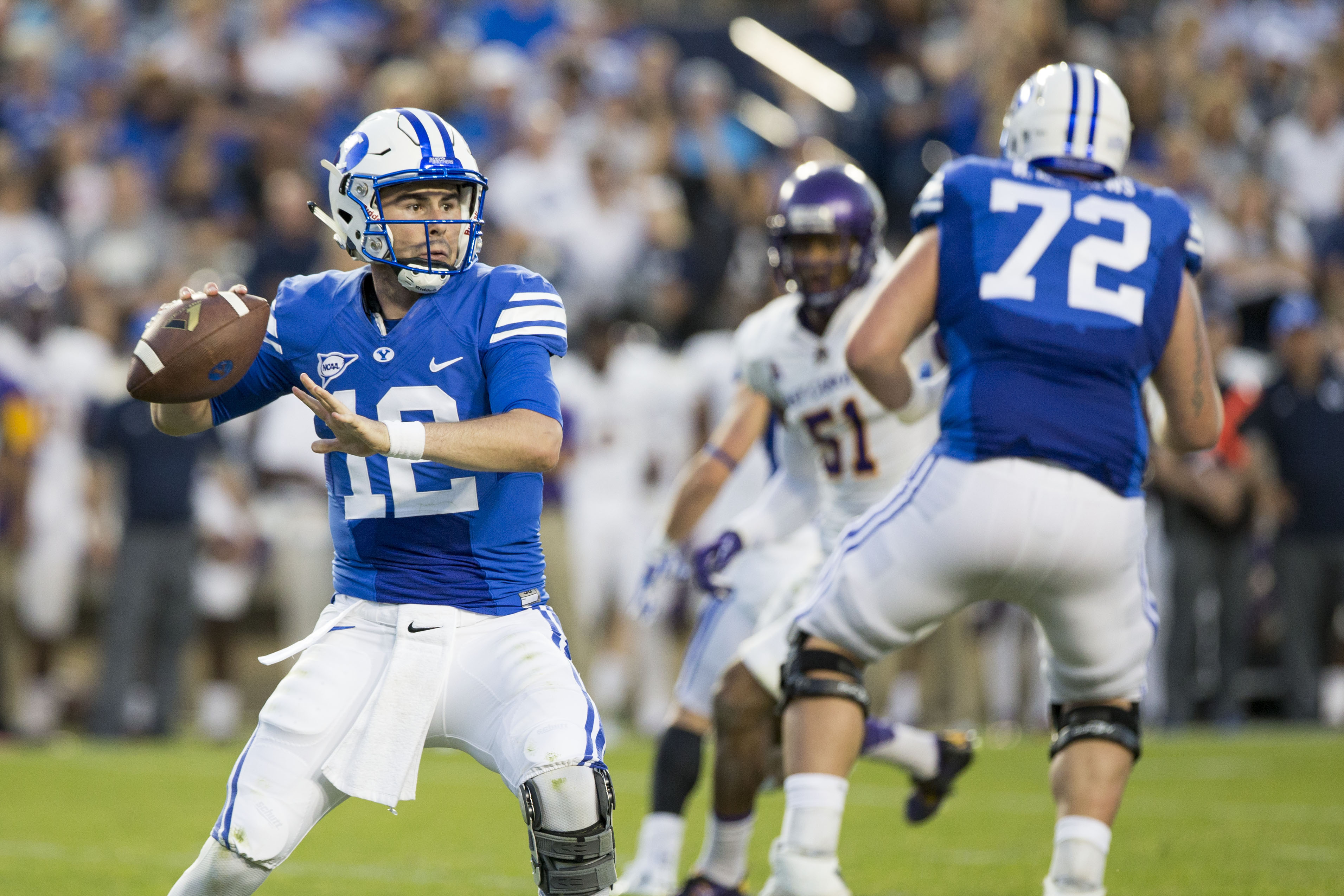 Loyal Cougars Editor Brandon Jones previews tomorrow night's game against East Carolina with the LC 9-line Prediction: nine specific predictions presented as over-under betting lines.
Game Capsule
BYU Cougars (1-6) vs. East Carolina Pirates (1-6)
Dowdy-Ficklen Stadium, Greenville, North Carolina
Kickoff Time: Saturday, October 21, 2017, 7:00pm EDT
TV: CBS Sports Network (Dave Ryan/Corey Chavous/Melanie Collins), BYUtv Countdown to Kickoff (Dave McCann/Blaine Fowler) 4:00pm MDT
Radio: Nuskin Cougar Sports Network (Greg Wrubell/Marc Lyons): Sirius XM 143, KSL 1160 AM and 102.7 FM, and online at BYUcougars.com
BYU Game Notes, ECU Game Notes
9-Line Predictions
Last week (v. Mississippi State): 6-3
Overall Record (through 7 games): 32-30-1
BYU will play its first game ever in the state of North Carolina tomorrow night as the Cougars travel to Greenville to face fellow 1-6 disconsolate ECU. Both teams have faced difficult schedules along the path to 1-6, with the Cougars slate ranking as the 16th-most difficult and the Pirates' schedule coming in at #28 (Sagarin). On paper, BYU's offense will be unquestionably excited to face the worst defense in college football. ECU's defense ranks last in Total Defense (600 ypg), Scoring Defense (50.0 ppg), 3rd Down Defense (57.9%), and Pass Efficiency Defense (326 ypg and 187.2 pass efficiency) and 3rd-worst in Rush Defense (272.1 ypg). But, the Pirate defense has also reviewed the statistics and should be excited in its own right to face one of the nation's worst offenses in BYU. The Cougar offense ranks next to last in Scoring Offense (11.4 ppg), 4th-worst in both Rushing Offense (88 ypg) and Pass Efficiency (92.9 rating for 155 ypg), 4th-worst in scoring TDs in the Red Zone (33%), and has given the ball away 17 times (3rd-most). This match-up (BYU O v. ECU D) will definitely be the side to watch, as Mark Durrant put it earlier this week: "the stoppable force meets the movable object."
While the Cougars haven't faced an opponent of ECU's caliber since the opener against Portland State, the Pirates played a team rated similarly to BYU at home two weeks ago in Temple. Temple ranks 96th in ESPN's FPI and 94th in the Sagarin Rankings, compared with BYU's rankings of 92nd and 98th respectively. I'm sure BYU is hoping for a similar outcome to the 34-10 home beatdown the Owls laid on the Pirates two weeks back. Unfortunately for BYU, Temple found success in possessing the football, holding a 15-minute edge. BYU has not held the TOP advantage in a single game this season, ranking 3rd-worst in the country with an average TOP of 25 minutes (not ideal for a possession-based offense). Fortunately for the Cougars, while Temple ranks higher in every offensive category, they've racked up those stats against much weaker 92nd-ranked schedule. BYU should be able to move the ball on the ground and through the air to sustain drives better than in any game we've seen this season. Here are nine areas to keep an eye on tomorrow:
ECU Passing Yards – LINE: 275 – ECU's offense is ranked 30th in passing yards per game (287 ypg), which sounds good until you note that the Pirates' Pass Efficiency ranks 97th. How is that possible, you ask? Well, ECU throws the ball 41 times per game, 12th most in FBS. And while the Pirates rank 7th in the country with 15 pass plays for 30+ yards, they also rank 115th in completion percentage (57.9%). And the 10 interceptions thrown in 286 attempts, 34th-worst in FBS, certainly don't help the efficiency rating. BYU's pass defense allows just over 200 yards per game, 50th-best in the nation. But, it will be difficult to hold the Pirates under their passing averages, especially if BYU shuts down the ECU run game and the Pirates become more one-dimensional.  OVER
ECU Rushing Yards – LINE: 130 – ECU is averaging just over 100 yards per game on the ground this season. BYU's defense has allowed its opponents to run for 187 yards per game. But, BYU has played three Top 15 caliber rushing teams. On average, the Cougars have allowed teams to run for 95% of their season average. A similar output by ECU tomorrow (95% of its average 107 yards) would be 102 rushing yards for the Pirates. On the other side, ECU typically runs for only 86% of the average rushing yards allowed by its opponents. If ECU runs for 86% of the 187 yards per game surrendered by BYU, the Pirates would finish the game with 160 yards on the ground. BYU's chances of securing win number two will depend on its ability to stop the ECU run and keep the yardage closer to 100 than 160.  UNDER
BYU Passing Yards – LINE: 215 – Good news, Cougar fans: tomorrow will probably see the end of BYU's streak of 13 straight FBS games with under 200 passing yards! Why would I make such a bold prediction when BYU is averaging only 155 passing yards per game? You guessed it: the ECU defense. The Pirates have given up 326 passing yards per game this season. So, while BYU only passes for 77% of the averages allowed by its opponents, ECU typically gives up 117% of its opponents average pass yardage. Those percentages would predict 250 yards from the BYU angle and 180 yards from the ECU angle. If, as expected, BYU can use the run game to open things up through the air, it shouldn't be a problem for the Cougars to surpass 200 yards tomorrow.  OVER
BYU Rushing Yards – LINE: 150 – Against the two worst run defenses they have faced this season, BYU ran for 171 yards against Portland State and 210 yards against Utah State. You could argue that ECU's run defense is even worse than those two. The Pirates have given up 272 yards per game on the ground. They have allowed all seven opponents to rush for more than their season average. There is little question that BYU will hit 150 yards on the ground, and the Cougars have a good chance to hit 200 again.  OVER
ECU Completion Rate – LINE: 55% – The Pirates have only completed more than 53% of their passes once this season, in a 41-38 win at UConn. Against the Huskies, ECU completed an impressive 76%, especially considering that on the season, the Pirates rank 115th with just a 52% completion percentage. In six losses, ECU has completed just 118-of-247 passes. That's less than 48%. BYU, however, has allowed its opponents to complete 126/191 passes for 66%. If the Cougars can hold ECU under 55%, it should go along way in helping BYU to victory.   UNDER
BYU 3rd Down Conversion Rate – LINE: 40% – In another case of weakness against weakness, BYU's 108th-best 3rd Down offense (33%) matches up against ECU's nation-worst 3rd Down defense (58%). Previously in this space, I've shown the correlation between yards-to-go and conversion rate for the BYU offense this year. I think a more successful run game will lead to more success on 1st and 2nd downs, shorter 3rd Downs, and a higher 3rd Down percentage. I believe that, in turn, will lead to longer drives, more time of possession, and eventually more scoring.  OVER
BYU Points Scored – LINE: 31.5 – On average, BYU scores only 11.4 points per game, worst in the country. After seven games, it seems like a good time to face up against a scoring defense that allows 50 points per game, also worst in the country. After failing to score more than 20 in a single game this season, the BYU offense would be more than happy to split the difference and leave Greenville with around 31 points. But, that's definitely a tall order based on what we've seen this season.  UNDER
Total Points – LINE: 58 – The combined over/under and spread would yield a final score of somewhere in the range of 32-27 in favor of BYU. While I don't see the Cougars scoring quite that many points, I do think BYU will find its highest point total of the year. And I think BYU's defense will play one of its better games and hold ECU well under that 27 mark. So, while the over has hit in five of ECU's seven games, ECU's opponents have all been better than BYU offensively and worse defensively, especially against the pass upon which the Pirates rely so heavily (10th-most pass heavy offense in the country).  UNDER
LINE: BYU by -5.5 – BYU COVER – Not only have wins been hard to come by for these two teams, but just meeting expectations has proven difficult. BYU and ECU are a combined 1-13 against the spread this season. And since the spread isn't an integer, that record will improve to 2-14 tomorrow. ECU is 0-4 against the spread at home. I predict BYU will win tomorrow. It will not likely be the 24-point win the Owls got in Greenville, but a BYU win would build some solid momentum into next week's game which is not only a home game, but against an opponent inferior even to ECU in San Jose State. BYU 27, ECU 17
What do you think? Pick against the lines for yourself and let me know how you did. You can use the comment section below or join the discussion on Cougarboard.
Depth Chart/Roster
Lastly, here is a look at the projected Depth Chart for tomorrow's game.
You can download the JPG and PDF versions of the latest Depth Chart, as well as a current roster, at the following location:
https://www.loyalcougars.com/football-roster/depth-chart/
Go Cougs!