9-Line Prediction: BYU v. Fresno St.
Updated: November 3, 2017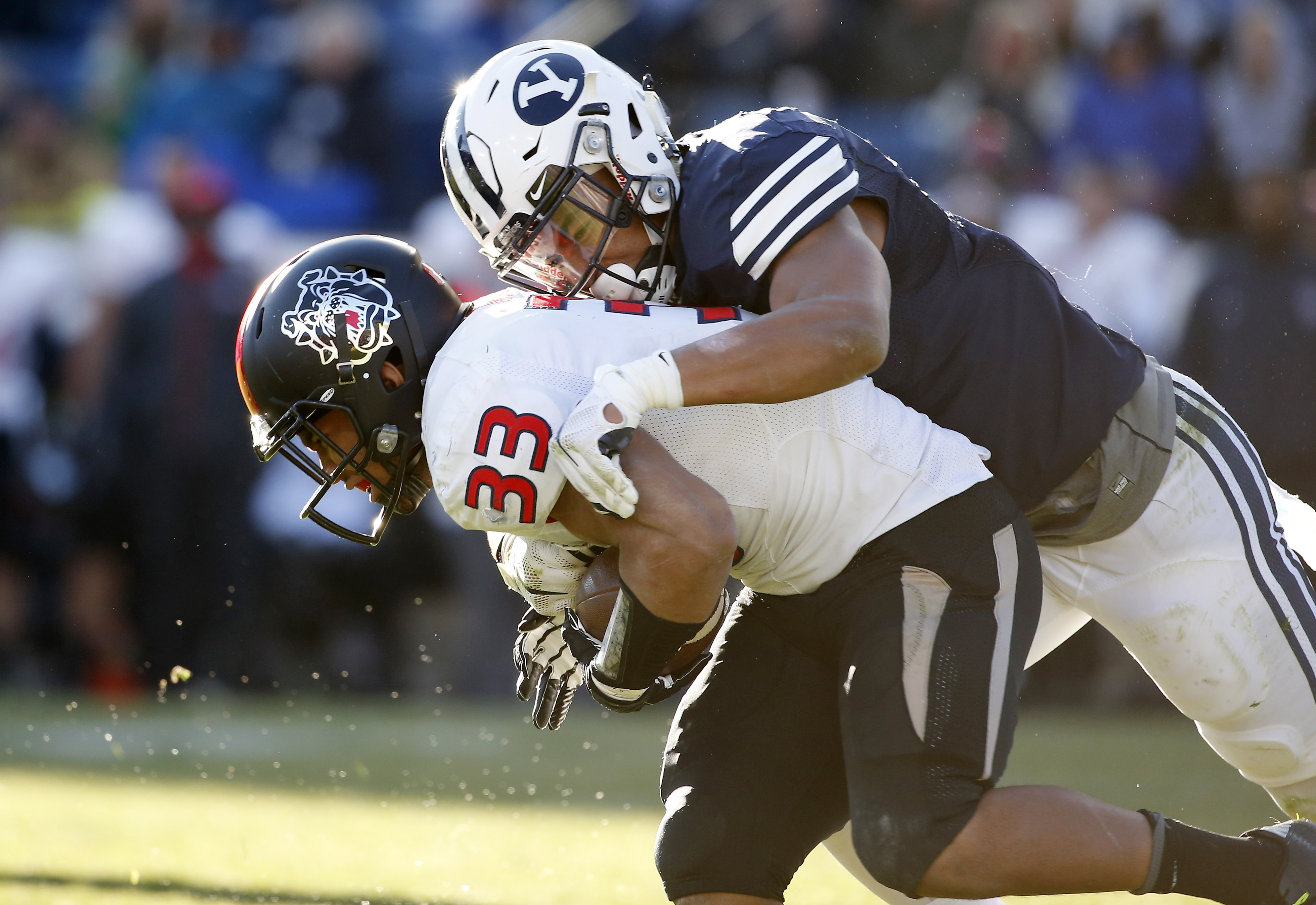 Loyal Cougars Editor Brandon Jones previews tomorrow's game against Fresno State with the LC 9-line Prediction: nine specific predictions presented as over-under betting lines.
Game Capsule
BYU Cougars (2-7) vs. Fresno State Bulldogs (5-3)
Bulldog Stadium, Fresno, California
Kickoff Time: Saturday, November 4, 2017, 7:45pm PDT
TV: ESPN2 (Roy Philpott/Tom Ramsey), BYUtv Countdown to Kickoff (Dave McCann/Blaine Fowler) 7:30pm MDT
Radio: Nuskin Cougar Sports Network (Greg Wrubell/Marc Lyons/Nate Meikle): Sirius XM 143, KSL 1160 AM and 102.7 FM, and online at BYUcougars.com
BYU Game Notes, Fresno State Game Notes
9-Line Predictions
Last week (v. SJSU): 4-4-1
Overall Record (through 8 games): 41-37-3
BYU is feeling much better after finally ending the losing streak last week against San Jose State. But, there's not much time to celebrate and the Cougars now must head out on the road against the most difficult remaining opponent in Fresno State. The Bulldogs are a solid team, especially defensively, with two early-season losses at Alabama and Washington the only blemishes before last week's head-scratching home loss to UNLV. BYU coaches and players have hopefully worn out the tape of that game in the quest to discover the blueprint for beating the Bulldogs this week. Fresno's defense played well enough, holding the Rebels to 173 rushing yards (almost 100 less than their 11th-best rushing attack usually racks up) and 155 yards through the air. But the Bulldog offense managed only 292 yards of total offense (more than 100 below their average), 16 points (14 fewer than their season average), and less than 26 minutes of possession (almost 6 minutes below average). Is BYU's defense capable of holding Fresno State to similar numbers? And if so, can the offense put up enough yards and points of its own to shift the game in BYU's favor? Here are nine key statistics to watch that will determine tomorrow's result:
BYU Punt Return Average – LINE: 10 yards per return – Fresno State's offense is ranked 112th in the nation in converting on 3rd Down. The Bulldogs 32.3% conversion rate is even worse than BYU's 33.9% (ranked 104th). That means there will certainly be opportunities to force the Bulldogs into punting situations. And when that happens, there's another stat that doesn't look good for the Bulldogs: FSU allows the 3rd-most punt return yardage in the country, a whopping 18.25 yards per return. And while that's certainly good news for the Cougars, the bad news is that BYU's punt return unit averages just 1.6 yards per punt return, second-lowest nationally. It seems safe to assume that BYU's punt return average tomorrow will fall between those two marks tomorrow night in Fresno. But, if Michael Shelton is able to flip the field a time or two, it will go that much further in helping BYU gain some momentum and ultimately win the game.  UNDER
Turnover Margin – LINE: FSU Wins by 0.5 – The Bulldogs rank 14th in the nation in turnover margin, holding the turnover edge by an average of 0.88 per game. BYU's average of -0.67 per game ranks 109th in FBS. While both defenses have done fairly well at taking the ball away (tied for 38th with 14 takeaways each), offensive ball security is where the difference is most pronounced. Fresno State has only turned the ball over 7 times this season (15th-fewest in the country), compared with BYU's 20 turnovers (9th-most in the nation). Fortunately, BYU has shown improvement in this category since Tanner Mangum's return from injury: on average, the Cougars were -1.8 through the first five games and they've been +0.8 in the four games since. Losing the turnover margin has not been kind to either team this season: BYU is 0-5 and Fresno is 0-2. BYU will need to make ball security a top priority for the offense so the game doesn't slip away like we saw in Logan.  OVER
BYU Rushing Yards – LINE: 65 – If there is any way possible for Ula Tolutau to play for BYU tomorrow, the Cougars will definitely need him, especially with KJ Hall's availability in question. Fresno State's defense is especially stout against the run, allowing only 123 yards per game on the ground (21st-best in FBS). That number is even more impressive when you look at the rushing offenses the Bulldogs have faced: five in the Top 50. On average, FSU opponents have averaged 193 rush ypg over the course of their seasons. Holding those opponents to just 56% of their season average is exceptional. If the Bulldog defense holds BYU to 56% of its season-long rush average (109 ypg), the Cougars would end the night with only 61 yards rushing. And that wouldn't be an incredibly surprising output for a BYU rushing attack that has failed to reach 85 yards in five of BYU's games this year. In the end, I think poor weather will force BYU to run more than it would otherwise.  OVER
FSU Rushing Yards – LINE: 170 – Fresno State's rushing offense has actually played better against the better rush defenses it has faced this season. Against four Top 40 rush defenses, Fresno State has run for 150 yards per game, 142% of the season average yardage usually allowed by those opponents. In contrast, the Bulldogs have underperformed in the run game against their three opponents in the bottom 20 in rush defense. Against these three teams, FSU ran for 180 yards per game, only 75% of the 243 rush yards per game usually allowed by those opponents. How will the Bulldogs play against an average rush defense of BYU's caliber (73rd-best in FBS)? We just don't know. Fresno hasn't faced a single rush defense ranked between #41 (New Mexico) and #113 (Nevada). To be honest, BYU's rush defense has yet to face an opponent of Fresno's caliber (#59) either, not having faced any rushing offenses ranked between #28 (LSU) and #80 (Utah State). The Cougars are certainly hoping to hold FSU closer to USU's rush total (112) than LSU's (296).  UNDER
Net Punting Edge – LINE: BYU by 7 yards – The Bulldogs are the seventh-worst team in the country in Net Punting, averaging only 33.9 net yards per punt. BYU is ranked 19th in the nation in Net Punting, averaging 40.9 net yards per punt. A 7-yard edge would go a long way in giving the Cougars better starting field position (especially if combined with excellent ball security on offense). It's no wonder the coaches have said this week that the game plan won't be as aggressive this week: the Cougars are facing a team that converts less than a third of its 3rd Down attempts and nets fewer than 35 yards per punt. Playing a field position game gives BYU the best chance of winning. In fact, it's how UNLV beat the Bulldogs last week. The Rebels held a 15 yard edge in average starting field position, beginning four drives in Fresno territory (three failed 4th Down attempts and a fumble recovery) compared to none for the Bulldogs, whose best starting position was their own 44-yard line.  UNDER
Passing Efficiency HTH Edge – LINE: FSU by 25 points – In 2017, much as has been the case throughout Cougar history, the run game has had little consequence in determining the outcome of the game for BYU. Here's what I mean: BYU has won both games in which it passed for a better efficiency than the opponent and lost all 7 games in which the opponent has held the edge. BYU will need to be the better passing team tomorrow night. That can be done in one of two ways: either the offense can extend the streak of 300-yard passing games to three or BYU's defense can step up and hold the Bulldogs under 200. The former seems unlikely since the Bulldogs are a Top 50 team against the pass, allowing only 185 yards per game through the air. The latter is more of a possibility as my statistical models predict somewhere between 190-210 passing yards for the Bulldogs. With the disparity between expected rushing totals (FSU 170 – BYU 65), BYU will need to pass for a better efficiency to have a chance to win.  UNDER
Time of Possession Edge – LINE: Even – These are two offenses that want to control the ball. Fresno has had much more success in that department this season, ranking 37th in time of possession compared with BYU's #123 ranking. A BYU edge in TOP will be yet another factor in leading to a Cougar victory. I just don't see it happening tomorrow.   FRESNO STATE
Total Points – LINE: 48 – The combined over/under and spread would yield a final score of somewhere in the range of 30-18 in favor of the Bulldogs. With the BYU offense showing continuous improvement over the past three games, I think the Cougars will surpass that mark. They'll have to do it against the 18th-best scoring defense in the country, but I still think it can be done. Unfortunately, I also think Fresno State will be able to score more than 30. I guess that makes for an easy pick here.  OVER
LINE: Fresno State by -11.5 – FSU COVER – The Cougars need to win their final four games to keep chances of a 13th straight bowl appearance alive. Based on all of the major statistical rankings, Fresno State is the most difficult of the four remaining games. Sagarin ranks the Bulldogs 62nd, somewhere between BYU opponents Utah (52) and Utah State (87). And the S&P+ rankings show the Bulldogs at #25, ahead of BYU opponents LSU (29), BSU (37), Utah (51), Utah State (80), and East Carolina (125). A win in Fresno certainly seems unlikely– ESPN only gives the Cougars an 18% chance of winning– but, if the Cougars do manage to win tomorrow, hopes of a December bowl appearance suddenly would appear much brighter. I think our Cougars will fall short and end all 2017 bowl talk once and for all. But a win is certainly a possibility if BYU can use defense and special teams to get the Bulldogs off the field, create short fields for the BYU offense, and execute just enough on O to make up the difference.  BYU 24, FSU 38
What do you think? Pick against the lines for yourself and let me know how you did. You can use the comment section below or join the discussion on Cougarboard.
Depth Chart/Roster
Lastly, here is a look at the projected Depth Chart for tomorrow's game.
You can download the JPG and PDF versions of the latest Depth Chart, as well as a current roster, at the following location:
https://www.loyalcougars.com/football-roster/depth-chart/
Go Cougs!