9-Line Prediction: BYU v. Portland State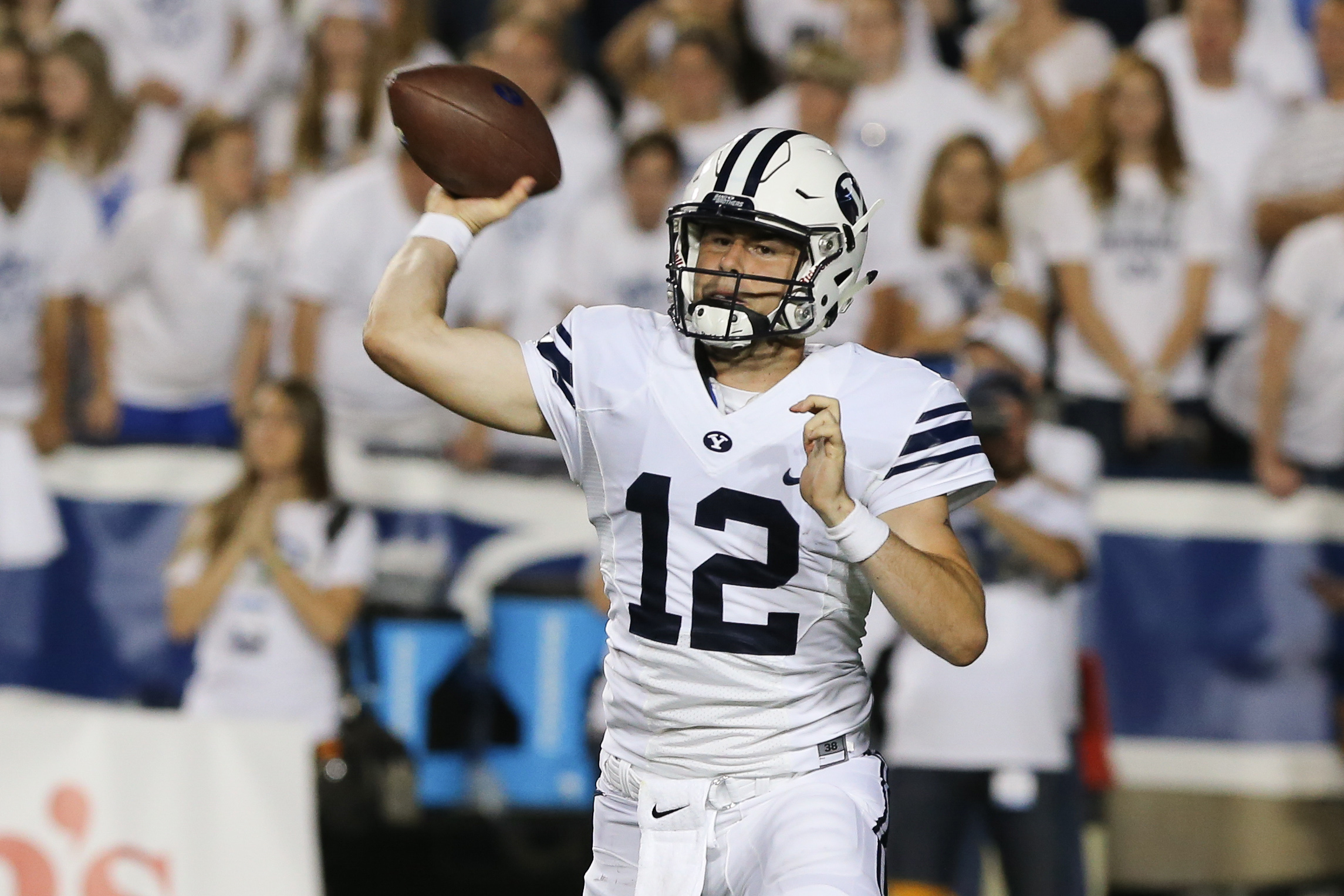 Loyal Cougars Editor Brandon Jones previews Saturday's season opener with the LC 9-line Prediction: nine specific predictions presented as over-under betting lines.
Game Capsule
BYU Cougars (0-0) vs. Portland State Vikings (0-0)
LaVell Edwards Stadium, Provo, Utah
Kickoff Time: Saturday, August 26, 2017, 1:00pm MST
TV: ESPN (Mark Neely/Trevor Matich/Kris Budden), BYUtv Countdown to Kickoff (Dave McCann/Blaine Fowler) 12:00pm MST
Radio: Cougar IMG Sports Network (Greg Wrubell/Marc Lyons): Sirius XM 143, KSL 1160 AM and 102.7 FM, and online at BYUcougars.com
BYU Game Notes, Portland State Game Notes
The BYU Cougars open the season at home tomorrow against the Portland State Vikings of the FCS. Here are nine Vegas-style lines to watch for:
Tanner Mangum Rush Yards – LINE: 0 – BYU's primary goal for Saturday should be to keep Tanner Mangum healthy. And how can you do that? Keep him off the ground. BYU's offensive line will need to hold strong and allow zero sacks. And Tanner will be directed not to run the ball AT ALL. Look for him to move to his third, fourth, or fifth options in the pass progression and throw the ball away if there is still no one open. In the end, I don't think BYU's O-Line will allow any sacks, but Tanner's a player and I see him running toward the sideline past the sticks for a short first down or two to finish with positive yardage. OVER
Higher total: BYU Sacks or BYU Passing TDs? – The guys on Cougar Sports on ESPN 960 radio were discussing this yesterday and I thought it would make for a good category. I think BYU will lean more heavily on the run this week, especially in the Red Zone. I also think BYU's defensive front will dominate Portland State to the tune of at least 5 sacks, which frankly wouldn't be that unusual. Against previous FCS opponents, BYU has registered 6 (Idaho State '11 & Weber State) and 4 (SUU & Idaho State '13) sacks. BYU Sacks
BYU Tight End Receiving Yards – LINE: 75 – BYU tight ends combined for 75 or more receiving yards in 9 games during the 2009 season. Since then, the tight ends have only surpassed that total in four games, with the most recent coming 45 games ago against Boise State in 2013. It's about time. OVER
Tanner Mangum Passing Yards – LINE: 365 – Tanner Mangum set his career high of 365 passing yards against UConn in 2015. Will he set a new career high on Saturday? UNDER
Portland State Total Yards – LINE: 200 – Against the six FCS opponents of the independence era, BYU has allowed 165, 129, 63, 287, 254, and 251 total yards of offense. Last year against Southern Utah, BYU allowed 165 yards of total offense. Southern Utah finished the 2016 season as the 127th-ranked team, higher than 22 FBS schools. Portland State enters 2017 ranked #173. BYU should be able to hold the Vikings under 200 yards. UNDER
BYU Turnovers Gained – LINE: 2.5 – BYU ranked second in the nation last year with 2.4 turnovers per game. It remains to be seen just how much of that number was due to scheme and how much was due to personnel. Will BYU feel the loss of Kai Nacua and Francis Bernard and their combined nine interceptions in 2016? Or will others step up and pick up the slack in their absence? I'd say the former, at least to start the season. UNDER
BYU players who see action – LINE: 72 – Against FCS opponents in the past four seasons, BYU has allowed anywhere from 72-77 players to get playing time. But, most of those games have come later in the season after players have had a chance to emerge in practices and earn that playing time. An FCS game is a chance to let some bench players and upperclassmen walk-ons get on the field for what might be the only time in a Cougar uniform. And the more snaps you can give to those guys, the more you can preserve the health of your starters for the upcoming gauntlet of LSU, Utah, and Wisconsin. I think the backups will see a lot of time, but I don't think the coaches will go as deep into the bench as a normal FCS opponent. Plus, there will still be another opportunity to clear the bench when UMass comes to town in November. UNDER
Total Points – LINE: 52 – When it comes to points, I think it is instructive to look at what Kyle Whittingham (one of Coach Sitake's mentors) has done at Utah. Since joining the Pac-12, the Utes have opened the season four times against an FCS opponent. Twice, the game served as a warm-up game prior to a major opponent the following week. Utah played Montana State prior to going on the road to face USC in 2011. Last season, Utah opened against Southern Utah prior to the rivalry game against BYU. In the seasons where Utah did not face a P5-caliber opponent in Week 2, Utah won its FCS games by scores of 41-0 and 56-14. But, in the aforementioned "warm-up" games? Utah beat Montana State 27-10 in 2011 and Southern Utah 24-0 in 2016. I think we'll see a similar result this week for BYU. I expect the defense to play well, but the offense to sandbag a little bit and not show too much, hopefully making LSU feel a little too comfortable for the Tigers' opener. In other words, I predict a comfortable win, but not nearly the blowout that we've seen against FCS opponents in recent history. UNDER
LINE: BYU by -32 – PSU COVER  — BYU 38, Portland State 10
Depth Chart/Roster
Lastly, here is a look at the projected Depth Chart for Saturday's game.
You can download the JPG and PDF versions of the latest Depth Chart, as well as a current roster, at the following location:
https://www.loyalcougars.com/football-roster/depth-chart/
Go Cougs!