9-Line Prediction: BYU v. Mississippi State
Updated: October 13, 2017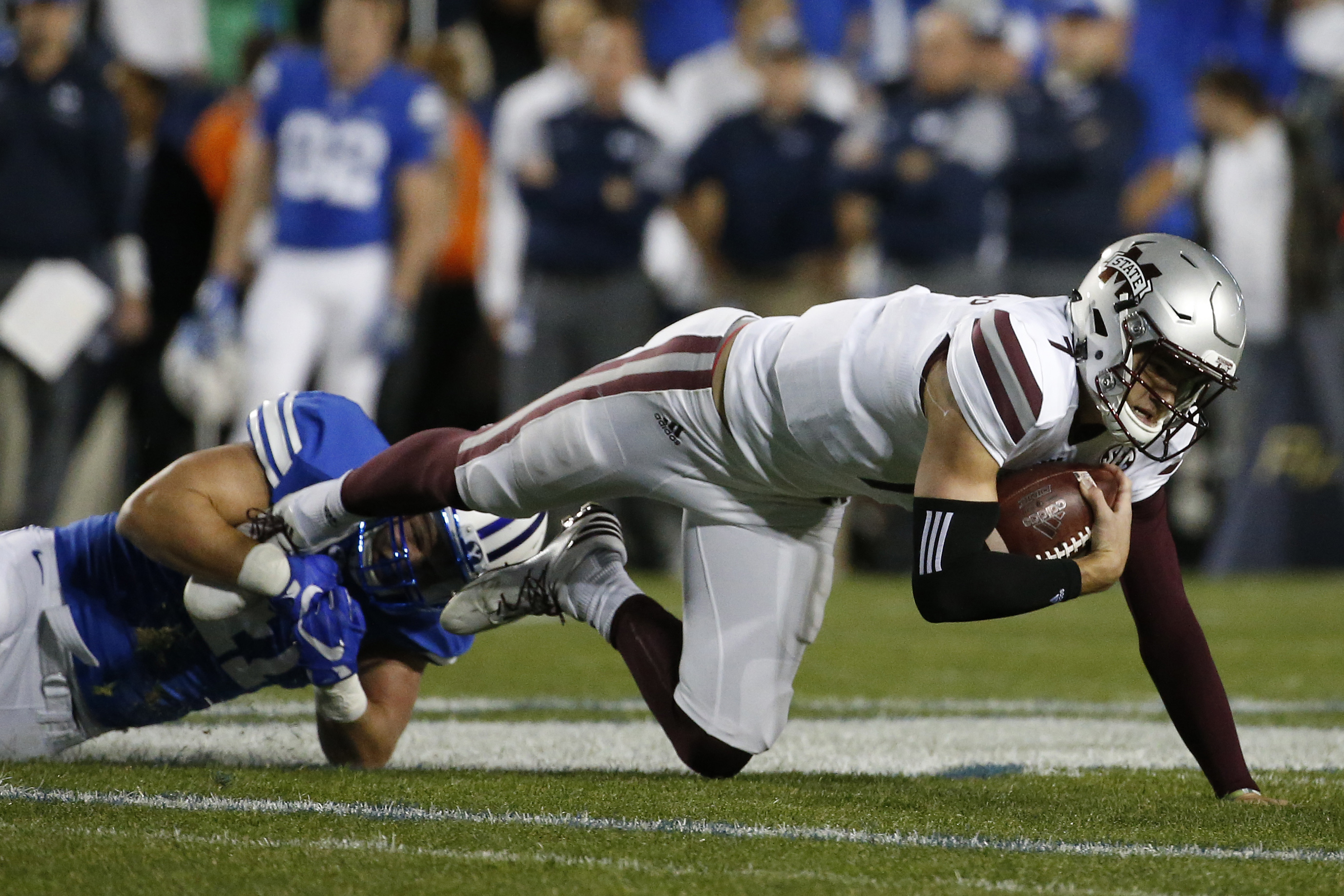 Loyal Cougars Editor Brandon Jones previews tomorrow morning's game against Mississippi State with the LC 9-line Prediction: nine specific predictions presented as over-under betting lines.
Game Capsule
BYU Cougars (1-5) vs. Mississippi State Bulldogs (3-2)
Davis Wade Stadium, Starkville, Mississippi
Kickoff Time: Saturday, October 14, 2017, 11:00am CDT
TV: SEC Network (Dave Neal/Matt Stinchcomb/Dawn Davenport), BYUtv Countdown to Kickoff (Dave McCann/Blaine Fowler) 9:00am MDT
Radio: Nuskin Cougar Sports Network (Greg Wrubell/Marc Lyons): Sirius XM 143, KSL 1160 AM and 102.7 FM, and online at BYUcougars.com
BYU Game Notes, Mississippi State Game Notes
9-Line Predictions
Last week (v. Boise State): 2-7
Overall Record (through 6 games): 26-27-1
BYU will enter cowbell country tomorrow to face a Mississippi State team that beat LSU by 30 points (yes, the same LSU team that shut out the Cougars earlier this season with a team full of back-ups). The Bulldogs return home to Davis Wade Stadium following two road losses to Top Ten SEC foes Georgia and Auburn. The flames of Mississippi State's desire to win are further fanned by memories of last year's 2OT loss to the Cougars in Provo. So, while the Cougars don't look like much at 1-5, the Bulldogs will be very motivated to break the losing streak and avenge last year's loss as they look to build momentum into next week's continuation of SEC conference play. Here are nine areas to keep an eye on tomorrow:
Combined Pass Yards by Both Teams – LINE: 300 – Tomorrow's game matches up two Top 40 pass defenses against two pass offenses ranked in the Bottom 20. Mississippi State has leaned heavily on the run in 2017, and for good reason: the Bulldogs average over 250 yards per game on the ground. I don't expect them to go away from the rush-heavy game plan tomorrow. I don't think this is the game for BYU to break its streak of 12 straight FBS games under 200 passing yards. In fact, neither team has passed for over 200 yards this season in a combined 9 games against FBS competition.  UNDER
MSU Rushing Yards – LINE: 250 – The Mississippi State rushing attack is multi-faceted and seemingly unstoppable. Quarterback Nick Fitzgerald runs for 68.6 yards per game and top running back Aeris Williams adds 81.8 yards of his own, but the Bulldogs have combined to average 252.8 rush yards per game. That means that all other Mississippi State players combine to average 102.4 yards per game on the ground. Mississippi State runs for about twice the yardage that opposing defenses usually allow this season. For example, Against Georgia's 5th-best rush defense that allows just 86 rush yards per game, the Bulldogs ran for 177. Against an LSU defense that gives up 137 yards on the ground per game, Mississippi State ran for 285. Without question, the Bulldogs are salivating heading into this match-up against BYU's 77th-ranked rush defense that gives up 167 rushing yards per game. BYU did manage to hold a similarly-ranked Wisconsin rushing attack under 250 yards, but that was a home game.  OVER
BYU Pass Efficiency – LINE: 100 – Through four games, Tanner Mangum's 2017 pass rating sits at 93.1. The combined pass efficiency of all BYU QBs is just 90.8. But, Mississippi State's pass defense is ranked 95th in the nation and allows more passing yards per game than all but 19 other FBS teams. If BYU is going to improve in the passing game, this will be the chance to do it. A QB rating of 100 could be earned from a stat line similar to this one: 13/25 passing for 125 yards with 1 passing TD and 1 interception. With that many attempts, each additional interception can be counteracted with either 25 additional yards, 0.6 additional TDs, or 8% better completion percentage. It's certainly a realistic goal, but I think the Cougars will come up just short tomorrow.  UNDER
BYU Interceptions Thrown – LINE: 0.5 – A big factor in reaching the 100 mark in pass efficiency will be limiting interceptions. But, there's a good omen for Tanner Mangum heading into tomorrow's game. Mangum has thrown the most interceptions this season against the opposing defenses that have forced the most interceptions. That may seem obvious, but here's what I mean. Mangum threw three INT's against Utah's defense that has forced 9 interceptions this season, 6th-most in the nation. Tanner threw 2 interceptions against a BSU defense that ranks 32nd in the country with 6 interceptions. Mangum had just one interception against LSU's defense that has forced only 4 INT's on the season (75th-most in FBS) and none against a Portland State defense that has also only forced 4 (69th-most in FCS). The question is: how many interceptions have been forced by the Mississippi State defense? Just one, which ranks the Bulldogs ahead of only one team. If there was ever a day to predict an interception-free outing for Mangum, tomorrow would be it. I think he'll be close, but in the end will finish with one sole INT. On average, Mangum throws one INT about every 20 pass attempts which means that if BYU throws that much tomorrow, which I think they'll be forced to do, the odds are good that he'll throw at least one pick.  OVER
Turnover Margin – LINE: Mississippi State wins by 1.5 – Turnover margin has been an Achilles heel for the Cougars in 2017: BYU is undefeated when winning the turnover margin (1-0) and winless when losing the turnover edge (0-5). BYU's average turnover margin of -1.67 ranks the Cougars 125th in the country- quite the swing from last year's #2 ranking in that category. And while Mississippi State's defense is similarly horrible in forcing takeaways, its offense is superb in securing the football; the Bulldogs' five giveaways rank 12th-fewest in the country.  UNDER
MSU Red Zone Touchdown Percentage – LINE: 50% – BYU's defense is ranked 25th in limiting opponents' touchdowns in the Red Zone this season. BYU's opponents have scored TDs on only 45% of their Red Zone trips against the Cougars. The Bulldog offense is ranked 93rd in scoring touchdowns in the Red Zone, putting six points on the board on just 54% of their own drives inside the opponent's 20. It seems that the final number should be close to 50%. I predict, with the small sample size, that MSU's RZTD% will be just above 50%, perhaps something like 2/3 or 3/5.  OVER
MSU Starting Field Position – LINE: Own 35 – So far in 2017, BYU has held the starting field position edge just once: in the Cougars' lone win against Portland State. That's right, BYU has been disadvantaged in ASFP in all five losses, by an average of 13.6 yards. And most of BYU's disadvantage has come from the opponent's starting field position. The ASFP for BYU's six opponents has been the 20, the 33, the 36, the 36, the 40, and the 40. That's certainly a trend that needs to get turned around. Last week I introduced the following statistic, and it only got worse against Boise State. In 2017, BYU has started just 4 drives on the opponent's half of the field (two against Portland State off an interception and a failed 4th Down attempt, one against Utah from a fumble, and Grant Jones's interception last week). On the other side, BYU's opponents have started 17 drives on BYU's side of the field That's 8 interceptions, 5 failed 4th Down attempts, 2 fumbles, and 2 short punts/long punt returns that all started opponents' drives on BYU's side of the 50. Against a Mississippi State team that doesn't force a ton of turnovers, the Cougars need to do better in this category tomorrow. The game plan should be to minimize risk on offense and lean on the strong punt cover team and defense to put the BYU offense in a better position for the following drive with a fresh set of downs. If BYU can just hold onto the ball and execute in the punting game, all 17 of those short fields go away. With the Bulldogs' potent rushing attack, BYU needs to make that field as long as possible for Mississippi State tomorrow. I think we'll see a slightly improved starting field position (especially defensively) for the Cougars tomorrow.  UNDER
Total Points – LINE: 48.5 – The combined over/under and spread would yield a final score of somewhere in the range of 36-12 in favor of MSU. I have a hard time predicting the Cougars will score any more than 12. And given the choice between MSU scoring more or less than 36, I'd say that BYU's defense will have a good game and hold the Bulldogs under that number as well. Given that  UNDER
LINE: Mississippi State by -24 – BYU COVER – A BYU win tomorrow would certainly be a pleasant surprise. Most of us predicted a BYU loss against the Bulldogs, and that was before seeing the mess that we did through the first six games. It's looking like the final six games may all become "must-win" in order to maintain BYU's 12-year bowl streak. I'm hoping the Cougars will play well and be competitive, but a 24-point spread is just too much to overcome. I predict BYU beats the spread for the first time this season. BYU 10, Mississippi State 31
What do you think? Pick against the lines for yourself and let me know how you did. You can use the comment section below or join the discussion on Cougarboard.
Depth Chart/Roster
Lastly, here is a look at the projected Depth Chart for tomorrow's game.
You can download the JPG and PDF versions of the latest Depth Chart, as well as a current roster, at the following location:
https://www.loyalcougars.com/football-roster/depth-chart/
Go Cougs!