9-Line Prediction: BYU v. Boise State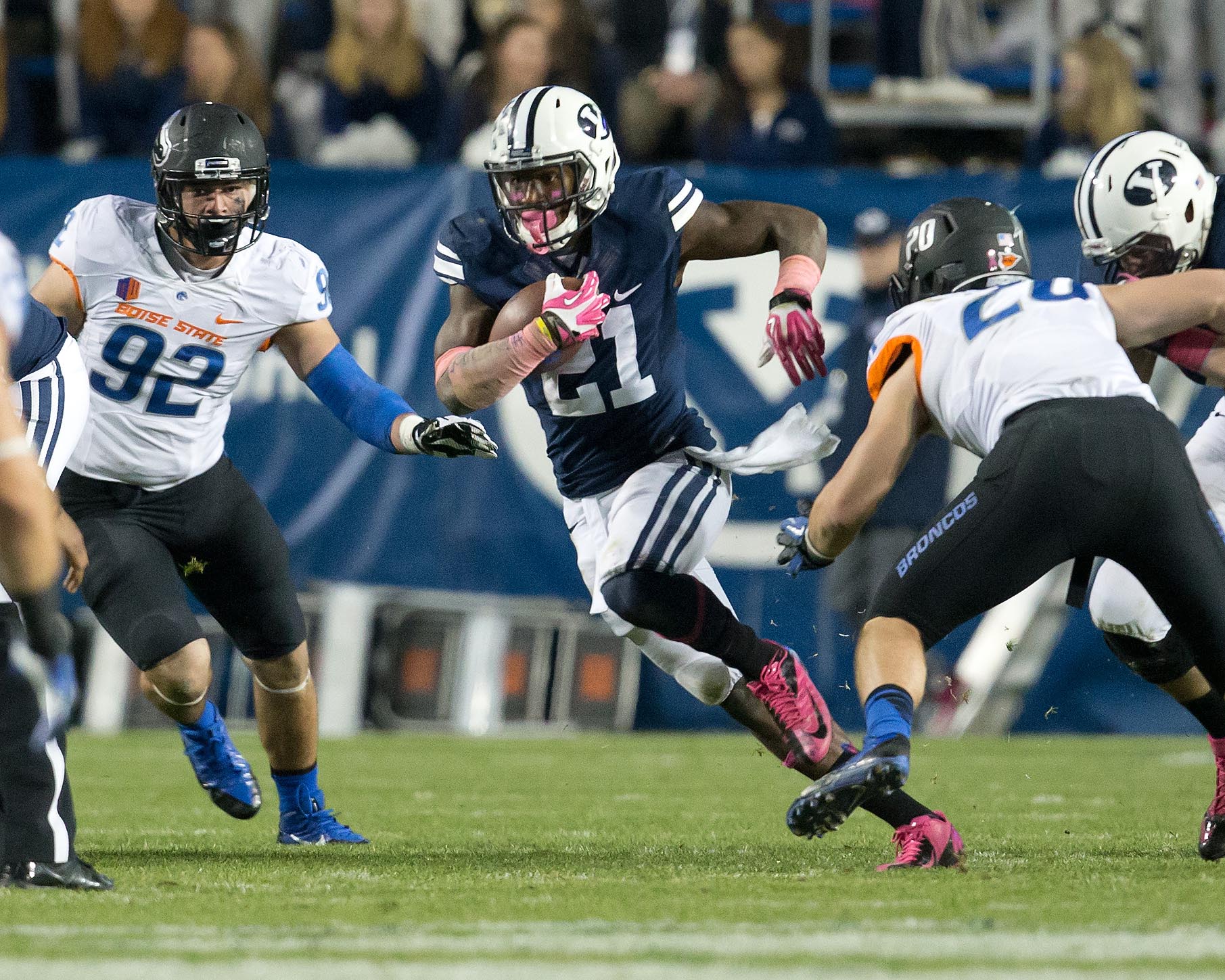 Loyal Cougars Editor Brandon Jones previews tonight's game against Boise State with the LC 9-line Prediction: nine specific predictions presented as over-under betting lines.
Game Capsule
BYU Cougars (1-4) vs. Boise State Broncos (2-2)
LaVell Edwards Stadium, Provo, Utah
Kickoff Time: Friday, October 6, 2017, 8:15pm MDT
TV: ESPN (Adam Amin/Dusty Dvoracek/Molly McGrath), BYUtv Countdown to Kickoff (Dave McCann/Blaine Fowler) 7:00pm MDT
Radio: Nuskin Cougar Sports Network (Greg Wrubell/Marc Lyons): Sirius XM 143, KSL 1160 AM and 102.7 FM, and online at BYUcougars.com
BYU Game Notes, Boise State Game Notes
9-Line Predictions
Last week (v. Utah State): 5-4
Overall Record (through 5 games): 24-20-1
BYU has had a hard time finding consistency at the quarterback position through five games of the 2017 season. Just when Tanner Mangum was beginning to find his rhythm against Utah, he goes down with an ankle injury. Then, just as it seems Beau Hoge is starting to make progress in the first quarter against Utah State, he gets a concussion and foot injury and it's back to the drawing board once again. Hopefully, the Cougars can find some success against Boise State as one of the following occurs tonight: Either Tanner Mangum will return to the starting role, or Koy Detmer returns with a week of practice reps under his belt, or Joe Critchlow will make his BYU debut after a week of practice. Whichever option BYU goes with under center, BYU will need to play its most complete game of the season in order to pull out a win against the Broncos tonight. Here are a few statistics to watch for:
Turnover Margin Edge: BYU or Boise State? – Turnover margin is always a highly predictive stat, and that is especially true of these two teams. In the nine combined games played by these two teams in 2017, the team with the turnover edge has won all nine. Coming off a seven turnover performance against Utah State, ball security will be a point of emphasis for the Cougar offense tonight against Boise State. The BYU defense has forced only four turnovers through the first five games, a giant decrease from the 2.4 turnovers

PER GAME

forced by the Cougar D in 2016. The defense may well be looking at takeaways as a point of emphasis of its own. And I expect the BYU D to come away with at least one interception tonight. If the Cougars can manage to win the turnover margin tonight, I can't see a way that BYU won't come away with a much-needed win.  BYU
BYU Rushing Yards – LINE: 100 – The BSU rush defense will provide a good litmus test for the current state of BYU's run game. The Broncos are ranked 30th in the country, allowing just 115 yards per game on the ground. That's a better ranking than the LSU defense (37th – 126 ypg) that held BYU to negative yardage earlier this season. It may be helpful to compare how these units have performed against the competition. BYU has faced two Top Ten rush defenses and a third in the Top 40 in LSU. Against these three teams, BYU ran for fewer than 50 yards per game on average. In their other two games, BYU rushed for 171 and 210 against Portland State of the FCS and Utah State (97th-ranked rush defense) respectively. As a whole, in the Cougars' four games, they have run for 78% of the averages usually allowed by their opponents. Against a BSU team that gives up 116 rush ypg, we could expect BYU to run for only about 90 yards using this calculation method. From the other side, Boise State's defense has held its opponents to 70% of their season rush averages. Since BYU averages 104 ypg, this calculation would predict only 73 rushing yards for the Cougars. While there has definitely been progress in the BYU run game, I think the Cougars will be hard-pressed to hit the 150-yard mark tonight. I do see BYU surpassing 100 yards on the ground. And looking at the stats, BYU's coaches should probably be satisfied with such a performance – considering the Cougars haven't broken 100 yards against the three previous Top 40 rush defenses in 2017.  OVER
Boise State Rushing Yards – LINE: 100 – As I mentioned last week, BYU's defense has been somewhat two-faced against the run this season, allowing Portland State, Utah, and Utah State to run for only 86, 116, and 112 yards respectively, while giving up 296 and 235 yards on the ground to LSU and Wisconsin. The difference? LSU's Derrius Guice and Wisconsin's Jonathan Taylor are two of the top running backs in the country. And Boise State's run game has been the worst aspect of this Bronco team, running for only 117 yards per game (ranked 103rd in the country). BSU is struggling behind a young offensive line and has yet to find a suitable replacement for the NFL running backs that have been a staple in the Bronco backfield for the last 8 years (Doug Martin, Jay Ajayi, and Jeremy McNichols). On average, Boise State runs for 97% of the yardage usually allowed by its opponents. Against BYU's 169 yards per game allowed, that would give the Broncos 164 rushing yards. But, BYU's defense has held opponents to only 86% of their season average. Therefore, a Boise team averaging 117 rypg would be expected to run for only 101 yards if the BYU defense has its way. In the end, I think BYU will hold the Broncos just under 100 yards on the ground. After all, Bronco Mendenhall's Virginia defense only allowed BSU to run for 30 yards two weeks ago, and that was a Bronco home game.  UNDER
BYU Offensive Plays for 25+ Yards – LINE: 1.5 – BYU has run a total of nine offensive plays that have resulted in gains for 25 yards or more, an average of 1.8 per game. What's interesting is that nine different players have been responsible for those plays (Matt Bushman, Talon Shumway, Squally Canada, Kavika Fonua, Neil Pau'u, Micah Simon, Beau Tanner, Jonah Trinnaman, and Brayden El-Bakri). There's a pretty decent chance we'll see one of those nine get his second big gainer tonight, and Ula Tolutau would probably like to add his name to the list as well. Here's another interesting note about those nine plays: BYU had a chance to score points on every drive in which those nine plays took place scoring touchdowns five times, field goals three times, and missing a field goal once. Only three of the nine plays themselves resulted in touchdowns. It should be noted that BYU had 5 such plays against Portland State, 3 against Utah State, and only 1 against Wisconsin. It seems clear that having two or more in a game should signal that the Cougars are at least competitive offensively as those two games have been BYU's best two offensive performances to date.  OVER
BSU WR Cedrick Wilson Receiving Yards – LINE: 100 – Through four games, the star of Boise State's offense has been WR Cedrick Wilson. Wilson has caught 29 passes for 485 yards and 3 touchdowns. What's intriguing is that Wilson has averaged only 3.5 catches for 64.5 yards in the two BSU wins but has gone off for 11.0 catches and 178 yards per game in the two losses. Maybe BYU wants him to catch for over 100 yards. Tonight. I think he'll get there either way. If BYU is able to stop the run, the Broncos will be forced to go to the air and target Wilson more often. It's the game plan that Virginia laid out against Boise State; the Cavaliers held the Broncos to 30 rushing yards and as a result, BSU attempted 53 passes. So, while Wilson was able to snag 13 catches for over 200 yards, Virginia still came away with a comfortable 19-point victory on the road. As you force a team away from the run, the defense is able to sell out to stop the pass which means a lower completion percentage, a lower yards per attempt, and likely more interceptions. BYU is hoping they can force the Broncos to become one-sided tonight, even if that means another big night for Cedrick Wilson. OVER
BYU 3rd Down Offense – LINE: 33% – BYU's offense ranks 109th in the country on 3rd Down, converting just 21/64 opportunities on 3rd Down (32.8%). And if 3rd Down yardage-to-gain was a nationally-tracked statistic, one can bet that BYU would similarly rank in the bottom 20 of that category as well, averaging over 8 yards-to-go per 3rd Down attempt. The chart below shows BYU's performance on 3rd Down through the first five games:
The bars represent BYU's average distance-to-go on 3rd Down and the line represents BYU's 3rd Down Conversion percentage. As you can see, with the exception of the LSU game in which BYU didn't convert as many 3rd Downs as they should have based on the distance-to-gain, there is a strong correlation between the two. And BYU was improving on its 3rd Down distance-to-gain through Tanner Mangum's three games and into Beau Hoge's first game against Wisconsin. If we split the Utah State game by quarterback, we would see that trend continue with Hoge converting 33% on an average distance of 6.3 yards and Koy Detmer converting only 27% on a distance of 10.9 yards to go. If Tanner Mangum is indeed BYU's quarterback tonight, it will be interesting to see where these numbers fall against BSU. Will Tanner pick up where he left off and lead the BYU offense to a similar performance to what he did against Utah (40% conversion on an average 7.3 yards to go)? Or will the 3rd Down offense regress to LSU- or Portland State-like levels (~30% on 8+ yards to go) or improve to Wisconsin-like levels (42% on 6.3 yards to go)? In BYU's favor is that Boise State does not defend 3rd Down particularly well, ranking 80th in the nation in 3rd Down defense. I think the Cougars will improve on their 3rd Down percentage in tonight's game. 33% is a low bar, but it's one they've only reached in 2 of the 5 games this season.  OVER
Starting Field Position Edge: BYU or Boise State? – So far in 2017, BYU has held the starting field position edge just once: in the Cougars' lone win against Portland State. That's right, BYU has been disadvantaged in ASFP in all four losses, by an average of 13.5 yards. ASFP is a bit of a hybrid stat, affected by net punting, punt return, kick return & cover, turnovers (and where they happen), and a team's ability to sustain long drives (including 3rd/4th Down conversions). And most of BYU's disadvantage has come from the opponent's starting field position. The ASFP for BYU's five opponents has been the 20, the 33, the 36, the 36, and the 40. It hasn't been trending in the right direction. Since BYU has performed well in punt/kick cover and not done much of anything in punt/kick return, most of the edge in BYU's case has gone down to the final two factors: turnovers and long drives. In 2017, BYU has started just 3 drives on the opponent's half of the field (two against Portland State off an interception and failed 4th Down attempt and one against Utah from a fumble). On the other side, BYU's opponents have started 13 drives on BYU's side of the field (Utah State had six alone and that doesn't even include the two pick-sixes!). That's 6 interceptions, 3 failed 4th Down attempts, 2 fumbles, and 2 short punts/long punt returns that all started opponents' drives on BYU's side of the 50. Again, it's easy to see why ball control needs to be a major emphasis for the BYU offense. Tonight should be all about minimizing risk on offense and leaning on the strong punt cover team and defense to put the BYU offense in a better position for the next drive if necessary. BYU ranks 29th in the nation in Net Punting (one of the Cougars' better national rankings). If BYU can just hold onto the ball and execute in the punting game, all 13 of those short fields go away and Boise State will have to drive the length of the field, a task which has proven difficult for the Broncos in 2017. I think we'll see a much improved starting field position (especially defensively) tonight.  BYU
Total Points – LINE: 47.5 – I expect BYU's defense to improve on last week's solid performance as the Cougars return home to LaVell Edwards Stadium. I also expect the BYU offense to get the turnovers under control, at least in part. Finally, I expect that the BYU offense won't be able to find much continuity after yet another week of musical chairs at quarterback. All three of those aspects combined point me toward another relatively low-scoring game for Coach Sitake and the Cougars. UNDER
LINE: Boise State by -7 – BYU COVER – By all accounts, BYU dominated the trenches on both sides of the ball in Logan last weekend. I expect that to be the case once again as the Cougars return home hungry for a win. If last week's game against Utah State wasn't a "must-win" for BYU, then this one certainly is. A BYU win recaptures the slightest bit of momentum and sets the stage for a decent shot at bowl eligbility with only five additional wins needed in the softer back half of the schedule. A loss would put BYU on the path to 1-6, requiring a heroic six straight wins to close the season in order to maintain BYU's 12-year bowl streak. If for no other reason than "they need this one," I'm picking the Cougars tonight. BYU 24, Boise State 20
What do you think? Pick against the lines for yourself and let me know how you did. You can use the comment section below or join the discussion on Cougarboard.
Depth Chart/Roster
Lastly, here is a look at the projected Depth Chart for tonight's game.
You can download the JPG and PDF versions of the latest Depth Chart, as well as a current roster, at the following location:
https://www.loyalcougars.com/football-roster/depth-chart/
Go Cougs!