How BYU's offense & defense have stacked up since 2005
Updated: September 11, 2017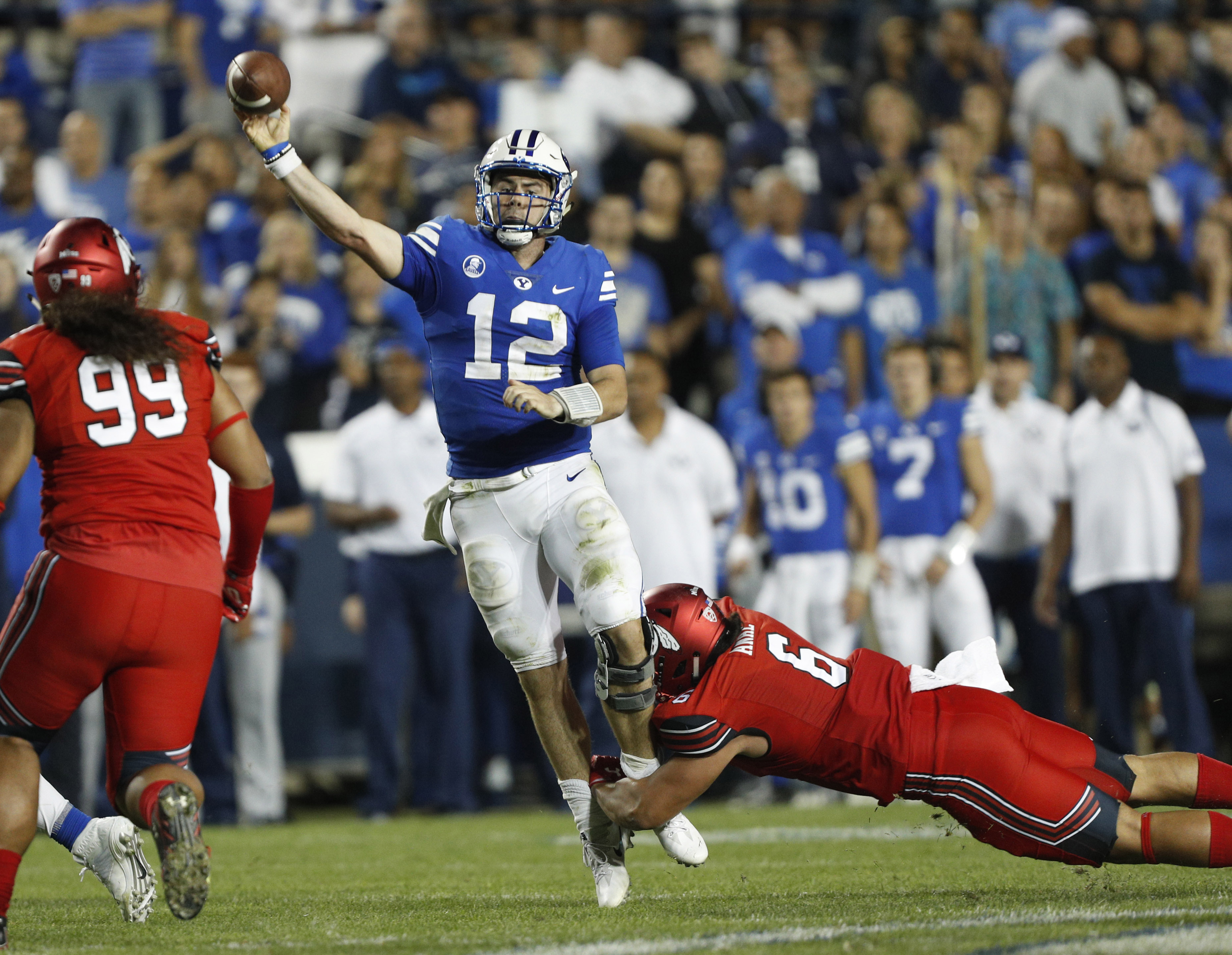 There has been a lot of talk about BYU football's offensive struggles this season. And with good reason — the BYU offense has been awful so far. But how does it stack up historically? Below are some historical rankings of BYU's offenses and defenses, based on the the S&P+ computer rankings.
BYU's S&P+ Ranking, 2005-2017
Offense
Rank
Defense
Rank
Overall
Rank
2005
13
81
43
2006
6
32
9
2007
36
75
18
2008
23
72
43
2009
20
36
24
2010
76
33
47
2011
74
43
54
2012
63
6
20
2013
51
13
28
2014
41
51
44
2015
43
31
31
2016
64
29
37
2017
112
25
70
Some observations
2017 looks horrendous and it has been horrendous offensively so far. But the numbers for this year are incomplete and will surely move higher by the end of the season as the strength of schedule lightens.
If you were under the impression that BYU's offense was way better with John Beck and Max Hall at QB, you were right. BYU's offense ranked in the top 25 most of those years and plummeted after Max Hall graduated in 2009.
BYU's offense has not cracked the top 40 since 2009. That certainly has contributed to the losing streak in the Holy War.
Conversely, BYU's defense has been top 30 in four out of the last six years, whereas it never cracked the top 30 once in the seven previous seasons.
If you loved the 2012 and 2013 defenses under Bronco Mendenhall, you aren't alone. The S&P computers ranked BYU's defenses in the top 15 those years.
BYU's offense was good every year with Max Hall at QB, but the defenses were sub-par in '07 and '08 based on these rankings.
The computers loved BYU's 2006 team, ranking it #9 overall.
In the years BYU was top 40 in both offense and defense (2006 and 2009), the Cougars also finished ranked in the top 15 of the AP/Coaches polls. So being good at both leads to being an arguably elite team those years.
It appears the Kalani Sitake and Ilaisa Tuiaki have BYU on track to consistently be a top 30 defense. If Ty Detmer can turn things around and produce at least a top 40 offense, BYU can finally get back to finishing in the top 25 in the AP and Coaches polls again — something that has eluded the Cougars since 2011.