9-Line Prediction: BYU v. SJSU
Updated: October 27, 2017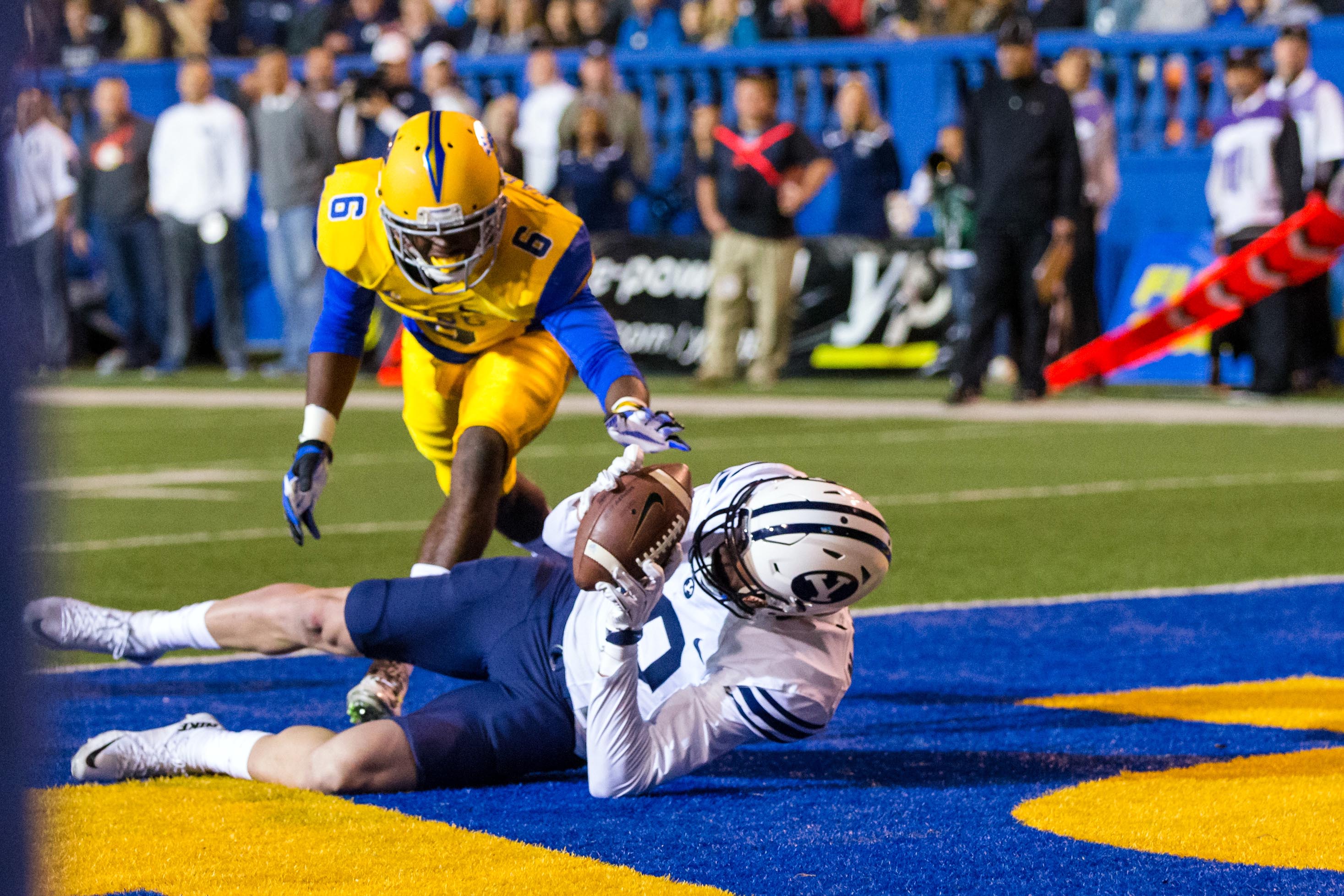 Loyal Cougars Editor Brandon Jones previews tomorrow's game against San Jose State with the LC 9-line Prediction: nine specific predictions presented as over-under betting lines.
Game Capsule
BYU Cougars (1-7) vs. San Jose State Spartans (1-7)
LaVell Edwards Stadium, Provo, Utah
Kickoff Time: Saturday, October 28, 2017, 1:00pm MDT
TV: BYUtv/ESPN3 (Dave McCann/Blaine Fowler/Lauren McClain), BYUtv Countdown to Kickoff (Dave McCann/Blaine Fowler) 12:00pm MDT
Radio: Nuskin Cougar Sports Network (Greg Wrubell/Marc Lyons/Nate Meikle): Sirius XM 143, KSL 1160 AM and 102.7 FM, and online at BYUcougars.com
BYU Game Notes, SJSU Game Notes
9-Line Predictions
Last week (v. ECU): 5-3-1
Overall Record (through 8 games): 37-33-2
The BYU offense certainly took some strides forward last week against ECU, but in the end it wasn't enough to earn the Cougars their first FBS win in 2017. Looking back at the statistics, it's hard to see how the game wasn't closer than it was:
The teams were fairly even in yardage and first downs and each team had one turnover. BYU ran 7 more plays, converted a higher percentage of its 3rd Downs, and had a substantial edge in possession. ECU had an extra field goal in the Red Zone and sacked Tanner Mangum two additional times, but otherwise the stats don't tell the true story of the game. The story of the game can be told with a statistic I'll call "4th Down Points," or alternatively, "Points after Failed 3rd Downs." BYU had 9 failed 3rd Down attempts and came away with just 3 points on those 9 succeeding 4th Down attempts (1 FG, 1 missed FG, 2 failed 4th Down attempts, 5 punts). Those nine drives ended, on average, at the ECU 44-yard-line. Contrast that against ECU who scored 19 points on its 8 4th Down attempts (1 TD, 4 FGs, 3 punts). The eight Pirate 4th Downs occurred, on average, at the BYU 36-yard-line.  It seems the BYU offense just needed to do a little bit more to extend drives, move into the Red Zone, and put points on the board. Hopefully, the offense can take that last step forward tomorrow against San Jose State. With the offense playing as poorly as it has, BYU also needs its defense to step up in a big way. If the defense played like they did against Boise State and Utah State games in 2012, the offense is certainly more than capable of scoring enough points to win tomorrow.
Turnover Margin Edge – LINE: BYU +1.5 – No discussion about San Jose State should begin in earnest without discussing the Spartans' turnover woes this season. SJSU has turned the ball over at least twice in each game this year. They rank last in the nation with 26 turnovers and next to last in average turnover margin, averaging -2 per game. If BYU is going to come away with a win tomorrow, the defense needs to help the offense with some short fields or points of its own. Against Utah and Utah State last month, the Spartans turned the ball over five times each. Let's hope their streak of five turnovers against opponents from the state of Utah continues this week.  OVER
Time of Possession Edge – LINE: Even – Saturday's game features two of the worst teams in the country in time of possession: BYU ranks 122nd (26:00) and SJSU ranks 128th (24:05). With the Cougars likely missing their leading rusher in Ula Tolutau, it's going to be even more difficult to surpass the 30-minute-mark. But, I think BYU will find away to establish the run and hold the edge. Against Portland State, the Cougars were without Toluta'u and still managed to run for 171 yards.  BYU
BYU Rushing Yards – LINE: 150 – We all thought that last week was finally the chance for BYU to rack up some major rushing yards. But, against a defense that came into the game allowing 272 rushing yards per game, the Cougars only ran for 102. San Jose State's rush defense is even worse, allowing 278 yards per game. But, Tolutau's absence will undoubtedly be felt. BYU's rushing numbers will definitely get a boost if Beau Hoge sees time under center: the two games Hoge started are the only two in which BYU ran for more yards than the opponent's season average for rushing yards allowed. And it would be impossible for a BYU offense that averages 90 rushing yards per game (#126 in FBS) to surpass the 278 rushing yards per game allowed by San Jose State (#127 in FBS). But, splitting the difference (185) or even taking half of what the Spartans usually allow (140) would go a long way in leading BYU to win #2 tomorrow afternoon.  OVER
SJSU Rushing Yards – LINE: 135 – On average, the Spartans have run for 90% of the yardage allowed by the rush defense it has faced in 2017. Against an average BYU rush defense that gives up 178 yards on the ground (82nd-best in the nation), the Spartans could expect to run for a respectable 162 yards. Contrast that against BYU's defensive performance: the BYU rush defense has held its opponents to 93% of the rush yardage they usually gain this season. With SJSU rushing for 117 yards per game, the BYU defense could be expected to hold the Spartans to only 110 rushing yards tomorrow based on this metric. A close game could be decided by which of these units rules the day: if BYU's run defense has its way and holds the Spartans to closer to 110 rush yards, BYU will probably get the win. But, if SJSU runs for closer to 160 yards, San Jose State will likely get its second win of the season instead.  UNDER
SJSU Red Zone Touchdown Rate – LINE: 50% – The Spartans are among the bottom ten in the country in both scoring touchdowns and simply scoring points in the Red Zone. SJSU scores points on only 68.4% of its Red Zone trips and the Spartans score touchdowns on just 42.1% of their trips inside the opponent's 20. BYU's defense has played well when backed up against the goal line this season: the Cougars allow points on 81.6% of opponents Red Zone trips (59th-best in FBS) and touchdowns on just 50% (ranked 30th in the nation). If BYU's defense can limit SJSU trips inside the Red Zone to no more than two, and allow 1 touchdown or fewer in those trips, the Cougars should beat the Spartans tomorrow.  UNDER
SJSU Passing Yards – LINE: 200 – I forsee the Spartans passing for more yards than the Cougars in tomorrow's game. How well BYU is able to hold the Spartan pass attack in check with the much-maligned Chris Wilcox starting at corner in place of the lisfranced Troy Warner could play a big role in determining a winner tomorrow. Neither of these passing offenses are very good: BYU ranks 123rd in pass efficiency and SJSU is ranked 110th. However, neither of the pass defenses are very good either with BYU ranking 106th and the Spartans ranked 104th in pass efficiency defense. If these units cancel each other out, other statistics will play a larger role in deciding the game. But, the Cougars need to hold the Spartans near their passing average of 212 yards per game if they want to give the offense the best chance of winning. It's certainly doable: Utah State held the Spartan pass attack to only 54 yards and Fresno State held the Spartans to only 97 yards through the air.  OVER
BYU Announced Attendance – LINE: 45,017 – Though I guarantee that the actual number of butts in seats will be closer to the 30,000 range, season ticket sales should boost this number over the 45,000 mark. BYU hasn't announced a home attendance number under 50,000 in recent history but this should be a new low mark, surpassed potentially only by the final home game against UMass (if the losing continues). At least the weather should be nice. I know I'll be there!  OVER
Total Points – LINE: 53 – The combined over/under and spread would yield a final score of somewhere in the range of 32-21 in favor of BYU. While I certainly don't see the Cougar offense scoring that many points, the defense may be able to add some points of its own against a San Jose State offense that has turned the ball over more than any other team in the country (3.25 times per game!). I do think BYU will find its highest point total of the year. These two teams are definitely well acquainted with the under in 2017; in 16 combined games they have failed to surpass the O/U mark in 12 of them.  UNDER
LINE: BYU by -11 – SJSU COVER – The Spartans are the lowest-rated team remaining on BYU's schedule. If the Cougars can't get a win tomorrow, they may finish the year without one against an FBS opponent. On the bright side, even though SJSU is 4-4 against the spread this season, they are only 1-3 on the road. There's certainly no better time than the present for BYU to get a win, but it will probably be more hard-fought than the line seems to predict. BYU 27, SJSU 24
What do you think? Pick against the lines for yourself and let me know how you did. You can use the comment section below or join the discussion on Cougarboard.
Depth Chart/Roster
Lastly, here is a look at the projected Depth Chart for tomorrow's game.
You can download the JPG and PDF versions of the latest Depth Chart, as well as a current roster, at the following location:
https://www.loyalcougars.com/football-roster/depth-chart/
Go Cougs!