9-Line Prediction: BYU v. UMass
Updated: November 18, 2017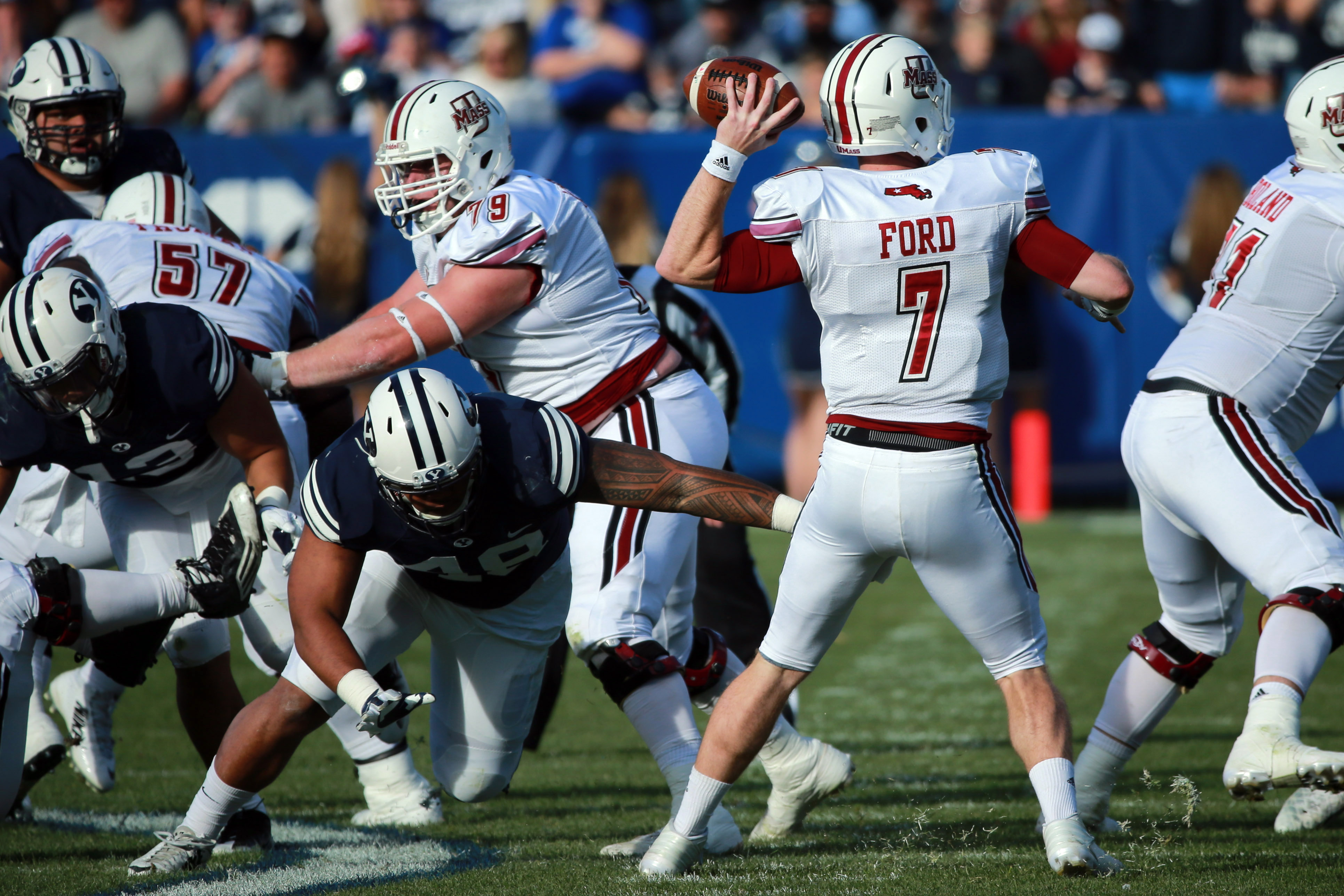 Loyal Cougars Editor Brandon Jones previews this afternoon's game against UMass with the LC 9-line Prediction: nine specific predictions presented as over-under betting lines.
Game Capsule
BYU Cougars (3-8) vs. Massachusetts Minutemen (3-7)
LaVell Edwards Stadium, Provo, Utah
Kickoff Time: Saturday, November 18, 2017, 1:00pm MST
TV: BYUtv (Dave McCann/Blaine Fowler/Lauren McClain), BYUtv Countdown to Kickoff (Dave McCann/Blaine Fowler) 12:00pm MST
Radio: Nuskin Cougar Sports Network (Greg Wrubell/Marc Lyons/Nate Meikle): Sirius XM 143, KSL 1160 AM and 102.7 FM, and online at BYUcougars.com
BYU Game Notes, UMass Game Notes
9-Line Predictions
Last week (v. UNLV): 5-3-1
Overall Record (through 10 games): 52-43-4
The Cougars are playing for pride now, and today, they'll be especially motivated to get a win for 18 seniors playing their final home game in a BYU uniform. The final game of the 2017 season at LaVell Edwards Stadium pits the Cougars against the Minutemen of UMass. UMass is ranked below BYU in two of the three major FBS statistical rankings; BYU is 19 spots ahead in the Sagarin ratings and 6 spots ahead in the FPI, while the Minutemen are ranked higher by 21 spots in the S&P+. ESPN has given BYU a 69% chance of winning today. Without further delay, here are nine statistics to watch for in this afternoon's match-up:
BYU Rushing Yards – LINE: 135 – BYU's rushing attack still doesn't rank well– the Cougars average 125 yards rushing per game which is the 22nd-lowest rushing average in the country. However, the Cougars have been slowly climbing out of the cellar since the schedule has lightened. After failing to rush for over 100 yards against five Top 50 run defenses in the first half of the season, BYU has reached the century-mark in each of the last 4 games (including games against 3 of the Bottom 10 rush defenses). So, while the season-long averages suggest BYU will only run for around 135 yards today, recent trends indicate that BYU should surpass that mark against UMass's 100th-ranked run defense. BYU's offensive line has shown well in the run game and the Cougars' inexperience at quarterback and the strength of the UMass pass defense (the Minutemen rank 29th in Passing Yards Allowed and 30th in Pass Efficiency defense) will force the Cougars to run the ball that much more.  Look for BYU to run the ball early, often (40+ attempts), and successfully (5+ ypc) this afternoon.  OVER
UMass Rushing Yards – LINE: 135 – The UMass running attack only averages 140 yards per game (92nd-ranked) against a schedule ranked #119. BYU's defense allows 165 rushing yards per game (ranked #63). On average, the Minutemen have run for 84% of the yardage usually allowed by its opponents. However, in four road games (all losses), UMass has only run for 61% of the average rush yardage allowed by its opponents. I expect the Cougar defense to build on last week's performance, in which BYU held the 19th-ranked UNLV rushing attack, which averages 240 yards per game to only 122 on the ground.  UNDER
Turnover Margin – LINE: UMass by 0.5 – BYU's turnover numbers have been steadily improving over the past month. Through the first seven games in 2017, the Cougars turned the ball over 2.4 times per game, while forcing just 1.1 turnover per game defensively for a turnover margin of -1.3. But, in the past four games, BYU has turned the ball over just 1 time per game while picking up 2 takeaways per game for a +1 turnover margin. UMass does an average job of ball security on both sides, forcing the 68th-most turnovers while giving away the 54th-fewest. I expect the BYU home field to make the difference and give the Cougars the turnover edge. And that's a good thing, considering BYU is 3-1 when winning the turnover margin this season.  UNDER (BYU win/tie the TO Margin)
BYU Passing Yards – LINE: 185 – The Minuteman pass defense enters today's game ranked in the top 30 in both passing yards allowed and pass efficiency defense. Unfortunately for the Minutemen, those rankings have been inflated by playing against some of the worst passing teams in the nation. Five of UMass's ten opponents rank in the bottom 30 in Passing Offense, eight are in the bottom half, and the best passing offense the Minutemen have faced has been the 45th-best Temple Owls. Fortunately for the Minutemen, BYU is still breaking in a young quarterback and should find the going easy enough on the ground that the Cougars won't test UMass much through the air.  UNDER
UMass Passing Yards – LINE: 295 – The Minuteman passing attack is every bit as good as UMass's pass defense, ranking 19th in the country with 295 pass yards per game. If UMass is going to have a chance in today's game, it will happen by carving up the deep middle of the BYU defense, as we saw in games against Utah, Wisconsin, Mississippi State, ECU, and UNLV. I expect UMass to have some success through the air, but likely not enough to get the win today.  OVER
UMass 3rd Down Conversion Rate – LINE: 38.8% – The UMass offense is the 26th-worst in the country at converting on 3rd Downs (34.7%), ranked just a few ticks better than BYU's own offensive 3rd down conversion rate of 34.5%. Unfortunately, the Cougar defense has not been great at forcing opposing teams off the field on 3rd downs, allowing conversions on 42.9% (#99 in FBS). Even in a win last week, the BYU defense still allowed UNLV to convert on 6/14 (43%) 3rd down attempts, a rate which helped the Rebels stay in the game. In order to turn a close game into a comfortable win, the Cougars' defense will need to step up on 3rd down and hold the Minutemen at or under their season average of 35%.  UNDER
BYU 4th Down Conversion Rate – LINE: 50% – In a close game, 4th Down conversions can make the difference between a win and a loss. In three wins, BYU has converted 4 of 6 4th down attempts for a respectable 67%. However, in the eight losses, the Cougars have converted just 1 of 14 on 4th down. Yikes. BYU went 1-for-2 last week against UNLV and will need to do at least that well this afternoon to cruise to a comfortable win. BYU's 4th Down rate of 20% (5-for-20) is the 7th-worst rate in the nation. I expect BYU to be more judicious in choosing when to go for it on 4th down and making the necessary play when those opportunities arise today.  OVER
Total Points – LINE: 51.5 – The combined over/under and spread would yield a final score of somewhere in the range of 28-24 in favor of BYU. With BYU experiencing renewed success running the football, I think the Cougar offense will be able to score at least 28 points. I think BYU's defense will play well, holding UMass to 24 points or fewer. I'll take the over, but just barely.  OVER
LINE: BYU -4.5 – BYU COVER – If BYU can get a win today against the Minutemen, the Cougars have to feel good about their chances in Hawaii next week against a team ranked lower than both BYU and UMass in all three rankings. I do expect BYU's seniors to go out with a win in their final game at LES this afternoon.  BYU 34, UMass 20
What do you think? Pick against the lines for yourself and let me know how you did. You can use the comment section below or join the discussion on Cougarboard.
Depth Chart/Roster
Lastly, here is a look at the projected Depth Chart for this afternoon's game.
You can download the JPG and PDF versions of the latest Depth Chart, as well as a current roster, at the following location:
https://www.loyalcougars.com/football-roster/depth-chart/
Go Cougs!