9-Line Prediction: BYU at Utah State
Updated: September 29, 2017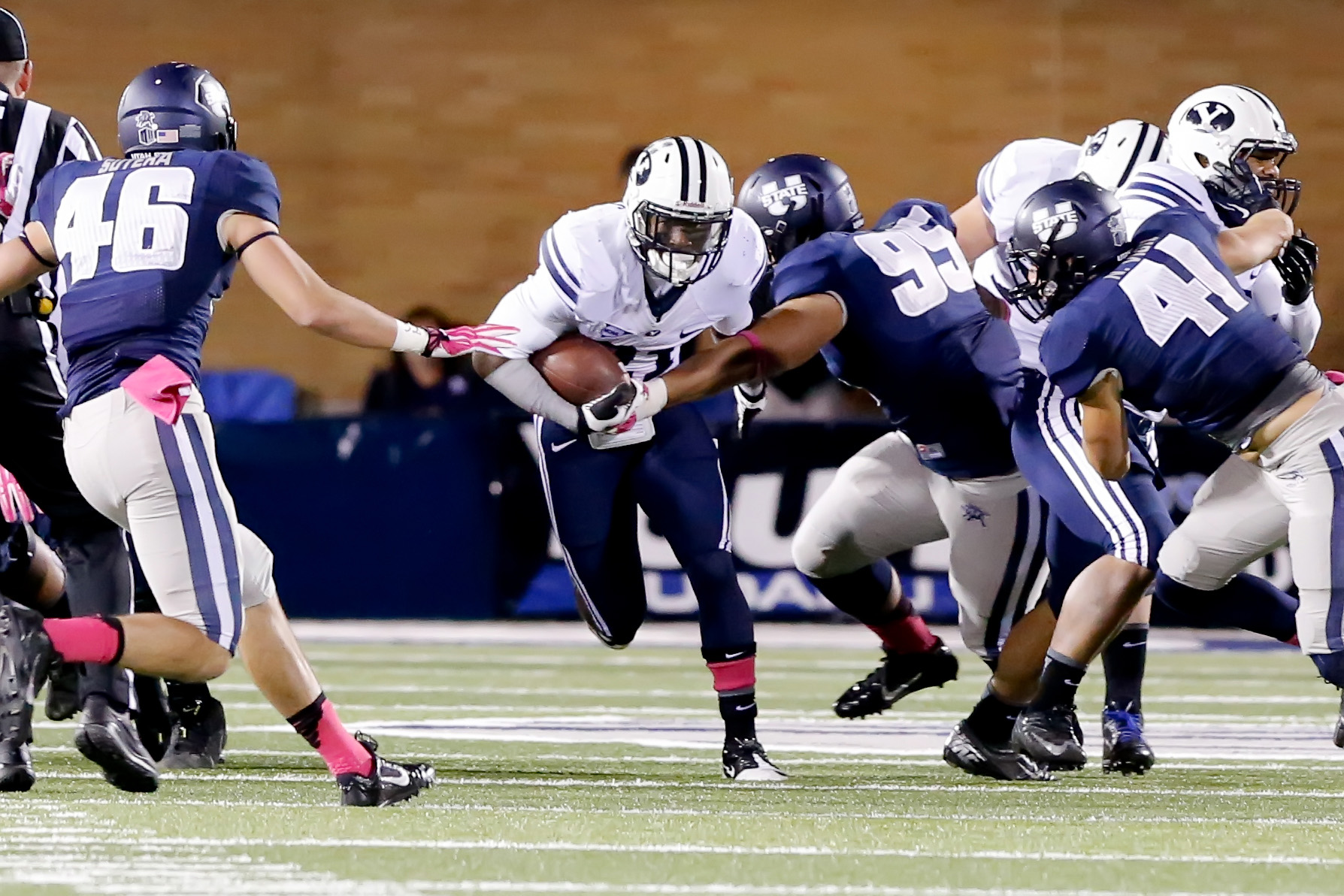 Loyal Cougars Editor Brandon Jones previews tonight's game against Utah State with the LC 9-line Prediction: nine specific predictions presented as over-under betting lines.
Game Capsule
BYU Cougars (1-3) vs. Utah State Aggies (2-2)
Maverik Stadium, Logan, Utah
Kickoff Time: Friday, September 29, 2017, 6:00pm MDT
TV: CBS Sports Network (Carter Blackburn/Aaron Taylor/Jenny Dell), BYUtv Countdown to Kickoff (Dave McCann/Blaine Fowler) 5:00pm MDT
Radio: Nuskin Cougar Sports Network (Greg Wrubell/Marc Lyons): Sirius XM 143, KSL 1160 AM and 102.7 FM, and online at BYUcougars.com
BYU Game Notes, Utah State Game Notes
9-Line Predictions
Last week (v. Wisconsin): 4-5
Overall Record (through 4 games): 19-16-1
After 4 games, it's still very difficult to pinpoint the identity of this BYU team, especially offensively. We'll see what tonight has in store for BYU as the Cougars hope to have Beau Hoge ready for the pseudo-rivalry Conference weekend matchup against the Aggies. Here are nine Vegas-style lines for which to watch in tonight's game:
Average Starting Field Position – LINE: Even – As reported by Greg Wrubell this week, in the eight games played by Utah State and BYU this season, the team holding the edge in average starting field position has gone 8-0. It would seem to be a very indicative statistic for both these teams. I think the BYU defense has had a wake-up call in the two weeks since the Wisconsin game and I think the Cougar defenders will play their best game to date as a result. Hopefully, that will include some of the turnover-forcing that was a calling card of the 2016 defense, but has been relatively absent in 2017. The BYU offense will need as many short fields as possible against an Aggie defense that ranks 84th against the pass and 98th against the run against a schedule that has not proven as difficult as BYU's (both have played Wisconsin and an FCS team, but Utah State also played #120 San Jose State and Wake Forest, while BYU played Utah and #12 LSU). I think BYU will finally have the edge tonight in this category. BYU
First Half Scoring – LINE: USU by 10 – Utah State is running an extremely high-paced offense this season. USU Offensive Coordinator David Yost's stated goal is to run 100 offensive plays per game. So far, the results have been positive for the Aggies– in the first half. Utah State has outscored opponents by an average of 10.25 points before halftime this season. That sounds great until you note that Utah State has been outscored by 9.25 points on average in the second half. If BYU can keep the Aggie lead under 10 points at halftime, a combination of halftime adjustments and superior conditioning will probably be sufficient to allow the Cougars to come back for the win in the second half. In case you were wondering how BYU's point differentials stack up, the Cougars have been outscored by 8.25 points on average in the first half and outscored by 5.0 points in the second half. UNDER
Utah State Rushing Yards – LINE: 150 – BYU's defense has been two-faced against the run this season, allowing Portalnd State and Utah to run for only 86 and 116 yards respectively, while giving up 296 and 235 yards on the ground to LSU and Wisconsin. The difference? LSU's Derrius Guice and Wisconsin's Jonathan Taylor are two of the top running backs in the country. And while Utah State's run game has been decent (175 yards per game is good enough for 58th-best in FBS), the Aggies' top back Eltoro Allen, averages only 52.3 yards per game. The bigger run threat may well be quarterback Kent Myers who compliments 194 passing yards per game with an additional 46 per game on the ground. The Cougar defense generally performed well against mobile quarterbacks under Bronco Mendenhall, but Myers is the most mobile QB BYU has faced this year and may provide an interesting challenge for this BYU team. In the end, I think BYU will hold the Aggies under 150 on the ground. In their two losses, the Aggies ran for 85 and 42 yards respectively against Wisconsin and Wake Forest. It's certainly an achievable goal for this BYU defense. UNDER
USU 4th Down Conversions – LINE: 1.5 – On average, Utah State has gone for it twice per game on 4th down. The Aggies have converted an impressive 75% of those eight attempts. BYU's defense will need to capitalize on those opportunities when they arise tonight and give the offense the best possible field position to begin its ensuing drive. UNDER
Turnover Margin Edge: BYU or Utah State? – Through four games, Utah State has turned the ball over ten times and forced nine turnovers of its own. In their four games, the Cougars have turned it over six times while forcing just 3 turnovers of its own. BYU Defensive Coordinator Ilaisa Tuiaki would like to see more turnovers from this group than what we've seen through four games. I think we'll finally see some improvement in this week's game. BYU
BYU Red Zone Scoring – LINE: 70% – Utah State's defense has allowed its opponents to score points on all 10 of their trips into the Aggie Red Zone. While Aggie opponents have not crossed the USU 20 very many times, they always come away with points when they do. BYU's offense has scored points on just 7 of 10 trips inside the opponent's 20-yard-line. Not surprisingly, BYU's goal needs to be to enter the Red Zone as many times as possible and come away with points on each of those trips. I think the Cougars will improve on their season performance tonight in Logan. OVER
BYU Rushing Yards – LINE: 150 – As mentioned above, Utah State ranks 98th in the country against the run, allowing on average 186.5 rushing yards per game. Now is the time for BYU to discover its running game. A healthy mix of Ula Tolutau and Beau Hoge should allow the Cougars to run for a healthy amount tonight. Don't forget: BYU racked up 171 yards on the ground in the season opener against Portland State. The holes should be there again tonight. Will BYU have the personnel to find and hit them? OVER
Total Points – LINE: 49 – For the most part, the under has been kind to BYU this season. On average, BYU and its opponents have scored almost two touchdowns below the average O/U betting line (13.6 points) through four games. I don't see BYU suddenly fixing all of its offensive problems and scoring more than a couple touchdowns. I also don't see BYU's defense allowing Utah State to score more than Utah or LSU. I predict yet another low-scoring game in Logan tonight. Think 2012, but maybe just a few more than 9 points this year. UNDER
LINE: Utah State by -1 – BYU COVER – After opening a 6.5-point favorite, BYU now finds itself as the underdog tonight. What does that mean? For one thing, it means that the oddsmakers and casino owners are praying for a good performance by our Cougars. With all the money that has poured in on Utah State's side, the line has shifted by more than a touchdown. It would seem that Vegas is not a fan of Coach Sitake's mystery surrounding the quarterback position. And to tell the truth, this is a hard game for even me to predict. And since almost no result will be surprising (USU blowout, USU close win, BYU close win, BYU blowout), I'll go with a blue-goggled one. I've picked the winner right every week so far. Here's hoping I can push that streak to five straight. BYU 16, Utah State 13
What do you think? Pick against the lines for yourself and let me know how you did. You can use the comment section below or join the discussion on Cougarboard.
Depth Chart/Roster
Lastly, here is a look at the projected Depth Chart for tonight's game.
You can download the JPG and PDF versions of the latest Depth Chart, as well as a current roster, at the following location:
https://www.loyalcougars.com/football-roster/depth-chart/
Go Cougs!