9-Line Prediction: BYU v. Utah
Updated: September 8, 2017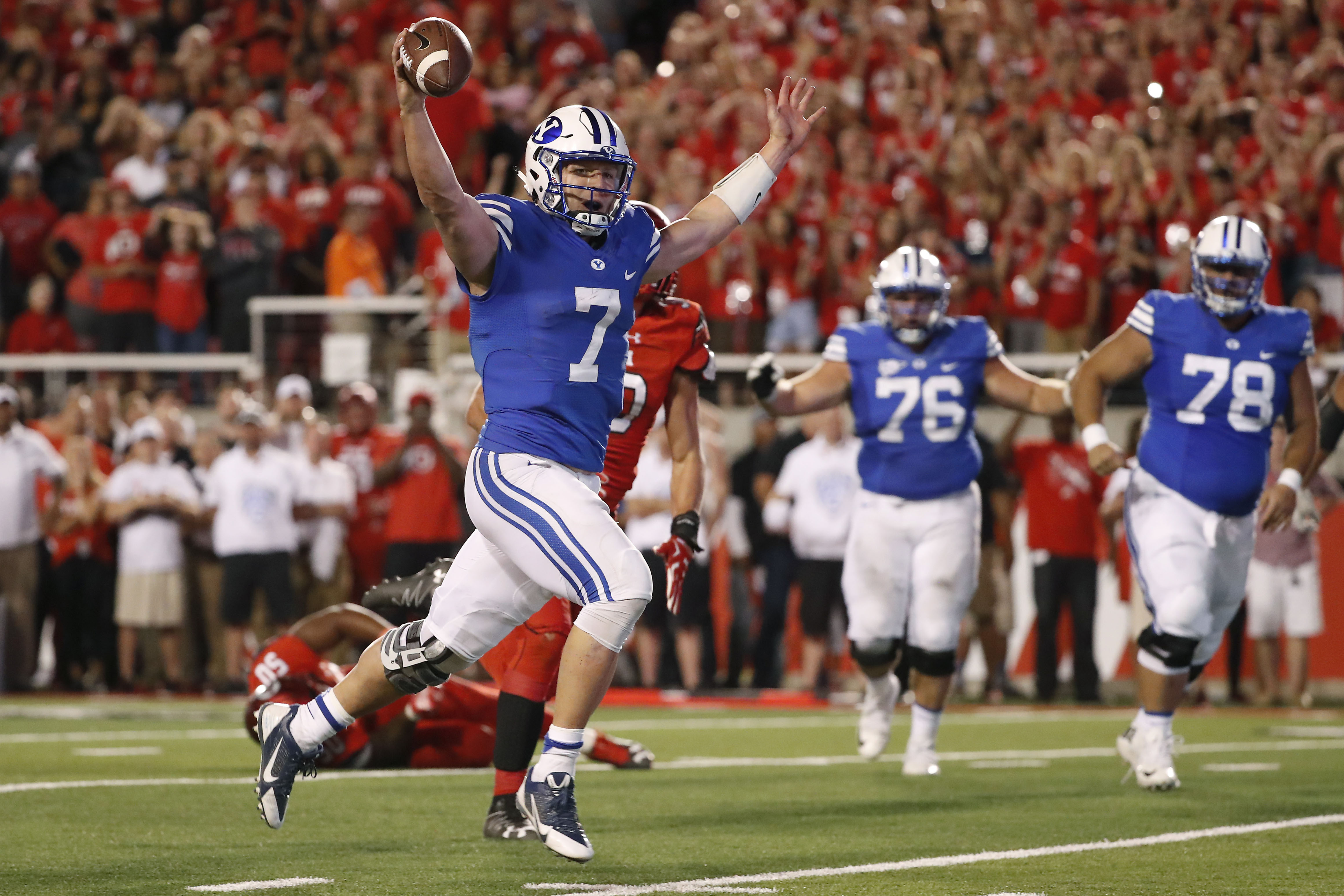 Loyal Cougars Editor Brandon Jones previews Saturday's game against #23 Utah with the LC 9-line Prediction: nine specific predictions presented as over-under betting lines.
Game Capsule
BYU Cougars (1-1) vs. #23 Utah Utes (1-0)
LaVell Edwards Stadium, Provo, Utah
Kickoff Time: Saturday, September 9, 2017, 8:15pm MDT
TV: ESPN2 (Mike Patrick/Tommy Tuberville/Paul Carcaterra), BYUtv Countdown to Kickoff (Dave McCann/Blaine Fowler) 7:00pm MDT
Radio: Nuskin Cougar Sports Network (Greg Wrubell/Marc Lyons): Sirius XM 143, KSL 1160 AM and 102.7 FM, and online at BYUcougars.com
BYU Game Notes, Utah Game Notes
In last week's predictions against LSU, I went 5-4, bringing my season record to 11-7. We'll see what Game 3 has in store for BYU as the Cougars face up against rival Utah in what is always a difficult match-up to predict. Here are nine Vegas-style lines for which to watch tomorrow night:
BYU Average 3rd Down Distance to Go – LINE: 6.5 – Through two games, BYU has faced a total of 23 3rd Downs on offense. The average distance to gain for a first down? 8.6 yards. That means on those sequences that led to a 3rd Down, BYU averaged a total of only 1.4 yards on the two preceding downs. It's easy to see why BYU might struggle in these situations: the odds of converting a 3rd Down are already lower as the yardage-to-go increases, but with that many yards to go, defenses can sell out to stop the pass. They assume that a basic 3- or 4-man rush can hold a running play under 7-8 yards, and they can put everyone else in coverage. This is especially true when facing a BYU team that has shown very little along the lines of an established running threat. BYU needs to see more 3rd-and-3 and less 3rd-and-8 if the Cougars want to have any chance to improve their 3rd Down conversion rates, keep drives alive, and thereby score more points. I think we'll see some improvement, but not as much as is needed to truly allow BYU to remain mysterious with its 3rd Down playcalling. UNDER
BYU Offensive 3rd Down Conversion Rate – LINE: 40% – The Cougar offense has converted on just 6-of-23 (26.1%) of its 3rd Down attempts thus far this season. Third Down Conversion rate has been an extremely predictive stat for BYU, especially against Utah. In 2016, BYU had an 8-1 record when converting 40% or more on 3rd Down but went just 1-3 when converting less than 40%. Last year against Utah, BYU was +3 in the turnover margin and +3 yards in Average Starting Field Position. Third Down performance proved to be the difference in the game as the Cougars only converted 35.7%, while allowing the Utes to convert 50%. BYU could have its best game of the season and still not break 40%. Baby steps. UNDER
BYU Time of Possession – LINE: 30:00 – The M.O. of BYU's pro style offense is to possess the ball and wear down opposing defenses. Last season, BYU finished with a 7-2 record when holding the edge in time of possession, and just 2-2 when finishing with less than 30 minutes. But Taysom Hill and Jamaal Williams have traded a BYU roster spot for one in the NFL. BYU's best chance to win will be by stringing together long drives that go the length of the field. The Cougars' best chance to do that will come by creating 3rd-and-manageables and converting those opportunities. Through two games, not only has BYU only converted six 3rd Downs, but they have never converted two on the same drive. Long, methodical drives will help fatigue Utah's defense. And if the running game can't get going, BYU will need to look for other high-percentage plays for guaranteed short yardage. I think BYU will show improvement in extending drives, but will still come out losing the time of possession match-up. UNDER
Turnover Margin Edge: BYU or Utah? – BYU has only seen two turnovers through two games this season. The Cougars finished +1 against Portland State and -1 against LSU. The Utes turned the ball over once against North Dakota and had one takeaway of their own. Turnover margin has historically been a good predictor of victory in the BYU-Utah game; during the Bronco Mendenhall era, BYU went 3-0 when winning/tying the turnover margin and 0-7 when losing. But, that certainly went out the window last year when BYU finished +3 in the turnover margin and still couldn't get the win. With a similar +3 performance tomorrow, the venue change from Rice-Eccles to LES would probably be enough to shift the result from a loss to a certain win. But, I don't think we'll see that many turnovers forced by this BYU defense that has struggled to duplicate the havoc caused by last year's unit that ranked 2nd in the nation in turnovers gained. I do believe Utah's new offense and young quarterback will turn the ball over more than BYU. But the size of that edge may be the difference between a seventh straight loss and BYU starting a winning streak of its own. BYU
Darren Carrington Receiving Yards – LINE: 100 – Against North Dakota, Oregon transfer Darren Carrington caught 10 passes for 127 yards for the Utes. It will certainly be interesting to see how BYU elects to cover Carrington. Will the Cougars put Troy Warner on him for the entire game, hoping to lock him down and force Utah to look to other options through the air? I suspect BYU would be satisfied with holding Darren under 100 yards. And I believe, for the first time in a long time, that the Cougars have the talent in the secondary to make that happen. UNDER
Higher Rushing Total: BYU or Utah? – BYU ran for 171 yards against Portland State but finished with -5 on the ground against LSU. Defensively, the Cougars held Portland State under 100 yards rushing but allowed LSU to run for almost 300. It's certainly no stretch to predict that BYU's rushing totals on both sides of the ball will fall between those two extremes tomorrow night. In its first game, Utah ran for 272 yards while allowing North Dakota only 55 yards on the ground. In last year's rivalry game, both teams ran for around 150 yards, with Utah finishing with a 23-yard edge in the end. If Utah could outrush a BYU team with two of BYU's all-time leading rushers, there's little question that the Utes should be able to hold the advantage tomorrow as well. BYU's run defense (and pass defense for that matter) will need to step up in a big way to give the Cougars a win. Utah
BYU Possessions Across the 50-yard Line – LINE: 4.5 – By now, we've all heard the stat from the LSU game. Last week, BYU became only the 5th FBS team in the statistical era to never cross midfield against an FBS opponent. Nine drives, 38 plays, none of them on the LSU half of the field. BYU performed much better in this regard in Week 1, crossing midfield on 7 of 12 offensive drives. Utah's defense is tough, but I think there will be a lot of punting and a lot more opportunities for BYU to cross the 50-yard-line. Last year, both teams combined for 28 total drives and 9 punts. Add in the expected turnovers (9 combined last year), and I think BYU will find itself on Utah's end of the field much more this week. OVER
Total Points – LINE: 46 – When it comes to points, I'm again finding it hard to see either of these defenses allowing more than around 20 points tomorrow. I think we'll see yet another low-scoring affair. UNDER
LINE: Utah by -2.5 – Utah COVER – This game is always a toss-up. The line opened with BYU as a 1.5-point favorite and has since moved 4 points in the other direction. These are two very good defenses. It's pretty clear that Utah won't perform as well offensively as in Week One at home against an FCS team with a brand new Quarterback. And I think BYU will play its best game offensively to date. Utah's defense is good, but it's not "LSU good." In the end, I think we'll see another tight defensive battle. And until BYU proves otherwise, I have to go with the team that's won six in a row. But, I hope and pray that the Cougars are able to pull out the win. BYU 17, Utah 21
Depth Chart/Roster
Lastly, here is a look at the projected Depth Chart for Saturday's game.
You can download the JPG and PDF versions of the latest Depth Chart, as well as a current roster, at the following location:
https://www.loyalcougars.com/football-roster/depth-chart/
Go Cougs!